Pyromantic – Fire Performer | UK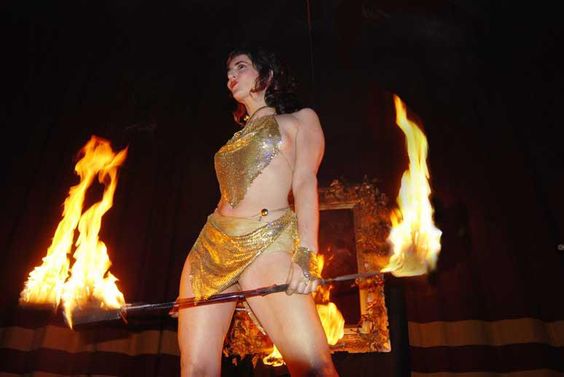 Fire has engaged and entranced mankind from the beginning of time – a love affair with fire is what seeded Pyromantic. This romance has spanned over a decade and has led to the creation of fire shows that are undoubtedly as powerful as they are mesmerising.
Innovators of unusual fire equipment, and highly skilled manipulators of fire, Pyromantic have fire tools to fit any stage, large or small including: pyrotechnic staffs, fire: staffs, clubs, poi, fingers, fans, swords, umbrellas, hands, fire handstand feet, wings, ropes, fire eating. Solo acts and group performances are also available, costumed to suit the style of event. Large scale performances can incorporate pyrotechnic effects and spectacles upon request.
Acts Available Include:
Aerial Firebird
Utterly breathtaking, this unique aerial firebird act is a spectacle that has been performed worldwide. Suspended from wires, this flaming winged airborne nymph soars and dances circles gracefully through the air. This act is enhanced and beautifully complemented by 2 ground based fire winged dancers.
Show length varies between 5 – 20 minutes.
Martial Arts Fire Spectacular
Inspired by Asian dance, martial arts and acrobatics, this breathtaking show combines beautiful and dramatic forms with a highly skilled fire performance. This can be performed by 3 – 5 people. Show length is between 10 – 20 minutes.
Five Person Fire Show
The act begins with a girl on red silks, who gets lifted into the air as she runs around and takes off. As the routine finishes and the tissues are lowered, 2 roller skaters appear sweeping around the stage with giant red flags.
Through the middle of the flags a girl appears with 2 fire staffs. As her solo comes to an end, another girl enters and together they light the ends of a trapeze, which turns as it is lifted into the air. Gracefully moving on the turning trapeze the artist is framed by fire artists on the ground below her. The finale of this routine is a very fast dynamic spin highlighted by the fire on the ends of the bar.
The second section has a strong cabaret feel. Two men on roller skates begin a dance with fiery canes to the pink panther. They are joined by the 3 girls who make their entrance seated on wheeled stools, and proceed to light their fire clubs creating seated fire choreography, with the guys skating in and out of the formations.
The third section is a funky dance off, with the 2 men on skates showing their skills to the girls who get lifted into the air by them.
The finale begins with 4 performers on skates holding fans of fire. Out of their fire circle, a firebird rises above them, and is flown around the stage turning graceful circles like a soaring Phoenix.
A fire show with 5 people, can last up to 20 minutes, or shorter if required. This act can also be performed with 3 or 4 performers who would perform for a maximum of 10 – 15 minutes.
Testimonials:
"I thought both of them were fab.....Marina was very entertaining with her fire performance and was very engaging with the crowds. Many Thanks."
- London Borough of Newham (via Contraband)
"The event was great and the acts were both very well received thank you! Please do tell the girls we thought their acts were great."
- Pacific Investments (via Contraband)
Previous Clients Include:
Glastonbury Festival
Riccioni
Swarovski Fashion Show
Hotel de France
Excel Centre
St Georges Theatre
Blenheim Palace
T-mobile Tour
Aspire Musical
Photos of Acropolis