Powder Girls – Make Up Artists | UK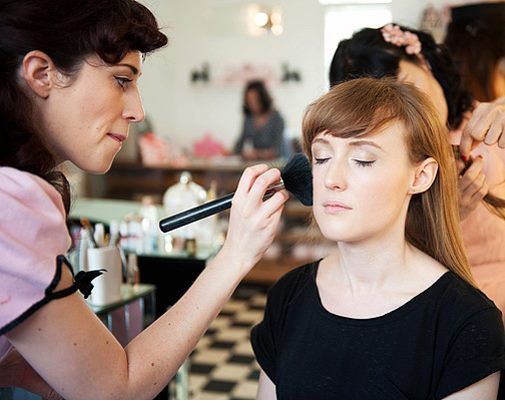 A unique team of beauty professionals, the Powder Girls are immaculately turned out in adorable 1950's style uniforms ready to primp and preen at any event or party.
The team of chic beauty professionals attired in their sassy uniforms apply the very latest products and techniques to beautify, groom and relax both male and female guests.
They offer make-up, manicures, hair styling and massage, all ideal for parties, exhibitions, PR launches, venue promotion, networking events, pampering evenings, weddings and hen parties.
All the ladies are handpicked for their expertise and professionalism to bring you an original service which can be tailor made to suit any event or venue.
The Powder Girls aim to epitomise the glamour of the 1950's. Their uniforms are exclusively designed and handmade for them. All the products that they use are of a very high quality and chosen by the director as she has been a make-up artist in the fashion and film industry for over 10 years. These girls offer clients a glimpse into a different lifestyle, and treat everyone like celebrities.
Testimonials:
"The Powder Girls are the new chocolate fountain, an essential at any creative event."
- RSVP
"Tremendous fun at a party and top make up artists to boot!"
- The Sunday Times Style
"The Powder Girls are a super sexy, stylish addition to any event! We love them!"
- Bacchus PR
"We thought the girls were absolutely fab and would always use them wherever possible for an event."
- Evolve Events
"Thanks so much for Friday night, your girls were great as usual!"
- Home House
"I just wanted to say a huge thank you for all your support for the event, you girls were so lovely and feedback from the evening has been amazing!"
- Mencap
"They were a great success! I would definitely hope to use them again…they were kept busy all night! Thank you so much."
- Planit Events
"The party was a great success and the girls were the perfect addition to the home and health area (and they sis a lovely makeover for me and my team so we looked super glamorous!)"
- Discovery Home & Health
"The evening was fantastic and everyone was raving about the Powder Girls! "
- BUPA
"The girls went down a storm!"
- Launchpad Events
"The girls were extremely professional, very well presented and added a touch of glamour to the event."
- 20/20 Productions
Previous Clients Include:
The Sunday Times
The Brit Awards
T4
Channel 5
MTV
The London Eye
Living TV
Discovery Home & Health
Universal Music
Berkley Square Ball
MFI
Bupa
Procter & Gamble
Bloomberg
Nokia
Martin Air
Virgin
Paramount
Sandown Park
Sony
Grosvenor House
Allen & Overy
Tesco
Interflora
Unilever
Dove
Next
MSN
VH1
Photos of Powder Girls