Pottery Workshops – Art & Crafts | UK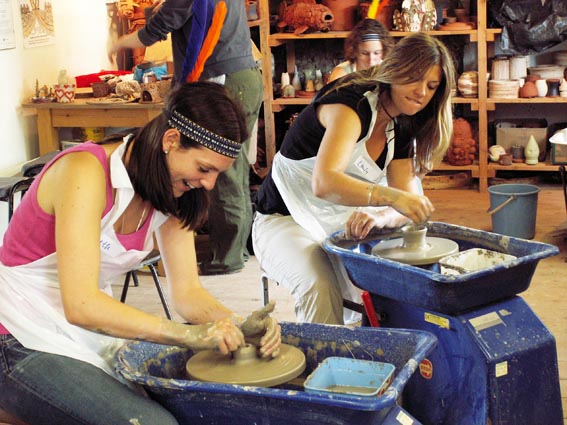 Explore and develop creativity via the medium of clay. Clay is a fantastic medium to work with. It's a natural material, universally inclusive and reacts to the touch, no matter how slight the intervention. Everybody can do it – everybody achieves!
Through positive facilitation, Pottery Workshops offer a variety of experiential learning opportunities for adults, children and families – all ages and abilities.
Pottery Workshops have lots of ideas and formats that can be tailored to suit your particular needs. They can provide drop-in sessions where participants make individual works to take away on the day or build a larger collaborative structure to be fired and returned.
Sessions are designed for all ages and abilities, 8 months – 80 years! There are no mistakes with clay – just happy accidents and learning opportunities. Everybody can join in and achieve amazing results.
How about an office pottery party? What could be more entertaining than watching your colleagues wrestle with a lump of mud spinning at great speed! Making a pot on the potter's wheel is one of those 'I've always wanted to do' activities. This fun session offers the opportunity to do just that!
Pottery Workshops are also ideal for large events. They can make a unique addition to any outside event or family funday. They have vast experience of working with large numbers of participants (300+ a day in some cases.)
The Pottery Workshops were established in 1998 by artist potter Jon – a respected practitioner in the field of studio ceramics. Jon's work has been exhibited all over the world in prestigious galleries and exhibitions. His one-off sculptural vessels are inspired by the potters' wheel and the myriad possibilities of thrown form. As well as producing artwork, Jon shares his passion and enthusiasm for clay with tens of thousands of workshop participants every year.
Testimonials:
"A very big thank you for making the pottery weekend very special. You are an excellent teacher, and your enthusiasm and generosity in sharing your skills intensely motivating. Not only did I feel de-stressed, but I have gained a new respect for potters and their pots….You have clearly worked out a formula which is attractive to beginners as well as those who have some experience already."
– Private Client
"Your relationship with the children is excellent! You facilitate their learning very sensitively, allowing them to explore their own creativity & develop an understanding of the media"
– Evesham Nursery School, Worcs
"…Came from Wales in the snow, when people from Beckenham cancelled! Amazing again and a really popular workshop on the day. They were punctual and very accommodating when we moved them close to opening time."
– London Borough of Bromley (via Contraband)
Previous Clients Include:
Hay Festival of Literature
Solihull Library Service
The Big Chill Festival
Eastnor Castle
Evesham Nursery
Three Counties Agricultural Society
MOD
SC Johnson
Unilever
Campbells
Nat West
ICI
BT
Birmingham City Council
Birmingham Creative Partnerships
Pottery Workshops provide pottery workshops in Herefordshire, perfect for workshop entertainment, birthday party entertainment, bar mitzvah entertainment, wedding entertainment, school fayre entertainment, school fete entertainment, charity ball entertainment, christmas party entertainment, team building entertainment.
Photos of Pottery Workshops
Book Pottery Workshops
Want to book a performer, or just find out more? Give us a call on +44 (0)208 8291140 or use our online contact form via the button below.