Pop Out Cake – Bespoke Service | Worldwide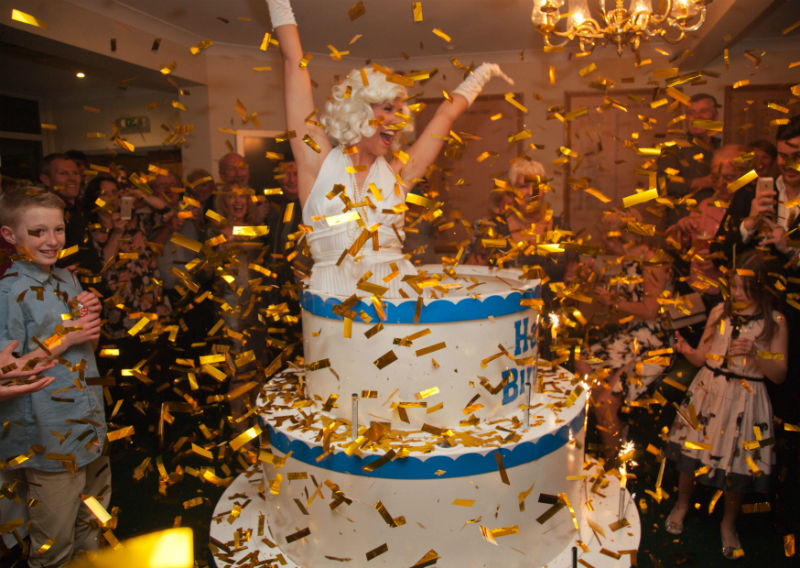 We've all seen it on television – a massive cake is wheeled out into the centre of the room, only for a glamorous performer to burst out and surprise the lucky birthday boy or girl.
This isn't just something you'll find on the big screen anymore, we offer a bespoke service which replicates the classic tradition.
Whether you want the person popping out to be on the sexier side or, if you're at a family-friendly event, a little more tasteful, we'll be able to make the act work for you. We can even dress the person as a popular TV or book character if you'd like to surprise the little ones.
The giant pop out cake works perfectly at:
• Birthday parties
• Anniversaries
• Weddings
We all love a quirky and fun surprise every now and again. We have been offering this service for years, and it's always amazing fun to see just how happy the faces of the people who're at the receiving end of the treat are – especially children, who are often not expecting what's about to happen.
Testimonials:
"We had the pop out cake for our Office Warming Celebration and it was amazing! The cooperation was very professional and we were impressed with the quality of performance provided! Many thanks for your great work!"
- Jola, Codewise
Previous Clients Include:
- Codewise
- Claridges
- Mariah Carey
- Mario Testino (Vogue)
- Virgin Atlantic
- Kylie Minogue
Photos of Pop Out Cake