The Peepshow – Mini Theatre & Puppet Booth | Devon | South West | UK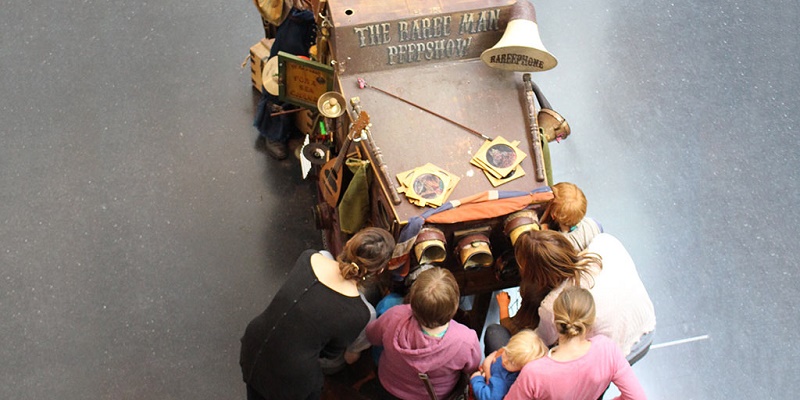 The Peepshow
The Peepshow is an authentic, working steampunk miniature cinema, theatre & puppet booth, featuring live action, puppets and 3D projection mapping…all off batteries! This is unique creative entertainment suitable for private events, weddings, birthday parties and festivals.
Enter the bizarre storytelling world of the Raree Man: using puppets, stage mechanics and film inside his extraordinary and unique contraption – the peepbox. This is a unique 21st Century take on an 18th century form of storytelling and the origins of moving pictures.
There are 9 holes through which to view and it's first come, first served, so make sure you get there early! Many more can watch how each show is created from around the peepbox and if you ask, you can even have a look at the tricks, traps and flaps in between performances.
Standard Length Of Performance:
Shows are either 15 minutes or 45 minutes long. They usually do about 4 shows (of either length) per day. The shows they do depend on the age of the audience and the type of event.
Testimonials:
"Booking 'The Peepshow' for Beverley Puppet Festival 2016 was a complete pleasure – both in terms of logistical communication and artistic impression. Aesthetically the act enhanced Beverley's streets and was accompanied by the charisma and engagement of two real showmen. The artists were flexible and positive and understood any struggles that we had as a small organisation delivering a large-scale event. The act was really well received by audiences and we would definitely consider booking again."
– Beverley Puppetry Festival
Previous Clients Include:
Just So
Devizes
Skipton Puppetry Festival
The Royal Albert Memorial Museum, Exeter
Just So Festival
Festival Number 6, Portmeirion
Photos of The Peepshow
Book The Peepshow
Want to book a performer, or just find out more? Give us a call on +44 (0)208 8291140 or use our online contact form via the button below.