Patent Pending – Comedy Walkabout | UK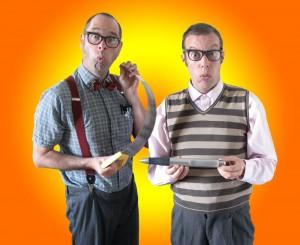 Patent Pending
Trevor and Malcolm have been best buddies since school. They both share a common interest in inventing things and have a whole range of  ideas patent pending that they are excited to unveil to the world.
After 20years of failed inventions (The solar paneled torch, glow in the dark sunglasses, the pedal powered wheelchair and the smoke alarm with snooze option), the boys think they have struck inventing gold! – or have they?
Having applied to Dragons Den to showcase their ideas  and been accepted, Trevor and Malcolm have now hit the streets to practice their pitch and show off their new ideas.
But what are the ideas?
So what are their inventions to be showcased, Trevor and Malcolm have developed a range of ingenious pens, each one having its own novel gimmick and unique use. They have created Swippers! Slippers with a dustpan and brush attached so you can sweep up mess without having to bend down. The Itchaway T-shirt that has a battleship grid on the back so you can direct people straight to the itch! The Fan Spoon! An extending spoon with fan attachment to blow air over your food to help cool it down quickly!
Watch and be awe struck as these two daft inventors desperately try and convince any of the stand-in Dragons to buy into their idea. Will they get the deal? Will there be a counter offer? or will they leave empty headed?
Photos of Patent Pending