Parallel – Street Dance Duo | UK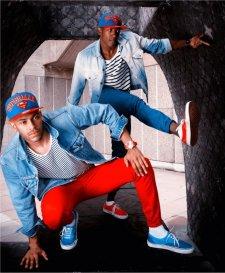 Parallel
More than your ordinary street dance duo, Parallel are a creative team formed by London based friends Ashley & Wolfgang. Parallel formed in 2009 and since then have made huge steps towards their goal, featuring in the live semi-finals of Sky 1′s Got to Dance 2010. They can now be hired to perform at events in the UK and internationally. Their style of dance is suitable for all a range of corporate events especially with an urban theme.
Following their appearance on Got To Dance, Parallel have performed at numerous events from private parties to sold out festivals. They have a significant number of credits between them; in addition to becoming IDF World Champions in May 2011 they have also worked with Rihanna, Will.I.Am, Jessie J, Kelly Rowland, Coldplay, Katy B, Dizzee Rascal, Master Shortie, Vanquish, Adidas, Gatorade, Doritos, Blackberry, Ministry of Sound, Nom & many more.
2012 has been an exciting year for Dance Aid patrons Parallel who are making leaps forward not only as dancers, but also as creative directors and choreographers; working on a number of projects from music videos and live stage performances to their own dance concept videos. The guys are looking forward to the future and you should be too…
Technical Specification:
They will need a clear stage area which needs to be 3 x 4 metres or more, and a PA system with need to be provided by the client.
Standard Length of Performance:
Parallel usually perform 1 x 5 minute set or 2 x 5 minute sets.
Testimonials:
"Super impressive!"
– Adam Garcia, Got To Dance Judge
"Tight with loads of energy… blew me away."
– Ashley Banjo, Got To Dance Judge
"They look good, they dance well together… right on point."
– Kimberly Wyatt, Got To Dance Judge
"In 2011, Parallel Duo truly stimulated a generation with their dynamic, acrobatic and humorous performances. They displayed originality and imagination and illustrated how our country is full of many breath-taking talents. With their generous collaboration we continued to manage a successful event and show the true talent in Britain today."
– BD Network
Previous Clients Include:
Virgin
BD Network
Adidas
Streetfest
Proud Camden
Blackberry
Gatorade
Morph suits
Movember
Discovery
Renault
Headmasters
Computacenter
Police ball
Andy Gomarsall
Burger King
Mastercard
Photos of Parallel