Paparazzi – Paparazzi Photographers | UK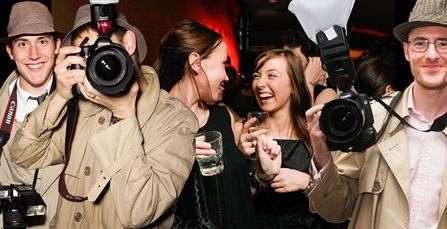 Paparazzi photographers arrive at your event with large lenses and raincoats brandishing press badges. They look so real, your guests will believe they are the real deal. They pap party goers as they enter the venue and later descend upon the party goers taking pictures of the guests as they mingle and party across the dance floor.
Once papped each guest is given a paparazzi calling card with a website address where the guests can view their photos online within 24 hours. Up to a total of 400 pictures are uploaded online for up to one year.
A great entertainment option that will have your guests talking about the event for months afterwards. Additional options include : red carpet, barriers, digital linked pictures to television screens inside the venue where guests inside can watch many baffled faces of the arriving parties.
Testimonials:
"Our event went very well thank you with lots of happy guests and smiling faces. Please pass on our thanks. They were efficient and friendly, a great team to work with. I look forward to working with you again in the future."
- Mitsubishi Motors
"You entertainers were unique & worked well on the train and at the venue. As for the paparazzi, our red carpet wouldnt have been the same without them. Our agents were greeted as real celebs, so much so I think some of them thought they actually were! Please thank Paul, Guy, Andrew, Ross, Aaron & David for all their hard work and professionalism throughout the event. I will certainly be recommending them for future events and to clients. Again - thank you to everyone who made this event possible and most importantly, undoubtedly memorable!"
- Private Client
"Just a quick note to say Thank You for providing some excellent entertainment for our launch event last Thursday. The two guys who did the photography were great. Two likeable chaps that looked and played the part tremendously. And thanks to Contraband enabling the images to be viewed online less than 24 hours later, our guests cant hide from the embarrassment. Thank you Contraband for all your help with organising and managing our entertainment, we will certainly be back for more for our future events."
- Mustard PR
"I just wanted to send a note of thanks for those who attended our opening here at the Hotel. They were brilliant and we have had some great feedback about them. Can you please pass on my thanks to them."
- Express by Holiday Inn
"Just to say a big thank you for arranging the paparazzi for our event. The guys are obviously extremely talented photographers and were very friendly and great to have around; needless to say our customers loved having their photos taken!"
- Hr Owen PLC
"Firstly, can I say how pleased we were with the Paparazzi Photographers at our event - they did a grand job and certainly added something special and different to the evening!"
-Private Client
"The pap guys were absolutely brilliant, the crowd loved them and they were in your face as we expected them to be and kicked off the night in style. You just have to look at the pictures they took to realise how good they actually are!! The shots are phenomenal and they tell the story of the whole night. People have been talking abou the pictures all morning!! Thank you once again and I believe we will be calling you up for them to return."
- Aon Consulting
"Just an email to say thanks to the paparazzi for contributing to a really enjoyable event. They were very professional and all the young people and their families loved getting in the limo and having their pictures taken, it was all they were talking about when they went inside!"
- The London Borough of Barking and Dagenham
"Andy was so nice and the pictures are awesome! I saw the pictures and sent the link to our client, who was also happy about Andys work! For the next year we will book Andy again!"
- Eilele Communications
" We would like to say a big `Thank You' to you, Andy and his fellow paparazzi for making our companys 15th Anniversary party such a memorable event. Everybody had an amazing time, as you can see clearly in the pictures. The gentlemen really fulfilled our vision of the party."
- Aurum Research Limited
"I hope that you are well. I just wanted to say that the paparazzi were brilliant last night and everyone loved the idea of it! You should take a look at some of our photos to see how much fun we had."
- Otsuka Pharmaceuticals
" I just wanted to thank you for coming to our event Saturday 10th July 2010 to take pictures for us. Having you there made it even more special and such a memorable evening and gave it that extra special touch. Thank you so much. We really appreciate it."
- OPM Partnership
"I was really pleased with the photographers, thanks! They really looked the part and they took some fantastic quality photographs so I would definitely recommend them."
- Private Client
"All the performers were fab. The band were great, paparazzi were great and the magicians were fantastic. Really clever tricks and really nice guys. Thanks very much for the help."
- William Reed Business Media (via Contraband)
"Yes I was very pleased with Siren and the digital paparazzi...The paparazzi did a great job, they fitted perfectly with our theme!"
- Faversham House Limited (via Contraband)
"The event went well thank you. The photographer was great and very interactive with the audience and I would happily use him again."
- BSI Ltd (via Contraband)
Previous Clients Include:
OPM Partnership
Otsuka Pharmaceuticals
Aurum Research Limited
Eilele Communications
The London Borough of Barking and Dagenham
Aon Consulting
Hr Owen PLC
Mustard PR
Express by Holiday Inn
Mitsubishi Motors
Photos of Paparazzi Photographers