OperaBabes – Opera Vocal Duo | International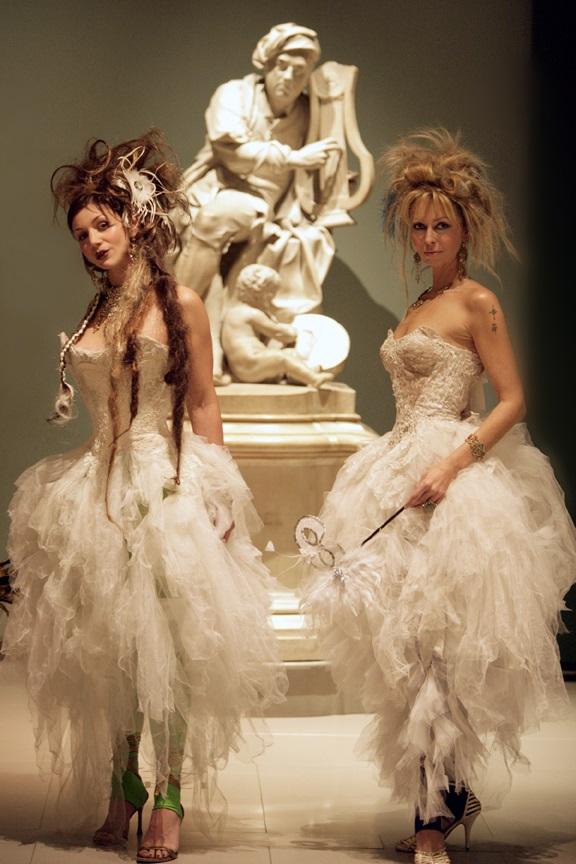 OperaBabes
Back in 2000 two girls were busking in London's Covent Garden.  Overnight they became the original 'rags to riches' story achieving internationl fame and 2 million album sales worldwide. 
This is their story.
 
Rebecca Knight and Karen England were two opera singers busking in London's Covent Garden back in 2001 and almost overnight were thrust into the global media spotlight, releasing an album, achieving No.1 chart positions across the world and becoming an international success phenomenon.
 
They were spotted by a talent executive whilst busking and were invited to perform on the pitch at The FA Cup final at the Millennium Stadium Cardiff – the first time that it was held there, as Wembley was still under construction. T
Almost overnight they were thrust into the public eye throughout the world as the 70000 capacity football supporters looked on and the TV audience of 1 billion watched a true' rags to riches' story unfold before their eyes. 
Legendary Sports TV Commentator Des Lynam announced to the world 'and here they are, The Operababes…' the name became set in stone and the media loved it. 
 
The following week they flew to Milan and sang at The Champions League final in the San Sero Stadium, broadcast live to a global audience of 500 million.
 
Overnight they were presented with 5 Major record contracts and the bidding war started, finally with SonyBMG winning the deal.  They signed to Sony Music and their debut album Beyond Imagination went straight to the top of the Classical Charts and stayed there for an incredible 14 weeks and gained 2 Brit award nominations, as well as reaching No.4 in the USA Billboard Charts (with the title track One Fine Day becoming the World Cup Theme tune of that year) and has sold to date more than 2 million copies around the globe.
 
The magnificent twosome subsequently went on to perform for her Majesty the Queen including the Festival of Remembrance at the Royal Albert Hall, the launch of the Commonwealth Games at Buckingham Palace and the Prom at the Palace for the Queen's Jubilee celebrations.
 
OperaBabes have performed in concert with the world's leading Orchestra's including the Philharmonia, the Halle, the Royal Philharmonic Orchestra, the BBC Concert Orchestra, the Royal Liverpool Philharmonic Orchestra, the Royal Scottish National Orchestra, the London Symphony Orchestra, the Berlin Symphony Orchestra and many more.
They have performed regularly at all of Britain's major venues, indoor and out, from the Royal Albert Hall to Leeds Castle, Symphony Hall Birmingham to the Royal Festival Hall London and their numerous television appearances range from Good Morning America in the US to GMTV and BBC Songs of Praise in the UK.
They have been the subject of 3 documentaries, 2 in the UK for ITV and the 3rd in the USA for CBS.
 
Taking America by storm, they performed with Placido Domingo as his guests at Los Angeles Opera and made history by becoming the first classical act ever to perform in Las Vegas, headlining at the legendary Stardust Casino and also Atlantic City Casinos.
 
 
In 2006 they released their second album "Renaissance" to overwhelming critical acclaim – a mixture of classical repertoire fused with electronic French style techno and ambient soundscapes. 
They toured the album back to back for 4 years in the UK and Europe, firstly with their Renaissance show (a Madonna meets Mozart extravaganza) and then with their own ensemble as a purely acoustic evening.
 
They have sung on the inaugural voyage of the Queen Mary II and the Queen Victoria cruise ships for Cunard and launched Holland Americas new liner The Eurodam in Rotterdam – helped Mercedes launch the brand new C-Class cars in Moscow, became ambassadors for SOS Children in Sri Lanka, performed for the Royal Family of the United Arab Emirates at the Royal Emirates Palace in Abu Dhabi and launched  the  exclusive Quintessentially brand in New York.
 
They have also sung at high profile private engagements for La Dolce Vita (London), Motorola (Sardinia), Royal Bank of Scotland (Edinburgh), Chelsea Football Club (London), Unicef (London), Sony (Lisbon) to name but a few.   They recently won 'Best Live Act' at the International Cruise Awards held in London.
 
They have just released their 3rd album having signed a new record deal with Warner Classics.  The album 'Silent Noon' is a collection of British songs accompanied simply by a piano featuring works by Vaughan Williams, Britten, Handel, Purcell, Quilter and many more.
 
 
Their newly devised crossover show featuring tracks from their worldwide #1 album 'Beyond Imagination' and 'Renaissance' including the ITV World Cup Theme Tune One Fine Day, Carmina Burana, Lakme, Bailero and more.  his show can range from 20 minutes to 45 minutes all to backing track all with stunning designer costumes.
 
For a more intimate experience, the OperaBabes can perform with an entirely live accompaniment with either just a piano or piano and string quartet.  Set length up 45 minutes
 
Photos of OperaBabes