Echoes of Spain – Flamenco Guitar Duo & Trio | Shropshire | UK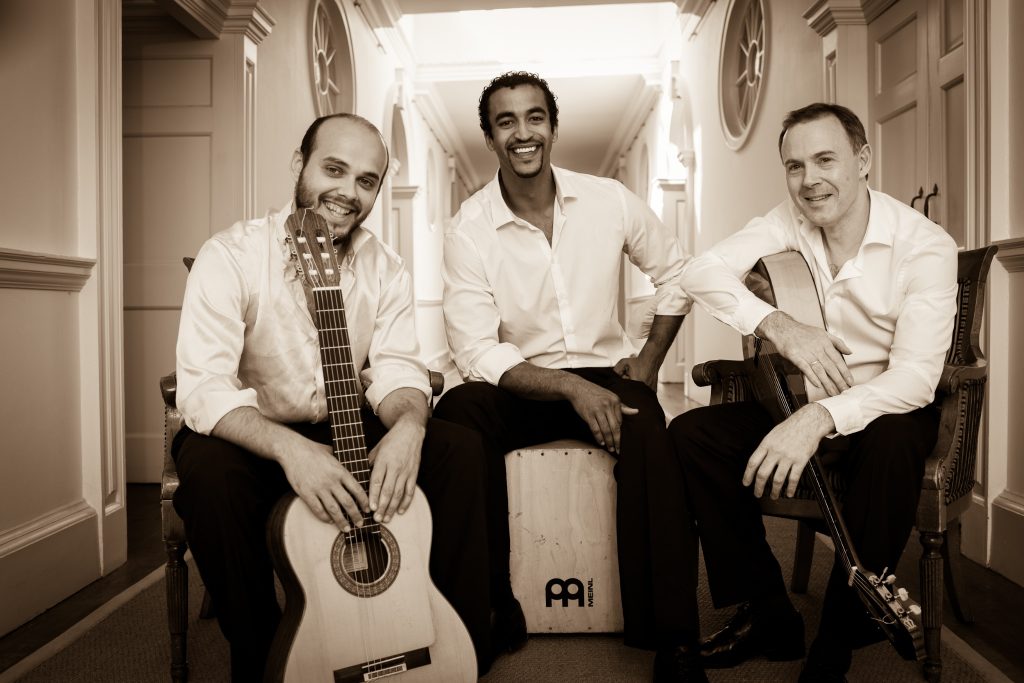 Echoes of Spain are expert flamenco guitarists Juan (Granada) and David (UK) together with singer and percussionist Glenn (Alicante); three hugely experienced musicians who share a love of creating and performing Spanish and Latin American music.
Their work together has taken Echoes of Spain to events such as Liangollen's famous International Music Eisteddfod, Ludlow Food Festival, numerous Arts Centers, the Royal Shakespeare Company and a very successful period of Arts Council Touring – with much critical and popular acclaim.
The Echoes of Spain set has become a dynamic blend of contemporary and traditional Flamenco. Evocative guitar pieces, supported by expert cajon playing and demonstrating virtuosic skill, alternate with beautiful Latin/Spanish songs ranging from Consuela Velasquez to Gypsy Kings.
Echoes of Spain quite literally entrance audiences with their passionate musicianship – whilst making their performances memorably enjoyable. So much so that people are often up and dancing at the 'fin de fiesta'!
Standard Length of Performance:
2 x 45 minutes.
Testimonials:
"A beautiful and evocative piece of music played with feeling by two terrific guitarists!"
– Private Client
"Thank you so much for your performance, I really loved the feeling and emotion that you both put into your playing it's a breath of fresh air. I hope you can keep inspiring and making people happy with your music!"
– Associacion Haciendo Un Mundo Mejor
Repertoire:
Vicente amigo,
tomatito,
Paco de lucia,
Manuel de falla,
Serranito, Sabicas
Juan Martin, Paco pena
Original Material
Esteban de sanlucar
Popular Spanish music such as gypsy kings, Julio Iglesias, Alejandra sanz, Juanes, Mana, Juan Luis Guerra.
Technical Requirements:
Alan and heath mixing desk- 2 fbt tops 800 watts each – sub if necessary for larger Events 700 watt sub- monitors and lights if requested
Photos of Echoes of Spain