Norvinis – Illusion & Variety Cabaret | UK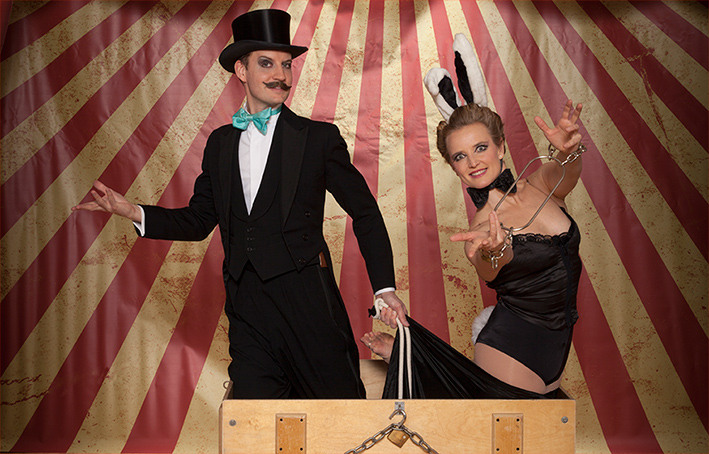 the Norvinis
Welcome to the entertaining world of the Norvinis.  This unique act blends comedy magic with acrobatics and singing – all presented with spectacular style!  This mind boggling award winning double act has appeared on prestigious stages with their cabaret show in the West End, throughout UK, internationally and live television.  It's an energetic show of magical escapism at its best.
The Stage called their show, "A beautifully paced and spellbinding act."
This show can be created to suit your space and time requirements. It can include sawing the assistant in half, a funny contortion dance (or aerial hoop) scene with singing and a flying table, then as a finale they can perform the flashy and jaw-dropping escape from a chained trunk.  There's also audience participation and lots more surprises. You supply your scene and they'll make a bespoke show that fits you.
Testimonials:
"It's an act that's different from other illusionists. We are very happy we found you!"
– Business Continuity Institute
"I love this fun-filled personality-driven act, with its fresh, unique and entertaining presentation."
– J. Spina writing in MAGIC Magazine
"The show was the highlight of our event. A perfect mix of magic, humour, glamour, and acrobatic skill make for a great show. Their unique brand instantly set them apart from the rest. I'd happily recommend this duo to anyone who's looking for more than just a magic act."
– St John & Elizabeth Hospital
"I have had so many positive comments from my colleagues. The show was action packed, lively, energetic and fun! Everyone thought the act was fabulous!"
– Montanaro
"From first contact I knew that I had stumbled across someone very organised and professional. This completely lived out in the act that followed some six weeks later. It was a magical feast that was played out before my eyes, and both I and my colleagues were 'dazzled'! Even better than I expected. I sat next to a Member of the Magic Circle, who didn't even know how to do some of what you did! Thank you!"
– United Biscuits
"The performance was tremendously impressive. We all know at our table that magic doesn't exist but this act has left us seriously in doubt!"
– Old Billingsgate Market
Previous Clients Include:
Barclays
Brighton Festival
Cable & Wireless
Deloitte
Ernst & Young
Herbert Smith
Lehman
Lovetts
Mask Event & Design
Montanaro
United Biscuits
Clerkenwell Vestry
City Varieties Theatre
Hackney Empire
Newbury Corn Exchange Theatre
Old Billingsgate Market
Scala
Photos of the Norvinis