Nina – Acoustic Guitarist & Vocalist | UK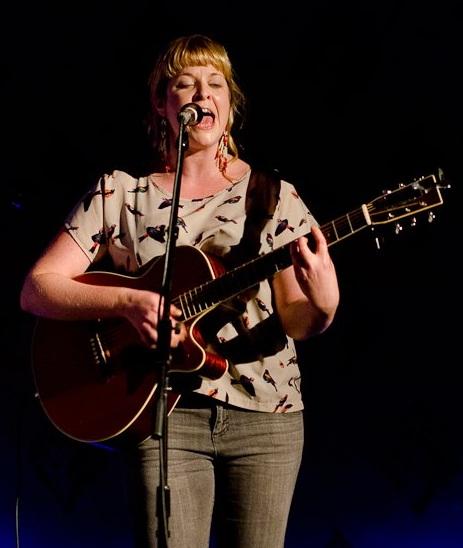 Nina
Nina is an acoustic artist, performing as a vocalist, guitarist and pianist. Her sound is folk-tinged pop, but encompasses roots and blues and is always soulful. Her sets are a mix of engaging interpretations of other artists' material and original songs of her own. Both avenues weave together seamlessly, and audiences are often as charmed by her songs as the more familiar covers.
Nina, a regular feature on BBC Radio Kent, has guested at Grammy-nominated Kurt Elling's residency in Chicago's famed jazz club The Green Mill, shared the bill with Madeleine Peyroux and Leanne Carrol, supported Circulus and Midge Ure and sung with Jamie Cullum!
Set Times:
Nina usually performs 2 x 1 hour sets.
Testimonials:
"Lyrical and sharply written originals…cool without affectation…Nina has found her voice."
– The Guardian
"Sun-tinged…cultivating a sound that marks (her) out from the crowd…"
– The Independent
"It's Nina's voice that feels warmest, her deep lilt rich and rosy."
– Coke Machine Glow
"Thank you for your message. Nina exceeded all expectations – she was absolutely amazing!"
– Private Client (via Contraband)
Previous Clients Include:
Marlborough Jazz Festival
Mick Jagger Centre
PE Jazz Club
The Bulls Head
Repertoire Includes:
Guitar Repertoire:
1234 (Feist) – capo 2 – C maj shape
2000 Years (Billy Joel)
3x5 (John Mayer)
50 Ways To Leave Your Lover (Paul Simon) – – – Capo 2 – – G (first chord E min shape)
A Case of You – G – capo ?
A Change Is Gonna Come – A
A Kind of Magic – G
A Kiss From A Rose – A
A Man of Constant Sorrow – DADGAD
A Thousand Years (Christina Perri) – C maj
A Whiter Shade of Pale – – C
Addicted To Love – A
Ain't Nobody – capo 1 – Dm shape
Ain't No Sunshine – Am
Ain't Too Proud To Beg (Temptations) – C
Allentown – G – first chord Am
All Along The Watchtower – Am
All Apologies – E
All Day and All of the Night – – G
All I Want (Joni) – – C
All I Wanna Do (Sheryl Crow) – E
All Night Long – A
All This Time (Sting) – – Capo 2 – G shape
All You Need is Love – G
Alright Now – – A maj
An Audience With the Pope – Capo 3 – Am shape
And So It Goes – G?
Angels (Robbie Williams) – G
Another Day In Paradise – (capo 2 or 3?) – Em shape
Another Part of Me – – Capo 2 – Am
Any Major Dude (Steely Dan) – Capo 2 – G maj shape
Are You Too Clever (Larry Coryell) – A
Babylon (David Gray) – G?
Back For Good (Take That) – G maj shape (capo too high) Not too fast
Back In The High Life – E
Back In the USSR – – D
Back To December (Taylor Swift) – – – C maj (capo 2 if you like)
Bad Things (True Blood Theme Tune) – capo 2 – Em shape
Be My Baby (Ronettes) – capo 2 – C shape (watch ending)
Beat It – – Am  (or Capo 3 for more power)
Beautiful (Christina Aguilera) – – D
Bennie & The Jets – G
Better Together (Jack Johnson) – D
Between Us
Big Shot – – E (capo if too low)
Big Yellow Taxi – D
Billie Jean – – Drop D – D bar up/down
Bittersweet Symphony – E
Black and Gold – capo 2 – Em shape
Blackbird – G (slowly)
Black Magic Woman
Blame it on the Boogie – D
Blowin in the Wind – G
Both Sides Now – DADGAD – Capo 3
Breakfast at Tiffany's
Bridge Over Troubled Water – G
Bring it on Home To Me (Sam Cooke) – – C
Brown Eyed Girl – -G
Brown Eyed Handsome Man – A
Brown Sugar – C
Burning Down the House – – G
Cadence & Cascade – C
California – – C (rush the lyrics)
California Dreaming – capo 3 – – Amin shape
Call Me Al – Drop D – D – capo ?
Candle In The Wind
Can't Buy Me Love – C
Can't Get You Out of My Head (Kylie) – Dm
Can't Stop Thinkin' Bout You – Am
Can't Take My Eyes Off You – E
Captain Jack – C?
Careless Whisper – Em
Carey – C
Celebration – G (intro riff – first changes CBG)
Chain of Fools – A
Champagne Supernova (Oasis)
Cheers (Drink to That) – (Rhianna) – Capo 3 – E
Chelsea Dagger (Fratellis) – – G
Chuck E's in Love (Rickie Lee Jones) – – – G maj
Clarity – – A
Close To You
Come On Eileen – – D (verse C, chorus D)
Come Sunday (F)
Come Together – – – Drop D
Come In From The Cold (Joni) – – DADGAD
Consideration (Reef) – Capo 2 – G shape
Constant Craving (K D Lang)
Crazy (Gnarls Barkley) – – – capo 2 (or 1 if tired) – – Amin shape
Crazy (Patsy Cline) – C
Crazy In Love (Beyonce/Jay-Z) – Drop D – D
Creepin – C
Crossroads – A
Cruisin' (Smokey Robinson) – – – C maj
Cry Me A River (Justin Timberlake) – Am
Cupid (Sam Cooke) – G
Dancing in the Street – -D
Dancing Queen – E (capo 1 or 2)
Daniel – C
Darkness, Darkness – Em
Dark End of the Street – G
Day Tripper – E
Destination Anywhere – Am
Do It Again – Am?
Do Right Woman – G
Do You Know The Way to San Jose – C (HIGH)
Don't Ask Me Why – C
Don't Get Me Wrong – D
Don't Give Up (Gabriel/Bush)
Don't Know Why (Norah Jones) – A
Don't Let Me Be Lonely Tonight (James Taylor) – G – first chord Am
Don't Let The Sun Go Down On Me (Elton John) – D maj (first chord A)
Don't Look Back In Anger (Oasis) – C
Don't Speak
Don't Stop Believing – – D
Don't Tell Me (Madonna) – D
Don't You Forget About Me – D
Don't You Want Me Baby – first chord G
Don't You Worry 'Bout a Thing (Stevie Wonder) – – `Am
Downeaster Alexa – Am
Dream a Little Dream – C
Driftwood (Travis) – – capo 2 – – G shape
Drive My Car – – D
Dry The Rain (Beta Band) – E (capo if too low)
Edge of Desire (Mayer) – Drop D – Capo 2
Eleanor Rigby – Em
Empire State of Mind (Alicia Keys) – D (capo 1 optional)
Eternal Flame – capo 2 – D shape
Every Breath You Take – Capo 2 – G maj shape
Every Little Thing She Does Is Magic – D
Everybody Wants To Rule The World – D (verse A G)
Everything I Do, I Do It For You – C
Ex Factor (Lauryn Hill)
Express Yourself – E
Faith – – C
Fastlove (George Michael) – Am  (first chord Dm7add9)
Fast Car (Tracy Chapman) – capo 2 – A shape
Feel Like Makin' Love  (D'Angelo) – – Drop D
Feeling Good (Am?)
Femme Fatale – Capo 1 – C shape
Fever – A
Fields of Gold – – – G maj (first chord Em)
Forget You (Cee Lo Green) – C
For Once In My Life – – G
For The Longest Time – D (capo if too low..)
Free Fallin' – capo 1 – E shape
Free Man In Paris – A
Friends, Lovers or Nothing (Mayer) – E
Gatekeeper (Feist) – – Am
Georgia – – G
Get Back – A
Get Ready – A verse – C chorus – WATCH OUT FOR ENDING!
Gimme Some Lovin' (Spencer Davies Group) – – Gd
Girl (Beck) – capo 1 – A shape
Girl From Ipanema – F
Girls Just Wanna Have Fun – – D
Go Down Easy
Go To Sleep Little Babe – G
Going To California (Led Zeppelin) – DADGAD – G (first chord C)
Golden Brown (The Stranglers) – capo 3 – Em shape
Golden Years (Bowie) – A
Gollum's Song
Goodbye Yellow Brick Road
Good Day Sunshine – – – A maj (intro on B and F#)
Good Love Is On The Way (Mayer) – A
Good People (Jack Johnson) – – capo 2 – A shape
Good Riddance (The Time of Your LIfe) – Green Day – G
Goodbye To You (Michelle Branch) – G
Goodnight Girl – A
Goodnight Saigon – C
Got To Get You Into My Life – G
Got To Give It Up – A
Grounds For Divorce (Elbow) – Drop D – D
Gypsy Girl – G
Half The World Away (Oasis) – G
Hand In My Pocket (Alanis Morisette) – – – Gmaj
Hard Days Night – – G
Hard To Handle – A
Haven't Met You Yet (Michael Buble) – G
Head Over Feet (Alanis Morisette) – – D verse – – E chorus
Heal The World – G
Hearts & Bones
Heartbreak Hotel – D
Heartbreak Warfare (Mayer) – Drop D – A maj
Heaven – G
Heaven Is A Place On Earth – D
Help! – A (first chord Bm)
Here Comes The Sun   Dmaj
Hey Baby (Dirty Dancing) – – A
Hey Jude – G
Hey Ya – G
Hit Me Baby One More Time – – Am?
Hit The Road Jack – Am
Hold On I'm Coming
Honky Tonk Woman
Horse With No Name – – Drop D – Em
Hotel California – – Am
Hound Dog – C
Hounds of Winter – Am (first chord G/C)
House of the Rising Sun (The Animals) – Am
How Deep Is Your Love – – A maj WATCH FOR ENDING
How Sweet It Is – – D
Human Nature – D (first chord G to A)
Hungry Heart – C
I Can't Go For That (No Can Do) – – capo 2 – – Am shape
I Can't Help Falling In Love With You – A
I Can't Help It – – A (first chord Bflat7)
I Can't Make You Love Me – Drop D – first chord D
I Can't Stand The Rain – A
I Don't Trust Myself With Loving You – Bm
I Don't Wanna Know (John Martyn) – – – Drop D – – D min
I Feel Fine – A
I Feel Free (Cream) – E
I Got a Woman – – – A maj
I Guess That's Why They Call It The Blues – capo 2 – G verse – C chorus
I Heard It Through The Grapevine – Drop D – D bar up/down (A -7684844375450 / G is 568463760)
I Just Can't Stop Loving You – C
I Need A Dollar – – Am?
I Never Loved a Man – E
I Saw Her Standing There – E7
I Say A Little Prayer – – – G – – (first chord Em)
I Wanna Hold Your Hand – -G
I Want You Back – – capo 3 – – C maj shape
I Was Brought To My Senses – G
I Will Survive – – usually Am, but if voice tired capo 2/Em shape
I'd Rather Go Blind – C (first chord Dm)
I'll Stand By You
I'm A Believer – – G
If I Ever Lose My Faith In You
If I Were A Carpenter – G
If You Don't Know Me By Now – – A (B section – Cmaj)
In the Midnight Hour – – Wilson Picket – -E
In The Summertime – – Capo 2 or 3? – – E shape
In France They Kiss On Main Street – – D maj
In Your Eyes – E
Inside and Out – – – – G maj (CUT MIDDLE 8)
Into The West (Annie Lennox) – C
Iris – Capo 3 – D (difficult range – low and high)
Ironic (Alanis Morisette) – – -C maj
Isn't She Lovely – D
Itchycoo Park – A
It's A Shame – C  (first chord Dm7)
It's Probably Me – Am
It's Over (Level 42) –
Jealousy – D
Jeremy (Pearl Jam) – – – X02200      300200   (also brainstorm shapes later)
Johnny B Goode – – – A
Jumpin' Jack Flash – – capo 1 – – A shape RIFF!
Just Like Jesse James – G
Killing Me Softly – C – Am chorus – Dm verse
King of the Mountain – E
Kiss Me (Ed Sheeran) – – D
Kiss On My List – D
Kite-flyer's Hill – A verse – D chorus
Knocks Me Off My Feet – D (NO KEY CHANGES!)
Kodachrome (Paul Simon) – A verse – D chorus
Late In The Evening – E – first chord A
Lazy Song (Bruno Mars) – Drop D – Capo 2 – A maj shape
Leave A Tender Moment Alone
Leaving Las Vegas
Leaving Me Now –
Lessons in Love – – – – C maj?
Let It Be – C
Let's Get It On – E
Let's Stay Together
Let Your Soul Be Your Pilot – C
Light My Fire – Am
Like a Rolling Stone – C
Like a Prayer – – C – – Am
Like A Virgin – – Am
Lithium Sunset – A
Little Wing – capo…. Em shape
Live To Tell – Em
Living in the Love of the Common People
Livin' on a Prayer – Em
Looking Back Over My Shoulder – G
London Calling – – Em
Louder (DJ Fresh feat. Sian Evans) – capo 2 – Em shape
Love Is All Around – – – capo 2 G shape
Loves Me Like A Rock – G
Mad World
Maggie Mae (Rod Stewart) – – Capo 2 – – Amaj shape (first chord E)
Make It Tonight (Wet Wet Wet) – Gm verse, G maj chorus
Make You Feel My Love (Adele) – capo 3 – G shape
Man in the Mirror – G
Matter of Trust – C?
May You Never (John Martyn) – DADGAD
Me & Julio Down By The School Yard – D
Mellow Yellow – A
Message in a Bottle – Am (chorus F)
Miami 2017 – G
Midnight at the Oasis – D
Minor Variation – E
Mirrorball – – A
Missing (Beck) – E
Moondance – Am
More Than Words – G
Mother and Child Reunion – A intro
Moves Like Jagger – capo 2 – Drop D – Am7 shape (FAST!)
Mr Blue Sky – – G
Mr Tambourine Man – – G – first chord C
Multiply (Jamie Lidell) – – – D (first chord G7)
Mushaboom – – D
Mustang Sally – C
Mykonos (Fleet Foxes)
My Cherie Amour – D (key change too?)
My Girl – – – capo 4- – HARD
My Love Is Your Love – C
My Stupid Mouth – D
New York State of Mind (Billy Joel) – – – BUILD IT
Nights in White Satin (Moody Blues) – – – capo 2 – – – Emin shape
No Quarter – – DADGAD (or lower!)
No Woman No Cry – D
Norwegian Wood – D
Nowhere To Run – – – E
Old Man – D
On My Brain (Justin Timberlake) – A
One of These Things First – G (a bit up-strummy)
Only The Good Die Young – C (first chord F)
Open Your Eyes, You Can Fly
Other Side of the World (K T Tunstall) – – D – – first chord A
Oye Como Va – Am
Paint It Black – Am
People Are Strange – Am
Perfect – – D
Perfect Day – – verse Amin – – chorus A maj
Piano Man – – C
Pink Moon – DADGAD – capo 3
Place Your Hands – D
Please Don't Stop The Music – Drop D – F#m
Please Read the Letter (Krauss/Plant) – G (first chord C)
Pretty Woman (Orbison) – E (RIFF!)
Price Tag (Jessie J)
Pride (In the Name of Love) – – capo 2 – A maj shape
Purple Rain – D
Put The Light On – G
Put Your Records On (Corinne Bailey Rae) – A
Rebel Rebel – – – Drop D
Red Morning Light (Kings of Leon) – E (first chord B)
Rehab (Winehouse) – C
Respect (Aretha) – – A (first chord E7, then D7)
Riders on the Storm (The Doors)
Right For Me (Timberlake) Decide  a key (Gm or Am)
River of Dreams – G
Rocket Man – – capo 3 Em shape – no chart
Rock your Body (Justin Timberlake) – – Drop D
Roll To Me (Del Amitri) – capo 2 – E maj
Roll Um Easy (Little Feat) – DADGAD – Capo 7 or 5
Roll With It (Oasis) – G
Rolling in the Deep (Adele) – capo 2 – Am shape
Roxanne – Em (much lower than original)
Ruby Tuesday – D  – – first chord Bm
Running in the Family – Am
San Tropez – C
Sara Smile – – Em (to Bm)
Say Goodbye To Hollywood – C
Say It Isn't So
Sealed With A Kiss (Brian Hyland) – Am (first chord D)
Set Fire To The Rain (Adele) – Dm
Seven Days – C – 5/4 – STRUM ALL
Sex is on Fire (Kings of Leon) – – E
She Drives Me Crazy – D
She's Electric (Oasis) – – G
She's Not There (Zombies) – – Am
She Loves You – – G – – intro Em
Shoop Shoop Song – – – Capo 2 – A maj
Signed Sealed Delivered – E
Sitting on the Dock Of the Bay – – C
Sledgehammer (Peter Gabriel) – – Drop D
Slip Slidin' Away – C
Solid Air – Em
So Lonely (The Police) – – capo 2 – – G maj
Some Might Say
Somebody I Used To Know (Gotye feat. Kimbra) capo 2 – Am shape
Someone Like You (Adele) – – – G
Something's Missing (John Mayer) – – DADGAD Capo 3
Something About You – – E (capo)
Son of a Preacher Man – D
Soul Man (Sam & Dave) – E – watch intro riff!
Space Oddity – – – Intro Em  F – – C first chrd of verse
Spinning Around – – Em
Spinning the Wheel – Dm
Spooky – – – A min
St Judy's Comet
Stand By Me – C
Starman – capo 1 or 2 – E shape
Stay (I Missed You) – – – D maj
Steady As She Goes
Still Crazy After All These Years – -G – HARD
Storm Front – C
Strange Brew – D
Stuck (Caro Diamond) – -D ?
Stuck in the Middle With You – – D
Suddenly I See (K T Tunstall) – – D (Chorus Bm)
Sugar & Spice – D
Summertime
Summer Highland Falls – G
Summer of 69 – D
Sunday Morning
Sunny Afternoon
Sunrise (Norah Jones) – D (first chord A)
Sunshine of your Love (Cream) – Drop D
Superwoman – A
Superstition – E
Sweet Child O Mine – A
Sweet Dreams Are Made of This – Am
Sweet Home Alabama – D
Sympathy For The Devil – E – (capo if too low)
Take It Easy (The Eagles)
Take Me To The River – – – E
Take My Breath Away – C (capo if too low)
Talk Tonight (Oasis) – – E m
Tangerine – Am
Tangled Up In Blue
Tea in the Sahara – – Drop D
Tears of A Clown – Capo 2 – A shape
Tell Her About It  – – C verse – – G chorus
Tender Is the Night (Blur) – D
Thankyou (Led Zeppelin) – G
That's The Way – DGDGBD – G
The A Team (Ed Sheeran) – – capo 2 G shape
The Bones of You – Drop D – A
The Days of Our Lives – D
The First Time Ever I Saw Your Face – – Cmaj
The Fix (Elbow) – Am
The Locomotion – D
The Joker (Steve Miller Band) – –  Capo 2 – G shape
The Man Who Sold The World  – – – E m
The Obvious Child
The Sound of Silence – Am
The Sun Ain't Gonna Shine Anymore – G
The Times They Are A-Changing – C
The Tracks of My Tears – G
The Village Green Preservation Society – E
The Way You Make Me Feel – C (Watch the outro!)
The Weight – C
The Windmills of Your Mind – capo 2 – Am shape
Then He Kissed Me (The Crystals) – C
There She Goes – – G
Ticket To Ride – – C
Time After Time – C
Time of the Season – Em (capo if too low, but watch chorus..)
Tiny Dancer – C
Tom's Diner
Total Eclipse of the Heart – G (first chord Am)
Try A Little Tenderness – G
Tuesday Heartbreak – – Capo 2 E shape
Turn Me On (Norah Jones) – C
Twist and Shout – D (first chord A)
Twisting the Night Away (Sam Cooke) – A
Two Princes (The Spin Doctors) – D
Under My Thumb
Under the Boardwalk – – C
Under The Bridge (Red Hot Chilli Peppers) – G verse – Am chorus
Valerie (Amy Winehouse) – – E
Valparaiso – Em
Venus
Video Games (Lana Del Ray) – Capo 2 – Emin shape
Virtual Insanity – Em verse – C chorus
Voodoo Child – E
Vultures (John Mayer) – capo 2 – Em
Wake Me Up Before You Go-Go – C
Walk Like An Egyptian – – capo 2 – A shape
Walk on By – Em
Walking On Sunshine – – A
Waterfalls – E
Waterloo Sunset – G
We Are The People (Empire of the Sun) – Em
We Didn't Start The Fire
We Have All The Time In The World
Wear Your Love Like Heaven – – G verse – Em chorus
Weather With You – D – first chord Em
What Do You Take Me For (Pixie Lott) – capo 1 – Drop D – D F G
When A Man Loves A Woman (Percy Sledge) – C
When In Rome – A
When The World Is Running Down – E
White Room
Whole Lotta Love – – E Hendrix
Why Does It Always Rain On Me?
Why Georgia – Capo 2 – A verse – E chorus
Wild Horses – G – – – verse Bm G – – chorus Am   C
Wild Young Hearts – (Noisettes) – – D (first chord G 6)
Wild Thing
Will You Still Love Me Tomorrow (Shirelles) – – C
With A Little Help From My Friends – capo 2 G shape
With or Without You – – D
Wonderwall (Oasis) – capo 2 – Em shape
Would I Lie To You (Charles & Eddie) – – Chorus G – – Verse E
Yellow – Drop D – capo 2 – A shape
Yellow Sun (The Raconteurs) – – A
Yesterday – G
You Are Always On my Mind – G
You Can Go Your Own Way – – capo 1 – – E shape
You Can't Always Get What You Want
You Get What You Give (New Radicals)
You Make My Dreams Come True – D
You Really Got Me – The Kinks – – G , A , D
You Shook Me All Night Long – (AC/DC) – G
You Turn Me On I'm A Radio – D
Your Song – D
You're The One That I Want
You've Got  A Friend – G
You've Lost That Lovin Feeling
Photos of Nina