Nicole – Aerial Rope, Silk & Trapeze | UK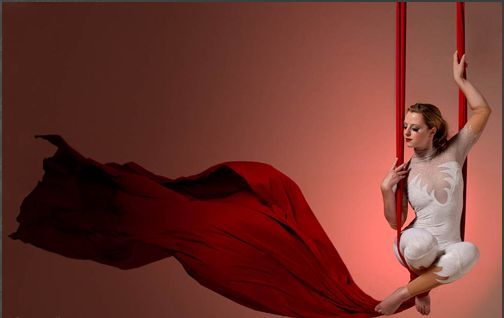 Nicole is an innovative aerialist who has been performing internationally since the age of 14. A specialist in corde lisse, she also has a number of other aerial acts including aerial hoop (cerceau), dance trapeze, static trapeze, duo cerceau/trapeze, and tissu. In addition to this, she is an accomplished unicyclist and handbalancer.
Nicole trained at the Ecole Nationale de Cirque in Montreal (widely acknowledged as the best circus school in the world), and worked alongside Pierre Carrier to invent some of the most dangerous and inventive corde lisse tricks in the world today. She has worked for such companies as Circus Smirkus (2001-2003), Circus Flora (2004), the Zoppe Family Circus (2004) and Pendulum Aerial Dance Theatre (2005-2007).
In addition, Nicole is an award winning corde lisse performer (Bronze Medalist, Piste aux Espoirs, Belgium), and was recently invited to perform at the solYciro festival in Sylt, Germany.
Nicole is also now proud to announce her new doubles trapeze act, a collaboration between two of the UK's foremost aerialists and acrobats. The result? A highly-skilled trapeze act with a unique twist! Rather than working on a static trapeze bar they use a spinning trapeze, to create an act in three dimensions.
Costumes Available Include:
White shimmer unitard
Red sparkly unitard
Gold sparkly unitard
Blue shimmer unitard
Green/turquoise (pictured) shiny unitard
Black "Bond Girl" style unitard
Red corset and fishnets (Cabaret /Chicago style)
Black lace top and shorts (Tango style)
Sailor outfit
The act can be performed on either white or red silks.
It is required that details of rigging heights and points is sent in advance. Music shall be supplied on a CD unless otherwise requested. Client must provide the PA system. This act has set costumes and music. These can be changed if the client requests. Client must provide a secure dressing room, with space to warm up.
Acts Available Include:
Corde Lisse
Suspended from a simple rope, Nicole contorts high above the ground. This act combines strength, grace and flexibility, with a final headlong plunge towards the ground.
Tissu
A beautiful and hypnotic act. Nicole suspends herself high in the air, twisting and contorting with poise, skill and grace.
Dance Trapeze
A dark stage, a single spotlight, and a sultry tango on a single spinning trapeze. Nicole dances around the bar, flirting seductively with the audience in true tango style. Alluring and mesmeric, she will entice the audience with her whirlwind performance.
Aerial Hoop
A lyrical act, with smooth, flowing contortions. Also available as a double act, see previous page.
License to Thrill (corde lisse)
A high energy, action packed display of aerial excellence. Embodying a sassy "Bond Girl" character, Nicole mixes explosive acrobatic elements and dazzling drops with smooth, slinky choreography.
Oceanid (aerial tissu)
A graceful aerial silks act which dazzles with its elegance and skill.
Aerial Silks
Act Duration: 4.45 mins
Rigging: 1 rigging point with a minimum SWL 500kg
Height: Minimum 5 metres height (6m plus is ideal)
Floor: Minimum of 2m diameter clear floor space below the silks.
Duo Trapeze
James and Nicole began training and working together in 2007, concentrating on duo trapeze. Combining their artistic and technical strengths, they developed their own unique take on a classic piece of equipment. A sensual duet on a spinning bar…daring tricks intertwine with beautiful artistry to create a visual crescendo, with an effortlessness that seems to defy gravity itself.
The Red Act
Uptempo and high energy, this duo create a surprising and inventive interplay on the trapeze. Exciting tricks, vintage style costumes, and an endlessly spinning trapeze bar make this a whirlwind performance, not to be missed!
The White Act
A young couple, happy in their life together or so it would seem. Beneath the surface lies a subtle power struggle, an equal desire to be in control. Whilst working together they also work apart, finding ways to gain the upper hand. Finally they end as they begin, with neither achieving the power they are looking for.
Previous Clients Include:
Royal Variety Performance
GoodWood Festival of Speed
Princess Diana Memorial Concert
Montgomery Park
Lloyd's Bank
Agent Provocateur
Koko's
Fiat
Windsor Racecourse
Chinawhite
ExCel
Akademi Dance
Wrigley's
O2
Lexus
Smart Car
Henley Festival of the Arts
Truly Asia
Photos of Nicole