Musketeers Theme – Stunt Performers | UK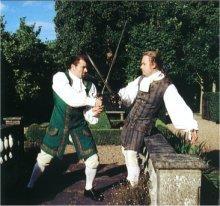 Combining fast-moving and colourful action with drama and humour, this highly adaptable scenario has delighted and entertained young and old alike. The characters and feel of the famous story are brought to life by The Stunt Team's usual style and professionalism.
France, 1620's. The country is in the grip of war and wracked by civil strife. While armed men roam the land, the Queen is conducting a clandestine affair with the France's greatest enemy, the Duke of Buckingham.
Sworn to protect King and Country, the Musketeers find themselves up against the corrupt, power seeking Cardinal Richelieu, his cunning and brutal henchman Captain Rochefort and his many soldiers and agents.
In an age of duels, spies and intrigue our heroes fight against insurmountable odds to save the day, their Queen's honour and themselves, armed only with their wits, skills at arms and sense of fair play.
The action takes us from the Royal court to the local tavern in a whirlwind of swordsmanship and tightly choreographed action sequences, all put together with excitement in mind.
Testimonials:
"Thanks for recommending Wayne and the team as the focal point of our recognition dinner. The show they put on was highly impressive, very entertaining, and incredibly funny and went down really well with the audience. On top of this, the support and flexibility the team gave throughout the day was brilliant, from welcoming people at the gang plank, through to marching guests between parts of the location, and making announcements."
- Private Client
"Fast moving, colourful and very professional"
- Fools Paradise
"Thanks guys! Once again The Stunt Team saved the day!"
- NDS Promotions Ltd
"Arresting entertainment made the evening go with a bang!"
- Zap Enterprises
"The guys were fantastic – provided a great stunt, and worked the theme and messaging of the show in very well."
- House PR (via Contraband)
Previous Clients Include:
Virgin
British Rail
Ernst Young
Kensington Palace
Hampton Court
Tower Of London
Barclays Bank
Shell
British Airways
Pinewood Studios
Catch A Star - Dubai
Doha Film Festival - Qatar
Tescos
Sainsburys
Clinton Cards
When You Wish Upon A Star
Yahoo
Legal Business
Rentokil
New Look
KP
The Dorchester
The Intercontinental
The Hilton
Photos of Musketeers