Moon: Calvos – Juggling Stilt Walkers | UK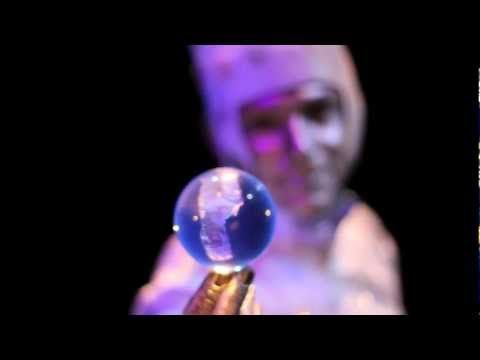 Exquisite stilt-walkers and crystal ball jugglers.
Beautiful and bizarre, four awesome-looking characters in intricate white costume, their entire skulls a brilliant metallic silver. Standing on stilts and viewed high above their audience, Calvos are elegant creatures of a tranquil and mysterious world. International specialists in the art of 'contact juggling', Calvos manipulate crystal balls that glide, float, dance and levitate surreally around their hands, arms and bodies.
Impossibly skilful, delightfully mesmeric and utterly astounding, this real-live magic must be seen to be believed. Stunning, spine tingling, elegant and serene, Calvos appear as either ground level crystal ball jugglers or stilt characters – or both – in the same booking.
Calvos can perform walkabout, meet and greet and static installations or a mixture of all three! They can be booked as 1, 2 3 or 4 characters performing separately or together. Calvos also perform as walkabout contact jugglers with a range of alternative costumes and characters. Some of the artists also perform high-skill music choreographed stage routines of approximately 5 minutes in length.
Standard Length of Performance: 3 x 30 minute sets.
Testimonials:
"The guys were amazing, went down a storm, and looked fabulous with the event styling and lighting, which was a Swarovski crystal palace!"
– Event Concept Ltd
"Amazing!"
– Hugh Grant
"Contact juggling…the art at its apotheosis."
– The Scotsman
"A scene which created the illusion of a ball levitating through the air of its own accord was simply astonishing"
– Edinburgh Evening News
"The next day feedback was not good, it was FABULOUS and that's because of you."
– HH Advertising
"I think Calvos worked really well as pre-dinner entertainment for the party. It was a beautiful evening so having them outside in the garden was just great. They looked exactly as I had expected and the performance they did matched my expectations as well…so no complaints at all."
– Chique Events
"Absolutely stunning! Such surreal elegance and magic. Our corporate clients and funders were charmed and utterly entranced by the characters and want to see it all over again"
– Outward Bound Professional
"An almost spiritual experience." Tarby Davenport "Everybody loved you guys and thought the act was amazing. I still can't work out how the hell you do that!?"
– TLT LLP Solicitors
"That most beautiful act of the orbs with you all in silver was both spiritual, graceful and so entertaining – quite mesmerizing"
– Private Client
"They were fantastic. Please pass on my thanks to all of them in particular Jago who went out of his way to adapt their performance around the space at Sketch and timings of the party to maximise the impact. They even managed to perform in an area that we weren't supposed to use as it made a great entrance experience for the guests."
– The Capital Markets Company (UK) Ltd (via Contraband)
"Thank you so much for all of your help in providing entertainers for our Best Dream Event on Friday. We have received outstanding feedback from everyone who attended and our client, it was such a great night! All of your acts were extremely professional and put on a fantastic show…they were all brilliant and fitted our theme and evening schedule just perfectly."
– Yellow Fish Event Management (via Contraband)
"The performers were fantastic! I was so so pleased! They were great to work with, extremely professional and looked brilliant! I look forward to more events together in the future."
– Jennabelle Events Ltd (via Contraband)
"Yes everything went very well and everyone enjoyed all the acts! Calvos worked very well at the entrance door welcoming the guests and the fire show was amazing (as usual)."
– Private Client (via Contraband)
"Calvos were wonderful! Both Stewart and Dimitri were a delight to work with and the crowd really enjoyed them. Unfortunately, the afternoon performance was marred slightly by the horrible weather but the evening went really well and I had lots of positive feedback about both of them. The night was hugely successful and we raised an amazing £40,000!! Thanks for all your help."
– Teenage Cancer Trust Guernsey Appeal (via Contraband)
"The evening went down really well thank you. Calvos were really good as a meet and greet and as table entertainment – they had the high impact factor! Thanks for your help."
– Imperial Cash & Carry Ltd (via Contraband)
"Calvos were great on site. To be honest, things were a bit hectic and it was fantastic that they just came along and got on with the job. Feedback has all been very positive and the client is very happy. Thanks again for everything."
– Pumphouse Productions (via Contraband)
"Both acts were brilliant – highly professional and exceeded all our expectations. Absolutely brilliant – cant wait to see them again. Thank you so much."
– Lawton Communications Group (via Contraband)
"Jago and Dmitri were a-maz-ing daaarling! to quote Craig R-H. Their look was perfect for my theme and they had everyone mesmerised.  For non-speaking performers, they really endeared themselves to everyone with whom they interacted, and people were talking about them for days afterwards.  I saw them before they left and I did tell them all this face to face, but it never hurts to repeat praise!…"
– Interconnector (UK) Ltd (via Contraband)
Previous Clients Include:
Madinat Jumereih
Woodford Festival
Edinburgh Fringe Festival
Henie Onstad Art Gallery
Holders Season Festival
Chef of the Year Awards
Hilton Park Lane
Microsoft Conference
Henley Festival
Feast Festival / Xtrax
British Grand Prix
Silverstone
Klub TOP
Hallowtides Festival
The Saatchi Gallery
Sport City, Manchester City FC
Coronation Street DVD Premier
Lakes Alive Festival
Chelternham Literature Festival
Morley Fund Xmas Party
Royal Courts of Justice
International Gaming Expo
Scottish Widows
'Rise and Fall' Sculpture Opening
Whitehaven Maritime Festival
South Bank Winter Festival
Xscape
St Davids Centre Opening
The London Aquarium
The V&A Museum
Regents Street Xmas Lights Switch On
RBS
Tutunkhamun Exhibition Opening
O2
Grosvenor Hotel
PepsiCo Retirement Party
Bloomberg Company Party
Liverpool One Grand Opening
Chelsea Festival
Manchester Art Gallery
The Gherkin
The Palm House
Newbury Racecourse
Serpentine Gallery
Madame Tusauds
FUSE Festival
Oxford University Ball
Capital FM
Horne House Private Club
Celtic Manor
Brewery & Chelsea Gardens
Chanel
Land Rover
Swarovsky
Palm Hills Festival
GITEX Expo
Fete De Noue
Safron Smith Event
Con Tempo Promotion
Photos of Moon: Calvos