Mooch – Gatsby Jazz Band | London| UK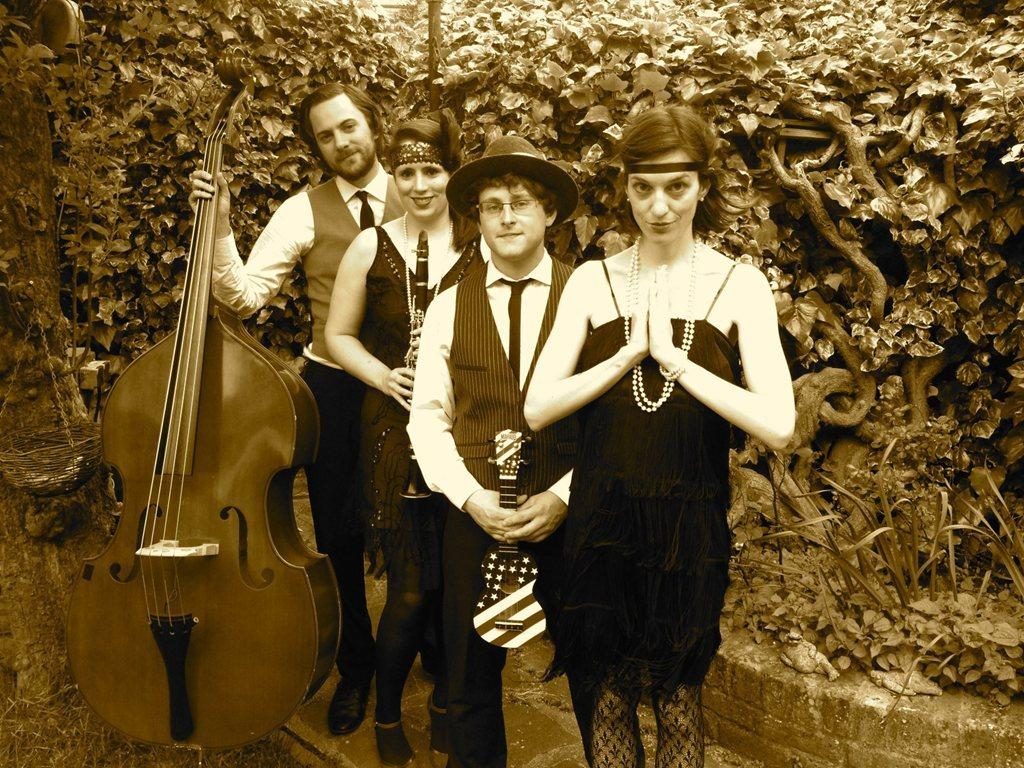 Abut Mooch
Mooch jazz band aims to add a touch of old-world glamour to your party, combining irresistible dance rhythms with the sophisticated tunes of Cole Porter, Irving Berlin and many others!  If you want to book corporate entertainment that will be remembered for great Jazz music long after your event, then we recommend this great band for your corporate event or private party.
Their influences include Duke Ellington, Django Reinhardt and the jazz orchestras of the roaring twenties.  The members of this band are drawn from Trinity College of Music, Guildhall, Leeds College of Music and the London College of Music.
Line-up (from duo to quintet):
1. vocals
2. ukulele/ keys/ guitar
3. clarinet/ sax/
4. trumpet
5. bass
Technical Requirements:
The band will need a minimum of 10x10ft performance space.
Standard Length of Performance:
The band perform 2 x 45 minute sets.
Testimonials:
"You really made the event." 
– Vintage Tea Party
"Perfect speakeasy atmosphere."
– Hedsor House
"Thanks for the wonderful music at the Festival preview."
– Hackwood Art Festival
"Kathleen – Just to say thank you so much for the splendid performance on
Saturday. I thought it was wonderful. People have been ringing all weekend saying how much they enjoyed it."
– Private Client
"Kathleen Garner – a name you may want to remember…Kathleen's performance was breathtaking, and she had excellent command of the pieces and the way in which they were performed. Just by looking at the faces around me, you could tell that she had nailed it."
– Greenwich Gazette
"Thank you for your email and for your fantastic help last week in arranging Kathleen's availability and attendance at the party, which went really well. Kathleen was a great success. Her performance was just what we had in mind and she has an exceptional voice. Please pass on our thanks to her for helping to make the night such a success."
– Bray & Krais (via Contraband)
"We were delighted with the band's performance, thank you. Prior to the event the organisation had been excellent and we were very happy with the standard of the performance."
– Private Client, Kent
"The band were great, the perfect accompaniment to our wedding picnics. We loved all of the songs they played and they really set the tone for our day. It was amazing to have them playing as our guests arrived and we could hear them from the river as we arrived by boat. They were friendly and helpful, matching their performance to our days timing which was brilliant. Thank you!"
– Private Client, Oxfordshire
"Very friendly 4-piece who really fitted in well with our venue and the whole theme of the 90th birthday celebrations. I have had good feedback from many of those who attended including a family member who is himself a musician. Thanks!"
– Private Client, Kent
"Professional and very entertaining. Really nice bunch of people! Suited the Downton Abbey themed party very nicely. Customer feedback was excellent!"
– Restaurant Event, Hampshire
"The group were very professional and neatly turned out. They provided our party with a great atmosphere and added a touch of elegance to the whole party. Pricing was also reasonable. Thanks!"
– Private Client, Middlesex
"Excellent musicians, a great set. Kathleen was very helpful prior to the event in making sure all the requirements were met. Thoroughly recommend for a booking."
– Private Client, Merseyside
Previous Clients Include:
The Prince of Wales, Brixton
Cafe Mila, Godalming
The White Horse, Dorking
British Army (Aldershot Barracks)
Abingdon Football Club
Fonthill Care, Bucks
Leaf, Liverpool
Middle Temple
Repertoire:
A sample setlist might include:
Set 1
She's funny that way
Is you or is you ain't ma baby
The Girlfriend
A smile will go a long, long way
The charleston
Then I'll be happy
I wonder where my baby is tonight
Black Bottom
Jeepers creepers
Puttin on the ritz
Tea for two
Way down yonder in New Orleans
You do something to me
Chicago, that toddlin' town
Everybody loves my baby
Truckin'
Royal garden blues
Set 2
Somebody stole my gal
Five foot two
Ain't misbehaving
Bare necessities
I wanna be like you
Lady be good
Crazy rhythm
Varsity Drag
The jazz-me blues
That certain party
King Porter Stomp
Side by side
Steppin out
Sweet Georgia brown
Yes sir that's my baby
Ain't she sweet
All that jazz
Photos of Abut Mooch
Book Abut Mooch
Want to book a performer, or just find out more? Give us a call on +44 (0)208 8291140 or use our online contact form via the button below.