Monaco – Acoustic & Electric String Quartet | UK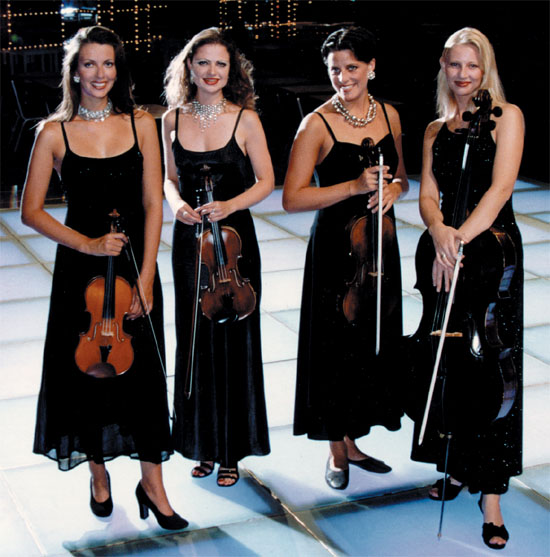 Monaco String Quartet
The Monaco String Quartet combine exceptional musical skills with glamorous and elegant presentation, and have established an excellent reputation as a first class string quartet.
Since studying at the Guildhall School of Music and Drama, they have developed careers together as well as individually, performing in a number of musical areas – from notable classical orchestras and chamber engagements, to television appearances and live performances with respected popular musicians, including Madonna, Shirley Bassey, Robbie Williams, George Michael and Whitney Houston.
European engagements together with a multitude of private and corporate events in the London area ensure their growing popularity as one of the leading string quartets. Monaco Strings also work as a pool of players and can provide larger ensembles when required. They guarantee to add an extra dimension to special events.
Standard Length of Performance:
45-50 Minute Sets over 3 hours
Technical Specification:
The quartet would need a PA system.
Testimonials:
"Monaco were great and it worked really well."
– The Brewery
"The two groups were absolutely fantastic yesterday. It was a great pleasure working with them as they both added just the right touches to the event and made the atmosphere electric, just like we wanted."
– Infigo (Dubai)
"The ladies were great especially their classical pieces. They were professional and fantastic to work with!"
– The Hurlingham Club (via Contraband)
"Everything went great thanks – the client was really pleased…"
– Awesome Events Ltd (via Contraband)
Previous Clients Include:
Monte Carlo Sporting Club
Royal Albert Hall
Royal Festival Hall
Barbican Hall and Conservatory
Hilton Hotel, Park Lane
Claridges Hotel
Savoy Hotel
The Landmark
The Dorchester
The Grosvenor
Park Lane Hotel
Waldorf Hotel
Lanesborough Hotel
Mandarin Oriental
Berkeley Hotel
Somerset House
Home House
Dartmouth House
Dulwich Picture Gallery
Royal Academy of Arts
Vinopolis
RAC Club
The Landsdowne Club
Kensington Palace
Lincoln's Inn
Chelsea Flower Show
Madame Tussaud's
Science Museum
Natural History Museum
British Museum
Ascot Races
Cliveden, Oxfordshire
Manoir aux 4 Saisons
Brockett Hall, Welwyn
Blenheim Palace
Waddesdon Manor
Repertoire Includes:
Classical
Bach
Air on a G String
Arie
Jesu Joy of Man's Desiring
Double Violin Concerto
Brandenburg Concerti
Bizet
Carmen
Borodin
Quartet No. 2
Polovtsian Dances
Brahms
Hungerian Dances
Corelli
Christmas Concerti
Debussy
Girl With The Flaxen Hair
Clair De Lune
Delibes
Flower Duet
Mazurka
Di Capua
O Solo Mio
Dvorak
Slavonic dances
Largo, from The New World Symphony
Elgar
Nimrod, form The Enigma Variations
Salut D'Amour
Chanson De Matin
Faure
Berceuse, from The Dolly Suite
Grieg
Waltz
Norwegian dance
Handel
Largo
Arrival of the Queen of Sheba
The Water Music (includes the famous Hornpipe)
Fire Music
Suite of Five Pieces
Haydn
Serenade
Mozart
Eine Kleine Nacht Music
Marriage of Figaro
Rondo alla Turca
Symphony No.29
Offenbach
Tales of Hoffman
Can-Can
Pachelbel
Kanon and Gigue
Purcell
Two Rondeaux, from The Fairy Queen
Trumpet Tune
Minuet and Air
Ravel
Bolero
Rossini
William Tell Overture
Barber of Seville
Rachmaninov
Vocalise
Saint-Saens
The Swan, from Carnival of the Animals
Schumann
Traumerei
Stanley
Trumpet Voluntary
Tchaikovsky
Chant Sans Paroles
Waltz of the Flowers
Nutcracker Suite
Verdi
Drinking Song, from Rigoletto
Vivaldi
The Four Seasons
Concerto in A Minor for two violins
Concerto in D Minor for two violins
Traditional
Greensleeves
Pop
Bacharach
Selection
Bowie
Changes
Hendrix
Purple Haze
Van Morrison
Moon Dance
Bond Tunes
James Bond Theme
Goldfinger
You Only Live Twice/Millenium
Live and Let Die
Nobody Does it Better
Queen
Bohemian Rhapsody
Horner
Theme from The Titanic
Robbie Williams
Millennium
Beatles
Yesterday
Eleanor Rigby
Here comes The Sun
Michelle
I Feel Fine
Norwegian Wood
Strawberry Fields
Eight Days a Week
The Long and Winding Road
When I'm sixty Four
Latin/Gipsy
Gade
Jealousy
Gardel
Tango por una Cabeza
Gershwin
Just Another Rhumba
Traditional
Dark Eyes
Other
La Paloma
Lively Celtic Numbers
Charlie is me Darlin'
Fiddle Dance
Irish Sherry
Emer's Farewell
Reel
Themes from River Dance
Little Brother of my Heart
Galway Reel
Dunlery Hornpipe
Themes form Lord of the Dance
Penny Whistle
Show Songs and Standards
Anderson/Rice
I Know Him So Well (Chess)
Bennet and Welch
Summer Holiday
Bernstein
Maria, America (West-Side Story)
New York, New York
Irving Berlin
No Strings
Bock
Sunrise Sun-Set (Fiddler on the Roof)
Denver
Annie's Song
Duke Ellington
It Don't Mean a Thing
Garner
Misty
Gerswin
The Man I Love
Somebody Loves Me
The Way You Look Tonight
Someone to Watch Over Me
He Loves and She Loves
I'll Build Astaire Way
Anything Goes
Cock Linnet
A Foggy Day
Jerome Kern
I Won't Dance
Mancini
Moon River
Cole Porter
Let's Do It
Other
Cabaret
Fly Me to the Moon
Makin' Whoopie
James Bond Themes
The James Bond Theme
Goldfinger
You Only live Twice
Live and Let Die
Moonraker
From Russia with Love
Nobody Does it Better
Diamonds are Forever
Photos of Monaco String Quartet