Mischief – Various Comedy Walkabout | UK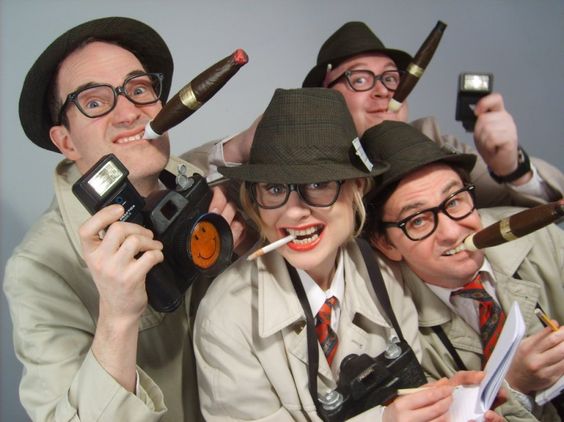 Mischief is a performance company specialising in live, interactive entertainment, walkabout characters and outdoor theatre. For over 15 years, they've devoted themselves to 'gently warping the underlay of the fabric of society'
Acts Available Include:
The Elvis Cleaning Company:
Highly efficient and dedicated, the Memphis Crew spread the word ... 'Cleanliness is next to Presliness'. They love their work, and often burst into song as they polish up the town.
The Paparazzi:
Always looking for that perfect shot and exclusive quote, these 'flash-popping hacks' spot celebrities at every turn. 'Hang on...there's Babs Windsor!
The Tom Jones Fanclub:
These determined ladies spot their idol at every turn.
The Triffids:
Accompanied by their keeper these 'Carnivorous Succulents' need daily exercise. Watch out for your sandwiches, and for goodness sake don't water them.
The Cowboys Last Round-Up:
Dedicated to rounding up the last of the Urban Buffalo, these cowboys will never give up. 'Yee Haw!'.
Testimonials:
"What a Party! People are still calling us – thanks for helping make it such a great night!"
- Private client
" Stupendous; Fantastic; Totally Brilliant; Amazing; Just a few of the words used to describe the fabulous performance you all gave at our Fashion Show on Thursday. I just had to write to say a huge thank you. The event was a great success and the feedback has been wonderful – with Mischief mentioned in almost every call, email and letter. I can't wait to have another event so that I can book you again. THANKS - WHAT A TEAM!"
- Scottish Association for Mental Health
Previous Clients Include:
Royal Bank of Scotland
Millennium Dome
Glasgow City Council
Manchester City Council
Cardiff City Council
DF Concerts
BBC
National Library of Scotland
Rocco Forte
Standard Life
British Waterways
Photos of Mischief