Walkabout Characters, Slovakia: Mirror People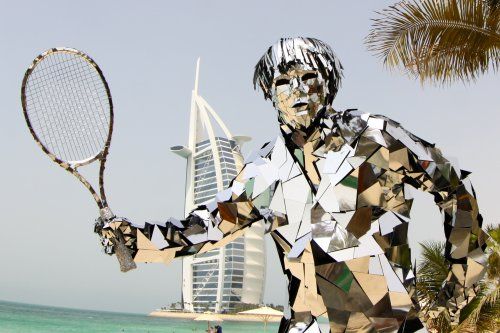 Mirror People are a great animation which fits to any corporate event or private party. The purity and glow of the mirror people bring peace and optimism everywhere. The presence of the Mirror People guarantees radiance, excellence, optimism and aesthetic uniqueness.  Their entire bodies are covered with hundreds of mirrors from head to toe. The result is a stunning reflecting being that bounces the light of the world right back upon its viewers.
Mirror People are flexible and the show works perfectly outdoors and indoors, during the daylight or night time. The performers can be also placed to any parade or carnival to attract the audience. Ideal performers for any occasion or event such as corporate events, private parties, fun days, festivals, parades, carnivals, municipalities and sport events.
They can perform walkabout or mix and mingle. The clients can book 1-10 members of Mirror People. There are also 2 stilt walkers and a living table included in the group.
Characters Included:
Mirror Man
Mirror Woman
Mirror Girl
Mirror Boy (figurine)
Mirror Stilt Man (stilt walker)
Mirror Stilt Woman (stilt walker)
Mirror Guitarist
Mirror Parasol Woman
Mirror Tennis Player
Mirror Football Player
Mirror Businessman
Mirror Living Table
Standard Length of Performance:
The Mirror People usually perform 4 x 40 minute sets but can be adapted if required.
Testimonials:
"…..we enjoyed the mirror men so much, they were fabulous and very friendly and all the audiences and the client loved them and were happy by hosting them in Egypt."
– Event House (via Contraband)
Photos of Mirror People