Mess: The Mermaids – Walkabout Characters | UK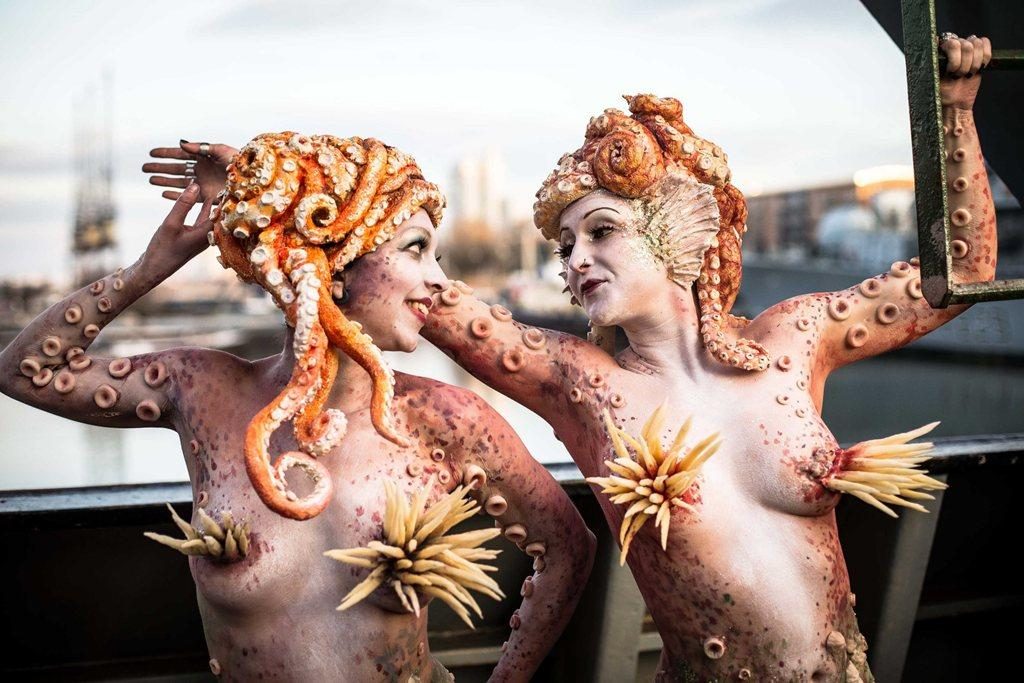 Mess: The Mermaids Characters
Mess are a group of trained actors and prosthetic makeup artists who create out of this world characters to amaze your guests! These corporate entertainers will make a huge impact at any corporate event or private function. They think up character creations and performances with such imagination you are guaranteed to see something you have never seen before.
Their characters are ideal to welcome guests for any event giving a huge impact from the moment you set foot through the door. They can be walkabout characters or a living installation, perform small acts throughout the evening or a larger stage show.
The characters provided by Mess are incredibly versatile. They are magical both day and night and can have a fantastic impact in small intimate venues and large open spaces. They are perfect for corporate events and product launches, body painted characters can be easily branded to the client's colours or characters in costume can have adapted clothing to work with a client's brand or colour scheme. Their actors are versatile performers and thrive on adapting the performances to suit clients' requirements.
The Mermaids
Hire the Mermaids as a beautiful addition to your event. Mess have two octopus and urchin clad mermaids straight from the depths of the sea that can create a stunning visual for any event. Their unique look is made with custom prosthetics and body paint giving this fantasy character a believability that has amazed audiences time and again.
The mermaids work beautifully as a living installation for guests to encounter as they first arrive, they can be placed anywhere in a venue to work with an existing theme or design, or Mess can create a custom-made area for the mermaids to occupy.
Additional Sailor Character Option
Hire a sailor character or two to go with our mermaids and suddenly they can become walkabout characters – 'walk about' becoming a hilarious concept – audiences enjoy seeing the troubles that are encountered when you have a fin instead of legs!
As the sailors carry the mermaids around the event they can stop and entertain guests with cheeky sea shanties on acoustic instruments, comically dramatic poetry or monologues of the torments of life at sea.
All the characters are versatile in the way they perform and their actors are more than happy to adapt performances to audience tastes and requirements. Musical performances, interactive games like 'message in a bottle' where guests are encouraged to write notes to other guests, hand delivered by a poetic French speaking sailor, juggling sailors and fire eating mermaids – anything is possible!
Standard Length of Performance
The Mermaids perform a standard of 2 x 45 minute walkabout sets.
Performance Requirements
The Mermaids require a small room for preparation, that is well lit in order to be able to apply the prosthetics & make-up, and can accommodate at least 4-5 people comfortably.
Testimonials
 "We keep hiring Mess to create surreal and original performances for our live events and every time they blow our minds wide open. We can't get enough of this talented, creative collective and neither can our guests!"
–  Slamboree
"Mess have contributed to our events on numerous occasions, and each time they create a bigger, better and more amazing world for our crowd to wander into and interact with. They seamlessly combine an abundance of creativity with a rare level of professionalism and an ability to constantly over deliver"
– Super Quantum Events
Previous Clients Include
Cirque Le Soir
Super Quantum Productions
Kendal Calling
Beatherder
Boom Town
Raise the Roof
French Tuesdays
Slamboree
Photos of Mess: The Mermaids Characters