Meringue Girls | After Dinner Speaker & Event Hosts – Hospitality | UK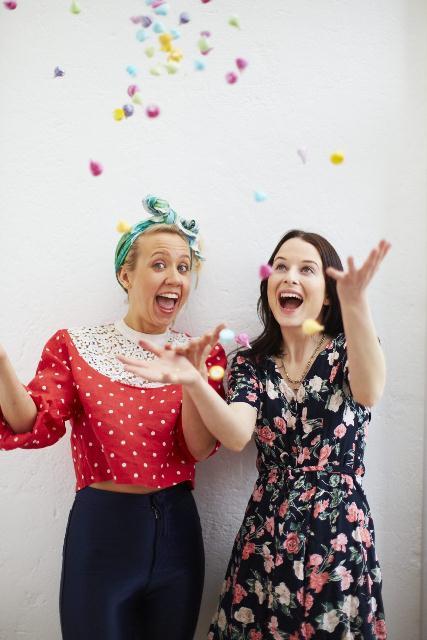 The Meringue Girls
Meringue Girls are a food supplier at Harrods, Harvey Nichols and authors of cook books. They make wonderful event hosts and speakers. Meringue Girls are available to book for a variety of corporate events.
Hiring a host to endorse your brand, service or event is very simple.  Contraband is the UK's top booking agent, with friendly, experienced account managers who guarantee you the best deal possible. We work in direct association with their representative.
Alex Hoffler and Stacey O'Gorman aka Meringue Girls are both trained chefs, Alex and Stacey formed the Meringue Girls after working together in a restaurant in Hackney. They bonded over their love of sweet things, especially meringues. They have had a roller coaster of a year – they are now supplying top food stores, including Selfridges, Fortnum & Mason, Harvey Nichols & Jamie Oliver's Recipes.
They have worked with clients such as Vogue, Marie Claire, Jimmy Choo, L'Oreal, Elle & Juice Couture. Their Meringue Girls cookbook was released in September 2013 – published by Random House – Photos by David Loftus and quote by Jamie Oliver.
They have been featured in a long list of press this year – including Top 20 under 30's in Red Mag, Evening Standard, 5 page piece in the Telegraph, The Times, Grazia & Company. Alongside running the meringue business, Alex an Stacey work as a food styling duo – combining their expertise of props and styling working for clients such as M&S, Florette, The Telegraph & Green & Blacks.
Alex Hoffler: 
Alex is London born and bred. Following university and two years working at a major London marketing agency, she travelled for a year, taking cookery courses in India, Thailand, Cambodia and Vietnam.
She then completed a year's course at Leiths School of Food and Wine, where she received a first class diploma. She currently works as a food and props stylist for various publications.
Alex loves – Boston Terriers, Gold disco pants, food styling, car boot sale foraging, vintage kitchenalia and pomegranate prosecco
Stacey O'Gorman: 
Growing up in Auckland, New Zealand, from a young age Stacey had a passion for food. She trained at Auckland University of Technology, achieving a Diploma in Culinary Arts.
To widen her experience, Stacey took a year out to explore the culinary world, honing her skills in kitchens along the way. It was in one such kitchen that she met Alex, which whom she shared an epicurean passion, and a partnership was born.
Stacey loves – DMs and long skirts, charity shot bargains, 3 sugars in a tea, red lippy, Japanese animae and Bjork.
Contact us  today if you would like the Meringue Girls to be the highlight of your event! The most memorable moments are waiting and they could be yours today!
Photos of The Meringue Girls
Book The Meringue Girls
Want to book a performer, or just find out more? Give us a call on +44 (0)208 8291140 or use our online contact form via the button below.