Int. Pickpocket Performer: Matt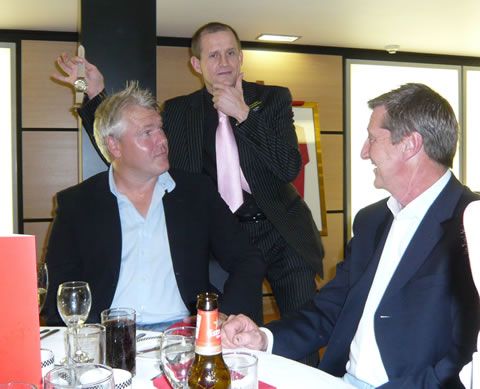 At home in front of an audience of 10 people, to performing on a stage in a room full of hundreds, Matt will entertain your guests with amazing sleight of hand magic and some deft pickpocketing skills (Matt has possibly the fastest watch-steal on the planet, and a unique method of stealing someone's tie!). And he's guaranteed to get your guests laughing as he does it.
Matt can take someones tie off and put it on himself – without them knowing!
Incidentally, Matt has the rare accolade of probably being the only person to have ever pickpocketed a member of The Royal Family, and kept his head…for now.
Matt has appeared on TV in the UK and abroad, performed for Royalty, celebrities and top businessmen (including Sir Richard Branson, Sir Alex Fergusson, Tim Henman, Tess Daly, Chris Moyles and Noel Edmonds).
He has been flown to events in Qatar, Hong Kong, Turkey, Monte Carlo and Berlin, entertained aboard cruise ships and at the famous Magic Circle, and he has promoted companies at Exhibitions throughout Europe.
Matt has been the resident magician at Manchester United since 2000. He has promoted Companies in Brussels, Monaco, Prague, Hanover, Amsterdam and throughout the UK.
Is a pickpocket suitable for my event?
Pick pocketing may not be suitable for all events. If guests are dressed in jeans and t-shirt then it makes it very hard for the act to work. Guest numbers should ideally be over 75, and we would need to know the male/female split at your event. Due to outfits, females are much harder to pick the pockets of!
Standard Length of Performance: Usually 2 hours walkabout / table magic and pickpocketing.
Testimonials:
"Matt, you were astounding…"
– Debbie Young British Telecom
"The evening whizzed by and I received very good feedback from everyone about you. They were in awe of your skills. Thank you very much for your contribution in making it a night to remember! We will definitely use you again."
– Susan Williams-Clarke
"We could not have been more pleased to have you at the conference in Berlin. Your performance on the Monday evening was clearly one of the highlights of the conference."
– Fujifilm Sericol International
Previous Clients Include:
Sky One TV
British Petroleum
British Airways
AstraZeneca
British Telecom
Credit Suisse Asset Management
Royal Bank of Scotland
HSBC
BBC
Diageo
Natwest
Microsoft
Barclays
BMW
The AA
Guiness
Amec
IKEA
Hilton Hotels
GSK
Toyota
Bentley
Photos of Matt