Mark – Comedy Waiter | UK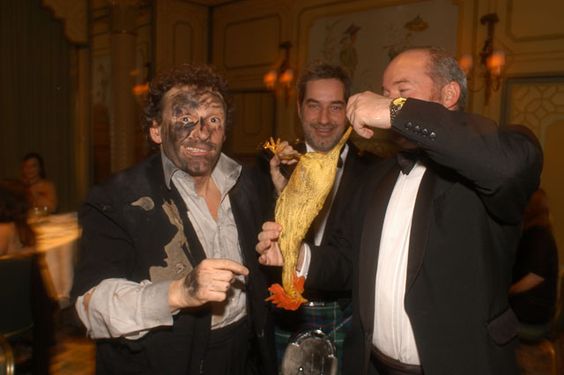 Comedy Waiter, Mark provides a complete night of hilarious and unique entertainment. He appears, at first, to be a normal waiter, fitting in with those that you have at your function.
As pre-dinner drinks are underway, slowly you start to realise, through the hilarious antics of Mark, that there is something quite odd and funny about this waiter, as he falls over and bemuses guests whilst serving drinks with a shakey hand.
As the evening progresses, guests suddenly realise that Mark is more than just a waiter. His talents as an entertainer shine through when he starts to amuse guests with his witty comedy sketches, as well as, getting guests to participate in some of his dance routines.
The night will be filled with laughter as you and your guests savour the talents of Mark the comedy waiter.
Testimonials:
"Please pass on my personal thanks to both performers, Mark the waiter was absolutely hilarious and sooo committed offering a good event."
– Devonshire Square Management
"Thank you for your services at our function held at this years Monaco Grand Prix. Our clients were very impressed with you and were truly entertained. We would have no question in recommending you."
– Award
"Congratulations! You were a phenomenal success. As you know the party was in honour of five different Pisceans and they each had their own guest list so a lot of people didnt know one another. Also we had some very serious types, like Ambassadors. You broke all the barriers, creating a wonderful ambiance and made everyone laugh and have a fabulous evening… Thank you."
– Private Client
"Where do we start Mark?! You were just absolutely brilliant. Words cant describe it. You were such a hit with our friends and family throughout the whole evening, (and James friends of course thought you were sensational) Youve made it a night to remember!!"
– Private Client
"The guys were great on Thursday …Mark was mental. Literally. The client was really happy and thats all that matters :)"
– Awesome Events Ltd (via Contraband)
"Mark was brilliant! The performance was great and really added to the atmosphere of the event. Mark is a genuinely nice guy and got on really well with all the staff at the venue and really impressed everyone! Would definitely recommend him and look to use him in the future! :)…"
– Awesome Events Ltd (via Contraband)
Previous Clients Include:
Chris Tarrant
Norman Wisdom
Eric Sykes
Ken Dodd
Liz Hurley
HRH Prince Michael of Kent
HRH Princess Anne
Shirley Bassey
Stirling Moss OBE
Ian Wright
Jeremy Beadle
James Last
Don MacLean
Natasha Kaplinski
Lee Evans
Photos of Mark