Manx TT 4 Bikes – Arcade Game | Berkshire| South East| UK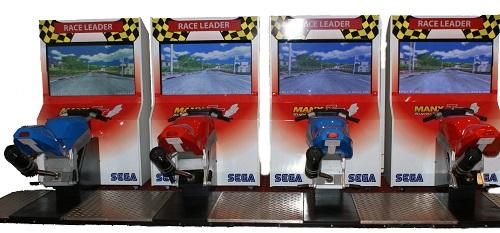 Fully rebuilt by CAS and now with 42 inch flat screen monitors. These are the best Manx TT motorbike simulators available to hire today .The Manx Tourist Trophy (TT), the most exiting motorcycle races held on the Isle of Man, has a long history of over 88 years. This racing simulator represents the long tradition of these races.
In Manx TT, you will drive your machine at breathtaking speeds of over 200 Kilometres per hour around the most exciting course in the history of motorbike racing. We can link up to eight bikes for head to head racing. If you are looking for that "Stand out" game to hire for your corporate event then you need look no further.
Technical Specification:
Width: 400cm
Depth: 6668949cm
Height: 178cm
Power: 1200cm
Min. Door Width: 58cm
Quantity: 1
Photos of Manx TT 4 Bikes