Lynn – Temporary & Glitter Tattoos | UK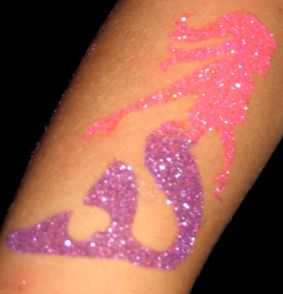 Lynn
Lynn can offer beautiful glitter tattos. These are a new form of body art which is proving extremely popular with children and adults alike.
There are over 100 stencil designs and 50 coloured glitters to choose from. They are 100% skin friendly and can last, with care, for seven days (although if desired, they can be removed very easily by soaking the design in warm water). They are safe for use on the face and on children over the age of five. They are very popular with older children and teenagers, and adults love them as they are something different, especially for a party or special event.
Stencils can be custom made for a Client's logo or promotional event.
Testimonials:
"It was a wonderful evening in spite of the rain. All the acts were great….The caricaturists and tattooists were great and worked unbelievably hard all evening and got through everyone who wanted a go – and the artwork was great. All round top marks to your acts for helping to make it such a fun and memorable evening."
– Global Strategy Limited (via Contraband)
"Thanks for checking in. All went very well indeed. They both went down a storm and our client was delighted with them both….Look forward to working with you again."
– Big Little Co Ltd (via Contraband)
Previous Clients Include:
Hamleys
Harrods
John Lewis
Debenhams
Homebase
London Aquarium
The Children's Party at the Palace, Queen's 80th birthday celebrations
CBBC
Photos of Lynn