Lurch & Jaws (Gary) – Lookalike | UK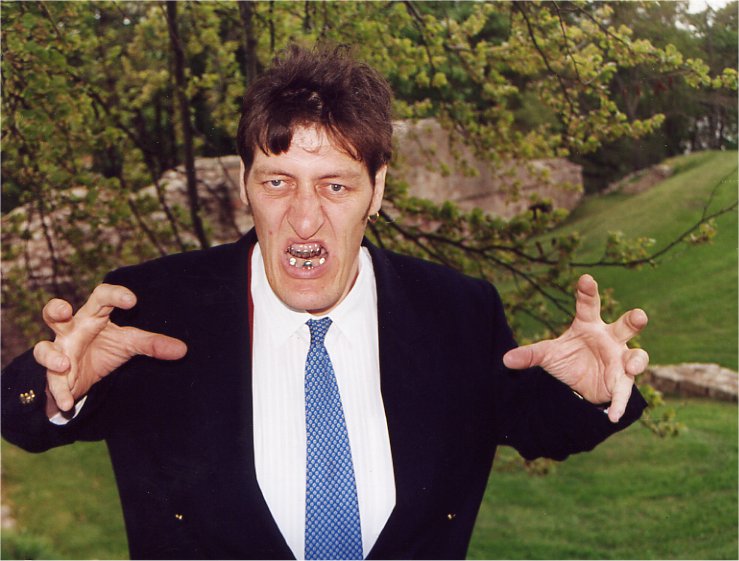 Lurch & Jaws (Gary)
The ultimate 7′ 3″ butler, a proven ice breaker at any social occasion, well that is if the guests aren't too terrified to talk!
The evening begins with the gigantic 7ft 3ins high Lurch welcoming the guests with his low, grumbling voice and crunching enormous hand shake (just the men that is), and ask guests for their invitations.
As the guests arrive for the evening he start taking coats off the male guests (with some of the men still in them ha ha). Maybe then give the guests a few brush downs with his super massive clothes brush, maybe comb a few hairs, set straight a few ties and ask 'I assume that you have life insurance cover?'. It's more often than not the wives that give that answer!
Woe betide anybody who is late!
Following that, Lurch will mingle with guests asking if they are enjoying their nibbles and topping up their drinks.
Then in his booming Lurch tone Gary will enounce that 'Dinner is about to be served'. Then it's off round the tables seating the guests and making sure their napkins are placed tightly around their necks. Sometimes the guests will find that not all is as expected with normal cutlery switched with twisted ones or some of Gary's silly props.
Also being a completely qualified chef, Gary is on hand if anybody dares query the meal or complains about the service, he will sort it! When coffee arrives, Lurch is on hand to serve a few cups and go about offering shoulder massages with a twist of venom and asking if thee guests enjoyed their meal.
All in all, a proven ice breaker at any social corporate occasion.
Television and Film Credits:
He has played the second lead roll in a huge blockbuster movie in France called 'Le Boulet' which has been a great success in France, Spain, Germany and Japan.
He has appeared on television programmes and stared in the series 'Moll Flanders' in which he played a prisoner in Newgate Prison.
'The 10th Kingdom' saw him playing a troll along side Jimmy Nail a fellow Geordie. As well as working hard as an up and coming actor, Gary also does a lot of appearances for charities for which he has been highly praised for the happiness he brings to events.
Everywhere Gary goes, he pulls in the crowds and gets a stupendous reaction from all those around him. He is indeed a unique gentle giant with a kind and generous heart.
Testimonials:
"All the Production Team and myself would like to say an enormous thank you for your contribution to Stars and Their Doubles…
many thanks Gary and I hope that we have the oppportunity of working with you again."
– Stars and their doubles
"You played a starring role in our Double or Quits James Bound Treasure Hunt…It was great to meet you and thanks for everything…"
– Private Client
"Thank you so much for your help.You were excellent, as always, and the clients reacted brilliantly! I look forward to working with you again."
– Private Client
"Thank you for all your help in making our recent product launches such a success, we really enjoyed working with you"
– Private Client
"just wanted to say thank you for your help. Gary is a great entertainer and a big hit at Sidley Austin (as I'm sure he is everywhere). Everything went really well!"
– Private Client
Previous Clients Include:
Madonna
Harrods
Hamleys
Disneyland Paris
Compaq computers
Corgi Toys
British Airways
Supply Desk
McDonalds
Planet Hollywood
Land Rover
Hard Rock Café
Gadget Shop
Asda
British Telecom
Madame Tussauds
Enron Computers
British War Museum
Virgin
Kelly's Nightclub in Northern Ireland.
Belfry Golf Course.
Stoke Poges
St. Mary's Axe
The Royal Courts of Justice London
The Commonwealth Institute
French Embassy London
Various Premier Football Clubs
HMS Belfast
Ascot
Kempton Park Races
Syon House
Oxford University
Cambridge University
Motor Bike Museum
The BT Tower
Kew Gardens
Cardiff International Arena
Kensington Roof Gardens
Vodaphone
Various Hilton Hotels
British Army bases
NEC Birmingham
Highland Show
BUPA Hospitals
Oakley Hall
Choices Videos
Down Hall Country House
Celtic Manor
Star City in Birmingham
Alton Towers
Various Modelzone Shops
RAF Waddington
Pioneer UK
Des O'Connor
Lennox Lewis
Photos of Lurch & Jaws (Gary)