LTK – Living Statues | UK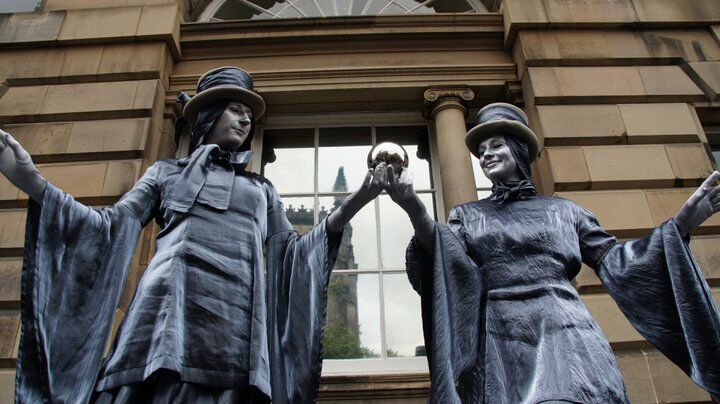 LTK living statues and walkabouts are beautiful, charming and wholly unique. Unconventionally elegant these living statues are truly engaging, creating magic wherever they go. Connecting past with present, these characterful representations make people laugh, smile and feel involved. LTK statues are an artistic and avant-garde addition to both events and festivals. From Steampunk to Ice Queen – there is a LTK statue for every occasion and each one has their own individual story to tell.
LTK living statue are perfect entertainers suitable for themed events, corporate events, weddings, ceremonies, festivals, expos, trade show, gathering and more. We provide a wide range of characters and you can hire up to ten statues for your event.
Standard Length of Performance:
The statues can perform up to 3 x 45 minute sets. The timings can vary depending on requirements.
Testimonials:
"Steampunk Lady was performing during the Culture Night in Limerick attracting hundreds of visitors to the Hunt Museum and creating an atmosphere that will last with us for a long time. I can confidently recommend LTK Living Statues as a solid and reliable performer that is an expert in their field."
General Director
"You were perfect for our little drama/performance. Excellent posing and so convincing – the kids loved it and staff too. You joined in the drama with great skill. We really liked you – so polite and easy to work with. It was a very successful day. Many thanks!!"
Principal – Orion School in London
"The Sweet Dream statue's presence at the Lancashire Food Festival helped to enhance the friendly atmosphere and adults and children alike were mesmerized by interactive performance. I would definitely recommend her as a welcome addition to any event."
Lancashire Food Festival
"I was mesmerized by watching you. There is something about the tension a living statue brings that is deeply captivating and stunning. You are precious. A work of art. A reminder that life can stop now and again."
Private Client
"The elegance of your costume is stunning…what you do is one of the most lovely things I have ever seen in all my life. Brilliantly creative."
Private Client
"Thank you with all my heart that you came to Romania! At the International Festival Living Statues – Masca Theater!  You've charmed and conquered everything! You have a special place in my heart!"
Private Client
Previous Clients Include:
Tate Modern Gallery in London
Salisbury Christmas Market
Shopping Centre in Singapore
Family Event in Egypt
The 150th Royal Bath & West show
Electrolux
Cermag
Weird & Wonderful Weddings
Museum of Scotland
The Hunt Museum
Cologne Cathedral
Cinema Halszka
Beijing Chaoyang International Tourism & Culture Festival
The Rehovot Festival for Live Sculpture
Polish Arts Festival
Edinburgh Fringe Festival
UFO Living Statue Festival
Festival Jakuby
World Statues Festival
Beeldig Lommel Festival
Photos of LTK