Lord and Lady Goldwyn – Comedy Walkabout Characters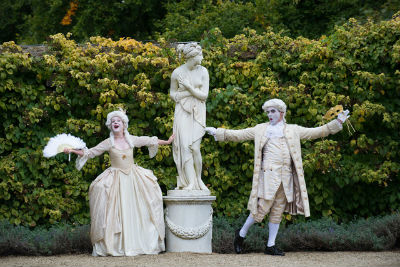 The Georgian Lord and Lady character actors are wonderfully charming and fitting for any event despite their period attire. They are wonderfully entertaining hosts and add comic flourishes to each of their interactions.
They are always prepared to do announcements, guide guests and get the party started.
 One of their regular bookers says: 'You have to experience these guys to understand how wonderful they are at what they do – it's hard to put into words.'
These performers have won the 'European Festival of Street Entertainers Award' the 'International Busking Competition' and the 'Australian Bicentennial Competition' for entertainment. They have attended top level acting schools, trained at mime school, worked with physical theatre gurus and continuously hone their talents at wit and verbal banter.
They are high energy performers with over 15 years of experience performing at events. They can read an event and it's guests to customise their style of performance to suit the audience.
They have a large costume wardrobe, so can match their costumes and characters to any event but they can also supply costumes and comedy actors to suit bespoke requirements.
Set Times 
Usual performance times are 2 x 45 minutes, 3 x 30 minutes or 1 x 90 minute performance set.
These performers are flexible with timings and can do more or less as required.
Testimonials
You made new fans at the weekend, thank you so much! Chantal also said could I pass on a huge thank you from her and Alex for helping to make their day so special
-Anonymous 
Thank you so much for everything! Ellie and Richard were amazing and the guests loved them! They were hilarious and such nice people! 
-Anonymous 
Thank you again - we had a wonderful day! 
-Anonymous 
Previous clients 
- Rugby World Cup 2015
- Silverstone
- Hampton Court Palace
- The Ritz
- Cycling Championships
Technical Requirements 
A private and secure changing area away from the guests and public is required.
Photos of Lord and Lady Goldwyn