The Light Man – LED Performer & Stilt Walker | UK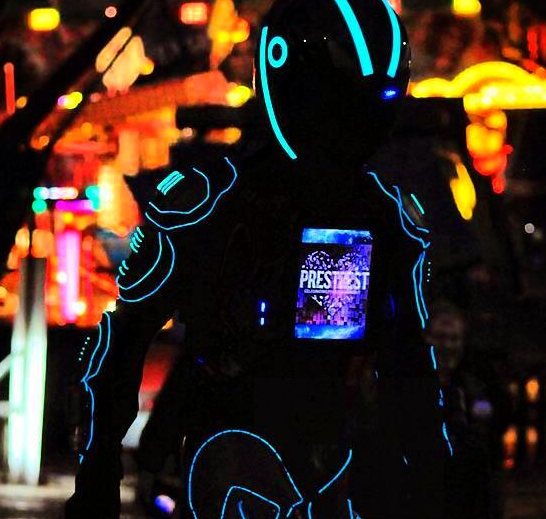 The Light Man is an amazing hi-tech tron style character that can perform either on bouncing stilts or on foot or can switch between the 2 on your event.  Entertaining as a walkabout and/or meet and greet act or dancing robotic and commercial style with guests or as a show feature on stage or podium.
Light man has super bright programmable spinning led which can have images, logos and text preprogrammed customizing light man for your event as well, as a video screen mounted on his chest allowing for more customizable images text and video.
Light man can perform solo or with his led dancers who can also meet and greet, perform walkabout and also dance with various impressive led costumes.
Futuristic light and led entertainment at its best.
Technical Specification:
Excess baggage will be required when travelling abroad.
1 x sports equipment (stilts) 9kg
1 x luggage case (costume) 20kg (minimium)
1 x hand luggage
Standard Length of Performance:
The Light Man usually performs 3 x 30 minute sets.
Testimonials:
"They are Fabulous!"
– Andrew Lloyd Webber
"True professionals!"
– Duncan James
"Thank you for your wonderful performance. You really were the stars of the show!"
– Private Client
"The overall effect that you created was amazing! We have had so much positive feedback about the campaign since the event, and we can't wait to utilise your services again very soon."
– OZ Promotions
"I and the whole Royal Variety team would like to pass on our sincerest thanks to you for taking part in this year's show. It was lovely to meet you all; you were all such a pleasure to deal with over the weekend, you guys did an amazing job! "
– ITV
"Thanks once again for the quality, classy and 'unique' touch you brought to the night, and I have no doubt in my mind that we would be calling on you again!"
– Private Client
"Just wanted to say a MASSIVE thank you to you and your team for a fantastic evening."
– Holiday Inn
"Professional, friendly, hardworking, and exceptionally entertaining."
– Private Client
"He was very popular, we really enjoyed it. He worked well with the crowd, getting people to dance with him and stuff and his suit was just amazing…."
– Private Client (via Contraband)
"…Mikey was excellent & very professional …Thanks again and I am sure will we call on your services again!"
– Preston Bid C/o NWL Chamber of Commerce (via Contraband)
Previous Clients Include:
ITV
McCann
Manchester Airport
Hello Kitty
BBC Springwatch
Alton Towers
Woman Magazine
BWFC
Natural History Museum
Tesco
Boodles Jewellers
MTV
Adidas
Cadbury
Living TV
Make A Wish
Jergens
Channel 4
BMW
John Lewis
George Pragnell Jewellers
Deloitte
Thorpe Park
Taylor Wimpey
Cancer Research
Marks & Spencer
Toyota
Photos of The Light Man