The Lifeguards – Comedy Walkabout Act | UK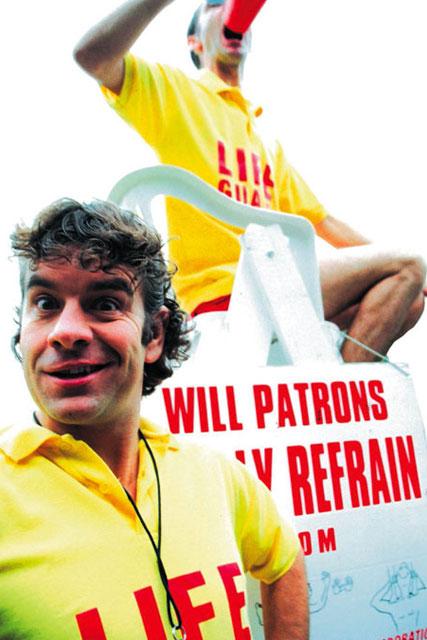 The Lifeguards
Baywatch meets the municipal baths! Perched high on their ladders these heroes do their best to bring order and discipline to your corporate event or private party. No horseplay goes unchallenged, no running tolerated and petting is right out as The Lifeguards affectionately improvise playful interactions with your delegates. These corporate entertainers are a great choice if you are looking to book comedy walkabout entertainment.
Comedy sounds from a hidden sampler and impromptu-synchronised swimming routines with members of the public all add to the fun. This is an original piece of comic theatre that can animate a large area from any suitable vantage point. This is a "static walkabout", ideal for public spaces and conferences where there are people on the move.
Standard Length of Performance:
The Lifeguards perform 3 x 30 minute sets.
Testimonials:
"Thank you for your hard work, particularly your positive attitude to the awful weather which was very refreshing."
– Bromley Arts Festival
"You are looking good boys." 
– Mick Jagger
"I really must thank you. Your show was excellent and brilliantly witty, not to mention superbly slick – and your presentation was everything a promoter prays for."
– Inverness Festival
"Amazing."
– Hugh Grant
"Lots of curiosity, surprise and laughter – what more could we ask for – great show!"
– Shrewsbury Science Festival
"Thank you again for your professionalism. The remaining acts will have trouble matching you."
– Wear Valley Arts
Previous Clients Include:
Expo Seville
Stockholm Water Festival
Glastonbury
Sony UK
Bromley Arts Festival
Coca Cola UK
Tall Ships Festival
Millennium Dome
Commonwealth Games
Wear Valley Arts
Inverness Festival
Photos of The Lifeguards