Leap – Duo Acrobat Show | Wales | UK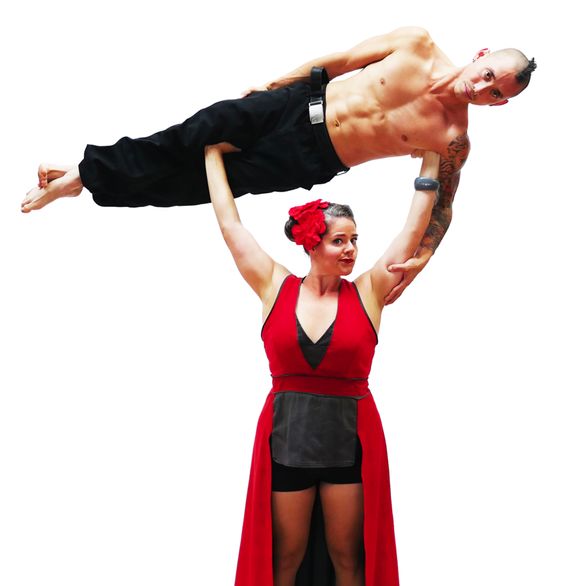 Leap
Leap is an acrobatic duo with the surprise of having a female base and a male flyer. This show was created by our fantastic strong lady Betty, who also has her own solo show. The show is great for festivals, and outdoor events. It includes hand-to-hand acrobatics, the rare skill of perch, and lots of the male acrobat leaping on to Betty. At times delicate, vulnerable, chaotic and uplifting, the primary question of the show is "If I leap, will you catch me?"

Standard Length of Performance:

The show is available as a stage show or street show of 30 minute, or where short acts are best, they can perform two different acts of 6 min duration.

Testimonials:
"Truly spectacular and very special. People will be talking about this non-stop."
– BBC Television
"Breathtaking!"
– Sydney Morning Herald
"She lifted the hearts of men and the rest of their weight as well!"
– Le Soir
"Bizarre and impressive!"
– The Irish Times
"Our audience loved the show! Betty resurrects a sideshow classic and gives it a modern twist."
– International Comedy Arts Festival
"An absolute pleasure to have at any festival! Funny as all hell and genuinely endearing, Betty will without a doubt be back at this festival very soon. A massive hit with the audience!"
– Street Performers World Championships
"Betty is not only a strong lady but also the most charming performer I have had the pleasure of working with. She is the kind of performer that brings a special energy to an event. The audience all over Croatia loved her!"
– Butterfly Effect Productions
"Betty was an absolute joy to look after and a complete professional despite a long and challenging day. The team, kids and myself loved her performances and I've had amazing comments back about the act from my Series Producer."
– The Slammer – CBBC
"Thanks again for everything it was a great event, the party was amazing on Thursday night ! The Basketball team and the F2 were great, the freestylers were good, and I think all the men really enjoyed Betty Strong Lady, she was good! …"
– George P Johnson UK Ltd (via Contraband)
"…Betty was really good – she held the audience very well, and they really liked her. I think her act condensed well into the 6mins and she kept it very lively and action packed…"
– News International (via Contraband)
Previous Clients Include:
Glastonbury Festival
Stockton International Riverside Festival
Mouth of the Tyne Festival
Winchester Hat Fair
Kendal Mintfest
Lakes Alive
Cabaret Heaven
Bristol Zoo
Klienes Fest im Grossen Park
Street Performer's World Championships
Leap is an acrobatic duo show in Wales, perfect for wedding entertainment, private parties, birthday party entertainment, party entertainment, corporate party entertainment, awards dinner entertainment, company dinner entertainment, after dinner shows, stage cabaret entertainment, themed party entertainment, charity ball entertainment, conference entertainment, christmas party entertainment, international event entertainment, hen party entertainment.
Photos of Leap
Book Leap
Want to book a performer, or just find out more? Give us a call on +44 (0)208 8291140 or use our online contact form via the button below.