Female Football Freestyler: Laura – Italy & Venezuela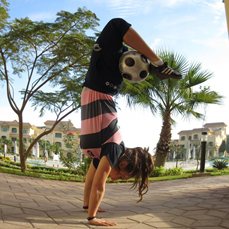 Laura is one of the world's top professional female freestyle footballers, and is a Guinness World Record holder four times over! Female freestyle football is a growing art form, but there are only 5 ladies in the world who make a living from it professionally.
Laura is a 4 times world record holder and holds the record for ladies for the most amount of around the world tricks inside one minute (currently at 57), most amount of headers in a minute (218), most shin juggle in one minute while sitting down (103), most sole juggles in one minute (135).
Laura can perform at your event anywhere. Some events that she is experienced at performing in include parties, schools events, street shows, festivals, big staged events, stadiums for half time entertainment, on top of buildings for PR stunts, movies, TV & video doubles.
Very popular with family related and inspirational events especially for young females are the freestyle football workshops where anyone (no matter how good their co-ordination skills are) will be able to learn a combination of tricks within 10 minutes. Men are often the most impressed when a lady like Laura teaches them a football trick or two.
Workshops:
Workshops can be provided at events should members of the public or event attendees like to try out the street sport/art form.
Technical Specification:
A sound system with music is obligatory and must be provided. A portable sound system can be provided if no sound system is available. The minimum spacing required is 5m x 3m. The floor must not be wet. Laura can perform on smooth wood, smooth metal, smooth concrete, tar mac, marble, grass and carpet. Laura will bring her own football (unless the client needs her to use a specially branded one). Laura usually wears a football kit, but can wear an outfit requested by a client.
Standard Length of Performance:
The show lasts for 5 minutes. The workshops can last between 30 -60 minutes. Laura can also do a walkabout set.
Testimonials:
"Incredible energy and constant entertainment provided by Laura throughout the whole fan park."
– Abu Dhabi Formula 1 Grand Prix Fanzone
"Laura's work makes all the guys sit up and take notice. A great performer and ambassador for the art of freestyle."
– Streets United
"It went well thanks, lots of consumers interacting with Laura – she was great and the client loved her."
– OurKidBrother (via Contraband)
Previous Clients Include:
Cartoon Network
Burnley FC
Red Bull
Formula 1 Grand Prix Abu Dhabi
Le Coq Sportif
Coca Cola
McDonalds
Adidas
Sony
FIFA Women's World Cup
Photos of Laura