Larry 70's Fashion Photographer – Comedy Act | UK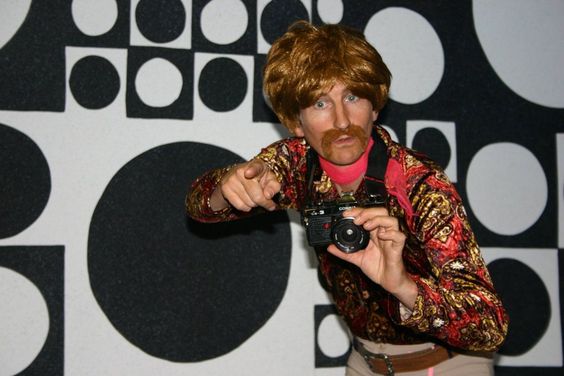 Fashion aficionado Larry is out to capture on film this year's new look. Highly opinionated, this snap happy charmer will ruthlessly flatter the ladies and the more rugged gentlemen in search of that elusive front cover shot.
Larry the 70's fashion photographer is an hilarious interactive stilts character, perfect for any fashion or 70s themed events. A brilliant stand out photographer who is guaranteed to capture a smile on film! Suitable for all types of events from festivals to shopping centres.
Walkabout and stilts sets are performed as 3 x 45 minute slots.
Previous Clients Include:
London Edge Fashion Tradeshow UK
O2 Arena
Vimto
Esso
German Embassy Christmas
B&Q
Pacha Nightclub
Wallsall UK Leather Museum
Sheffield Children's Hospital
SENSE
X-Leisure
Glastonbury Festival of Performing Arts
Shambala Festival
Womad Spain
Womad Gran Canaria
Oxegen Festival
Aurillac Festival
Big Green Gathering
Solfest
Sunrise Celebration
Artist Festival
Photos of Larry