La De Dahs – Female A Cappella Trio | UK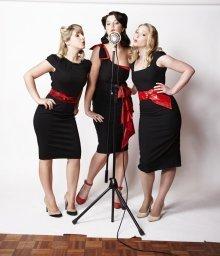 the La De Dahs
The La De Dahs are an a capella, close part harmony group from London. Formed in 2008 and inspired by the music of The Andrews Sisters and The Puppini Sisters, these three friends sing modern day music in a 1940s style, along with original works from that era… only without the big band!
From Sinatra to Radiohead, these gals will swing you in ways you've never been swung before!
Standard Length of Performance: 2 x 30 minute sets.
Testimonials:
"Every time these girls play here, they get an incredible reception. They're welcome back any time"
– The Betsey Trotwood
"Easily one of the most popular acts we've had play… the whole audience were playing name that tune, and were delighted when they realised which songs the girls were performing. But they're not just a novelty act, the arrangements were inventive, the harmonies were stunning, and the presentation was perfect. They were fantastic fun and lovely girls, and added real variety to the night. We're already thinking about when we can have them back again!"
– The Great Banana Hoax
"I love the La De Dahs, their unique style and fabulous singing made for a big hit in the Cabaret Arena at Latitude. Not only that the girls were flexible and fitted into varying parts of the programme and were an absolute delight to work with. They got a great reaction from the audience so all in all a programmer's dream act!" 
– Latitude Festival
"The la de dahs are aural sunshine. Whenever they've performed for 'Utter!', they've been so cheery, tuneful and talented, I've almost wished I'd been alive in the 1940s!" 
– Richard Tyrone-Jones
"Clear stars of the show, though, were the fabulous La De Dahs, a three-part female close harmony group who cover Forties classics such as the Andrews Sisters' Boogie Woogie Bugle Boy and, better yet, adapt modern songs such as The Specials' Ghost Town and The Darkness's I Believe In A Thing Called Love, which becomes ethereally beautiful from their larynxes. Creating all the instruments a cappella, the La De Dahs are just the people you'd want on your side in Never Mind The Buzzcocks' intros round! They also sing a lovely cover of Radiohead's Creep – which must be particularly suitable for this sort of adaptation, since both Lady Carol and Ali McGregor also have versions in their cabaret sets – but add their own do-wop stamp to it."
– Steve Bennett, Chortle.co.uk
"I love the La De Dahs, their unique style and fabulous singing made for a big hit in the Cabaret Arena at Latitude. Not only that; the girls were flexible and fitted into varying parts of the programme and were an absolute delight to work with. They got a great reaction from the audience so all in all a programmer's dream act!"
– Latitude Festival
Previous Clients Include:
Redemption Records
BBE Music
Girdlers Company
The Last Days of Decadence
The Betsey Trotwood
Mean Fiddler
The Brewery
The Boogaloo
Favela Chic
Edinburgh Fringe Festival
Latitude Festival
The Pigalle Club
Proud
Charlotte Street Blues Club
The Cross Kings pub
Purple Turtle Bar
Water Rats
OneTaste Festival
Repertoire Includes:
Song 2 – Blur
Creep – Radiohead
Ghost Town – The Specials
I Believe in a Thing Called Love – The Darkness
Lose Yourself/Work it/Gold Digger – Eminem/Missy Elliott/Kanye West
Kiss – Prince
Earth Song – Michael Jackson
Sh-Boom – The Chords
Beat me Daddy – Don Raye and Ray McKinley
Born to be Wild – Steppenwolf
Could it be Magic? – Barry Manilow
Sisters – Irving Berlin
I Wanna be Loved by You – Herbert Stothart and Harry Ruby
Puttin' on the Ritz – Irving Berlin
Fly Me to the Moon – Bart Howard
Boogie Woogie Bugle Boy – Don Raye and Hughie Prince
California Dreamin' – The Mamas and The Papas
Way Beyond the Blue – Traditional
Photos of the La De Dahs