Kevin – Jazz & Swing Singer & Band | UK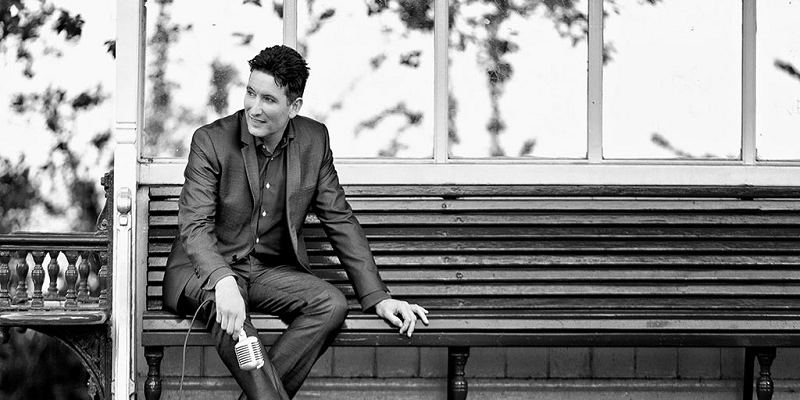 Led by one of most charismatic singers on the UK jazz scene, this top-drawer jazz band proves time and again why they're first-call jazz/swing outfit for weddings/events/functions available for hire. The band's frontman's jazz vocal talent has been heard on TV & Radio commercials in UK and Europe, in his own concert on Jazz FM, at UK jazz festivals and sell-out shows at world-famous Ronnie Scott's Jazz Club. Completing the wow-factor are the band's exceptional musicians, described by the critics as 'the cream of UK straight-ahead jazz musicians', selected for their experience working in the event/wedding/function sector.  What's more, this singer and his band have played several times on TV (E4′s Made In Chelsea, BBC & Wedding TV), have entertained royalty twice and been booked by many celebrities/TV & sports stars, as well as by luxe brands like Hermes, Louis Vuitton, Reel Art Press for campaigns/promotions in New York, Far East & London.
Loved for their unrivalled renditions of 1950s/60s era American songbook & jazz standards, their large repertoire list also covers all eras of jazz/swing: everything from hot 20′s jazz Charleston style, 30′s Golden Age favs, 40′s swing/jive, 50′s/60′s big band swing & Rat Pack, latin/bossa nova, right up to modern swing a la Michael Buble or contemporary jazz. And with a sprinkling of jazz-ed up pop/soul anthems on the list too makes them perfect for weddings, parties or corporate events.
The band offer a range of line-ups – a solo jazz singer, or a vocals/keys duo right up to an 8 piece band – assures they will fit any occasion whether it's small & intimate or large & lively, whether clients are seeking a full dance floor, a memorable background vibe, superb over-dinner/wedding breakfast music or after-dinner jazz/swing entertainment. For multi-era vintage themes the band can change stage wear, if preferred, to reflect each era played, e.g., 1st set dressed in 1920′s jazz age changing to classic 'rat pack' tailoring for 2nd set.
Line-ups Available:
– As a Solo Singer:  Authentic real jazz/swing band backing tracks are used. A choice of 1 x 60 minute set/2 x 45 minute sets with sort break between, and options can be tailored to requirements.
– With a Band: Choice of 2-8 piece bands available (main instruments include vocals plus: piano, drums, upright bass, jazz guitar, sax/clarinet, trumpet, trombone) A choice of up to 2 x 60 minute sets with breaks available, and these can be tailored to your requirements.
Testimonials:
"We are so pleased we had you at our wedding…LEGEND!"
– Samantha Womack (TV Star)
"Wow"
– Pete Jones, BBC Dragons Den star
"I just thought band were amazing and created a great atmosphere last night."
– Mosimann's Party Services, Caterers By Royal Appointment
"Wow, when you and the band started playing we couldn't believe how good you all were!"
– Unilever Head Office, London
"They were so good – we would usually need to book a much bigger band to create the kind of impact they created with just a small band"
– C. Hines, Events Manager, Madame Tussauds
"We thank you from our hearts for a spectacular evening. Your voice is 'flawless' and unique with such a beautiful quality, effortless. The jazz musicians were also excellent – our wedding guests were equally captivated."
– Private Client
"You & the band were fantastic"
– NBC Universal
"Move over Buble' ….you have some serious competition here"
– J Green, Reviewer
"A great guy. He got the party going, and with classic swing songs there was something for everyone…even my granny, who tore up the dancefloor!"
– Matt Edmondson (TV Presenter & Radio 1 DJ) speaking in Wedding Magazine
Previous Clients Include:
BBC TV 'Dragon' Peter Jones
HRH Princess Margarita of Romania Trust
Radio 1 DJ/ TV Presenter Matt Edmondson
Actress Samantha (Janus) Womack
President Obama's Ambassador to London Louis B. Susman
Liverpool & England footballer Glen Johnson
Jamie Oliver's Fabulous Feasts
Yorkshire & England Cricketer Anthony McGrath
Sky Sports TV & ex-Harlequins Rugby star Mike Wedderburn
Swan Lake 3D Live film premiere
Monkey Kingdom Productions (E4 Made In Chelsea)
AEG(owners of  The O2)
Reel Art Press
NBC Universal
Hermes-Paris
Louis Vuitton
The Body Shop Foundation
The Royal Horticultural Society
Reed Exhibitions
Dunhill International
The Law Society
The Metropolitan Police
Ronnie Scotts Jazz Club
Birdland Jazz Club, New York
The Club @ The Ivy
The Kabbalah Center
Belgravia Asset Management, Jersey
The Epsom Derby Festival
The St. Leger Festival
Kempton Park Racecourse
Southampton United Football Club
Crystal Palace Football Club
Brighton & Hove Albion Football Club,
Sue Ryder Women Of Achievement Awards
BBC TV
Princess Productions TV
Price-Drop TV
GCap Media
Investec
I.C.I
BP Oil UK
M & S
House Of Fraser
Fenwicks of Bond Street
John Lewis Partnershi
Grosvenor Estates,
Lazards
Ernst & Young
Legal & General
Royal Sun Alliance
Reed Business Information
KPMG
City Group Plc
UBS Bank
Bank of Nova Scotia
Belfast City Council,
Barclays Bank
Henderson Global Investors
GMAC
Unilever plc
And many more…
Repertoire:
(can be played in any tempo or style i.e. in 20's style, bossa, modern swing,etc)
A fine romance
A foggy day
Ain't she sweet
Ain't that a kick in the head
All of me
All or nothing at all
All the way
Almost like being in love
An evening in Roma
Angel eyes
Anything goes
Autumn in New York
Bad, bad Leroy Brown
Bare Necessities
Bewitched, bothered and bewildered
Beyond the sea
Birth of the blues
Blue moon
Blue skies
Body & Soul
Brazil
Buena Sera
Bye bye blackbird
Call me irresponsible
Can't take my eyes off you
Cheek to cheek
Chicago
Come dance with me
Come fly with me
Crazy little thing called love
Crazy Love
Cry me a river
Everybody loves somebody sometime
Everything
Every breath you take
Fascinating rhythm
Feeling good
Fever
Fly me to the moon
For once in my life
Gee baby ain't I good to you
Get Happy
Girl from Ipanema
Georgia on my mind
Goody Goody
Haven't met you yet
Have you met Miss Jones
Heartache tonight
Hit the road Jack
Hollywood
Home
How about you
How sweet it is
I can't give you anything but love
I could have danced all night
I don't get around much anymore
I get a kick out of you
I left my heart in San Francisco
I'm gonna sit right down and write myself a letter
In the wee small hours
I only have eyes for you
Is you is or is you ain't my baby
It don't mean a thing (If it ain't got that swing)
It had better be tonight
It had to be you
Its delovely
It's only a paper moon
It was a very good year
I've got the world on a string
I've got you under my skin
I've grown accustomed to her face
I wanna be around
I wanna be like you (oh oo bee doo)
I won't dance
Just in time
Just one of those things
King of the road
Kissing a fool
Learnin' the blues
Lets face the music and dance
Lets fall in love
Let there be love
Little ole wine drinker me
Lost
L.O.V.E.
Love and marriage
Love me or leave me
Luck be a lady
Mack the knife
Makin whoopee
Mambo Italiano
Me & Mrs. Jones
Memories are made of this
Minnie the Moocher
Moondance
Mr. Bojangles
My Baby just cares for me
My funny valentine
My kinda town (Chicago)
My way
Nature Boy
New York, New York
Nice and Easy
Night and day
Old devil moon
On an evening in Roma
One for my baby
On the sunny side of the street
Papa Loves Mambo
Perhaps, Perhaps, Perhaps
Pennies from heaven
Portrait of my love
Put your head on my shoulder
Puttin on the Ritz
Quando, Quando, Quando
Rags to riches
Ring-a-ding-ding
Route 66
Satin Doll
Smile
Somethings gotta give
Something stupid
Song for you
Steppin out with my baby
Strangers in the night
Summertime
Summerwind
Sway
S'wonderful
That old black magic
That old devil moon
That's all
That's amore
That's life
The best is yet to come
The Charleston
The good life
The lady is a tramp
The look of love
The way you look tonight
They can't take that away from me
Things
Too close for comfort
Unforgettable
Volare
When I fall in love
When you're smiling
Witchcraft
Wives and lovers
Wonderful Tonight
You'll never find
You make me feel so young
Young at heart
You're nobody till somebody loves you
Swinging jazzed-up pop/soul includes:
Have I told you lately (that I love you) Van Morrison
I'll come running back to you (Sam Cooke)
Every breath you take (Sting)
Working Day and night (Michael Jackson)
Norwegian Wood (The Beatles)
You Do Something To Me (Paul Weller)
Wonderful Life (Black)
Yeah Yeah (Georgie Fame)
And I Love Her (The Beatles)
Moving (Supergrass)
Love X Times (George Benson)
Let's Stay together (Al Green)
True (Spandau Ballet)
Feel Like Makin Love (George Benson)
Christmas Repertoire List:
The Christmas Song (Chestnuts roasting…)
Have yourself a merry little Christmas
White Christmas
Let it snow, Let it snow, Let it snow
It's the most wonderful time of the year
Winter wonderland
It's beginning to look a lot like Christmas
I'll be home for Christmas
Blue Christmas
Santa Claus is coming to town
Rudolf the red nose reindeer
Photos of Kevin