Jack Sparrow Lookalike: Kenny – Scotland & UK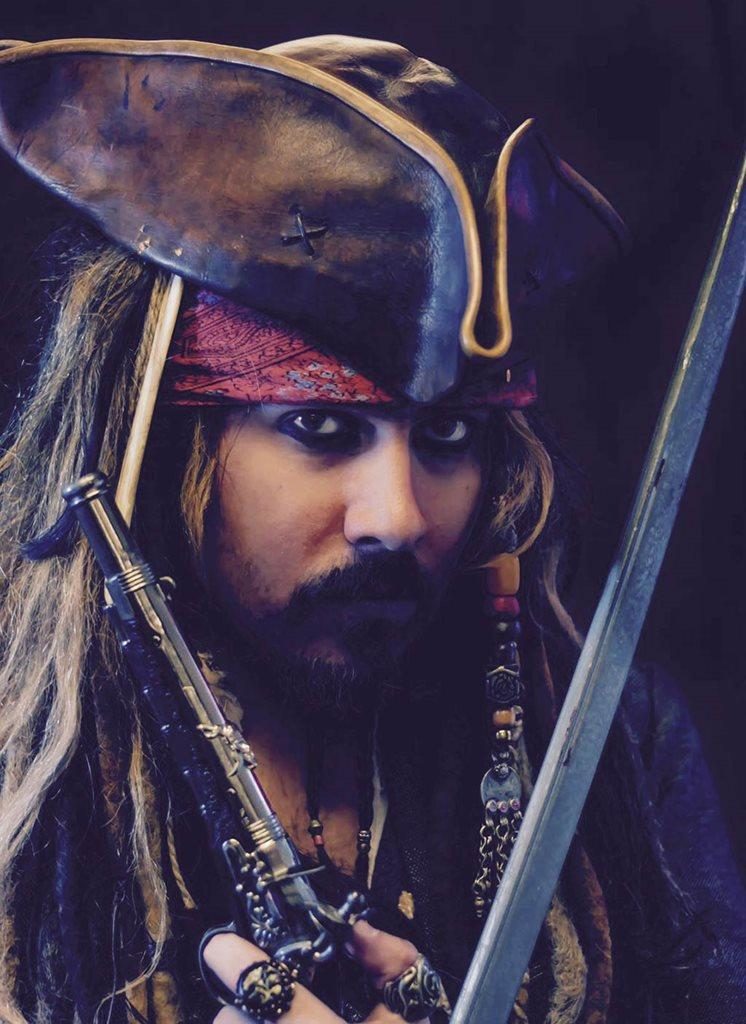 Kenny has worked within the entertainment industry for many years. Initially a professional musician, Kenny has now gone on to enjoy huge success as a Jack Sparrow lookalike, appearing at corporate events and functions across the country.
Comes equipped with a fully licensed costume he has caused a few scenes in Scotland with the public mistaking him for Johnny Depp. Kenny has spent years studying the character to make his act one of the most authentic acts around, from the mannerisms to the voice, this is one pirate you will want to be hiring at your event
For your event, whether it's a corporate party, a private function, a themed event or even a PR stunt, Jack Sparrow lookalike Kenny can meet and greet, mix and mingle, interact with guests, pose for photos and so much more and possesses the cheeky charm of Jack Sparrow to entertain your guests.
Standard Length of Performance:
Length of performance may vary depending on the type of event.
Testimonials:
"I have seen Jack Sparrow impersonators before but it did not prepare me for what I was about to see. The best thing about Kenny was the attention to detail from the costume to make up and beard right down to the compass, rings, boots, belt, sword etc, not to speak about the acting that was second to none absolutely brill and he had the voice to a tee.  It was the body language that's what really made it for me as I am a massive fan of the movies, I was looking for all the small details and I was not disappointed, me and my girlfriend were totally blown away. We got our photos taken and even people from work were very impressed with the photos. I think he would be one of the best out there and I will be inviting him to my next birthday for sure!"
- Sam Glass – Guest Appearance at Alice Coopers Halloween Concert
"Kenny came to the nursery I ran at the time for entertainment for a party we were having. The costume of Jack Sparrow was tremendous and the accent and actions were great. All the children loved him and approached him well enjoying his actions and mannerisms. He was very good and patient with the children and posed for photos with them at the end which delighted the children extremely. Alot of parents commented on how pleased they were with the visit and how much the children had raved about him! I would definitely employ him or recommend him to anyone for entertainment, likeness and the true character that he imitated."
-  Little Jesters Nursery
"I met Kenny at Collectormania last year and I was astounded by how alike he was to Captain Jack Sparrow, portrayed by Johnny Depp. He had the costume to a tee. His mannerisms were exactly like Johnny Depp playing Captain Jack Sparrow in the movies. His accent was just spot on.I have to say he is the best Captain Jack Sparrow I've seen. With the clothes, mannerisms and accent, you can't get any better...other than getting Johnny Depp himself!"
- Carole Blackley - Show Masters
"I was the manager of Fenwick Pre-5's Nursery in East Ayrshire when we were fortunate enough to have a visit from the one and only Captain Jack Sparrow! The children were absolutely mesmerised and very excited to be playing games with, and having a story read by their favourite pirate. Personally, as a fan of the Pirates films, I have to impress upon you just how accurate Kenny's portrayal of Captain Jack actually was. He's a dead ringer and has the voice and mannerisms down to a fine art."
- Fenwick Pre 5s nursery
"I have had the pleasure of seeing Kenny in action as Captain Jack Sparrow and you would swear it was Jonny Depp, or at least a very bang on stunt double.  He has the accent, the patter and the body language that so few put effort into. Instead of just standing and posing for pictures with a bog standard pose, you would actually believe he had just pinched the sugar out your tea and was trying to sweet talk your missus. This guy puts an insane amount of effort into his Capt Jack!"
- John Blackley Show Masters
"I am a huge Pirates of the Caribbean fan, and during the first week of the Summer holidays we began our Summer Adventure with Pirate and Princess week and I was looking to add something extra special into Hamley's for that week along with all the other fun activities that was going on in store. Then Kenny came along and looked just the part for Captain Jack Sparrow. In Hamleys over the past few years there have been a mixture of Captain Jack Sparrow lookalikes that just didn't meet everyone's expectations. With Kenny however it was totally different. He looked brilliant and really played the part well. Anyone looking to hire a Captain Jack Sparrow, then Kenny is your man! Thanks again Kenny!"
- Pete Donaldson, Hamleys Marketing and Events Coordinator
"When it comes to looking for that special form of entertainment in the style of Captain Jack Sparrow, there can sometimes be many different options to choose from. He played the part perfectly and stayed in character all day whilst mingling with the public. And he really really looks like Jack Sparrow. Would totally recommend him for any special occasions that anyone has coming up!"
- James, Hamleys Entertainer
"Kenny was great as Jack Sparrow…he looked just like him! He was extremely entertaining and everyone thought that he was the real deal. Could not have asked for anything more from Kenny, he was superb."
- Emma, Hamleys Entertainer
"During Pirate and Princess week we were looking for a Jack Sparrow lookalike who would have his characteristics and mannerisms. With Kenny you got the whole package. He was brilliant! I'm sure he and Johnny Depp are twins in some sort of way. If anyone is looking for a proper Jack Sparrow for birthday parties, special occasions, commercial use then Kenny is your man! Great guy, great lookalike!"
- Gemma, Hamleys Entertainer
Previous Clients Include:
Showmasters
Little Jesters Nurseries
Wish Upon a Star Entertainment
Fenwick Pre 5s Nursery
York Hill Children's Hospital
Macmillan Cancer Care
British Heart Foundation
Giffnock Primary School
Photos of Kenny