Kat – Temporary Tattoos | UK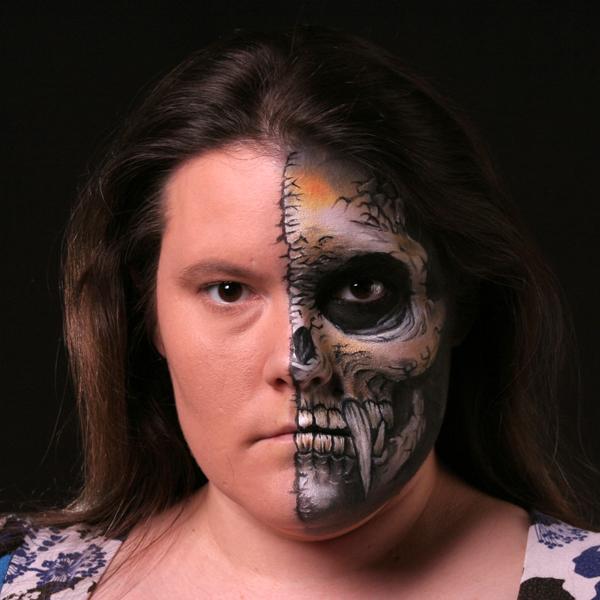 Every time Kat does an event, someone is bound to say "That's the best tattoo painting we've ever seen!". Kat has been face painting for 4 years, and can cope with almost anything that is requested – Kat has been asked for Rhinos, Giraffes, Elephants, Cows, Rabbits – and even eyeballs! Kat is a member of FACE, the UK Face Painting Association, has £5Mil Public Liability Insurance.
Kat has various kinds of temporary tattoos with different looks and lasting different lengths of time. She has her own stencil cutting machine so designs can be specially made for your event.
Airbrush Tattoos: last 3 to 5 days, but can be removed easily if needed. Kat has a range of over 500 stencil designs to choose from and large colour range including UV reactive inks.
Glitter Tattoos:  last up to 7 days, applied with skin safe prosthetic glue and glitter. Kat can do freehand designs or stencil designs.
Henna:  last 7-14 days depending on location and skin type. Only natural brown henna is used.
Jagua: last 7-14 days depending on skin type and location. Takes up to 48 hours to fully develop.
Testimonials:
"Kat did a great job - big thanks to her. The whole trade show went really well for us, and having the tattoo artists really helped to generate interest and buzz around our stand. Thanks!"
- PMI
"Just wanted to say a big thank you for yesterday - you were brilliant and a real hit with visitors. I hope we can work with you again. Many thanks"
- The National Trust
"Thank you very much again for such great face paintings. I went to many parties with my daughter and i can tell you are one of the best face painters i have seen! And i will certainly recommend you to all the moms from school"
- Kensington
"Was really happy with Kat. The kids loved her and she worked really hard. Thanks again."
- Uptown Events Ltd (via Contraband)
"...Kat was great, I remembered her from a previous event we delivered... Her work is beautiful and she was great to work with, thank you."
- Catalyst Housing Ltd (via Contraband)
"....we were very happy with Kat and her work..we'll definitely be in touch again if we need another artist."
- BBC Television (via Contraband)
Previous Clients Include:
Nickelodeon Staff Christmas Parties
National Trust Open Day
Notting Hill Carnival
Isis Band
South Connections
Bee Movie
Moorfields Eye Hospital
London Taxi Drivers Association Mad Hatter's Tea Party
Victoria Park Community Fun Day
Chigwell Police
Chigwell Ladywell Arena
Photos of Kat