Kalki – Hula Hooper | UK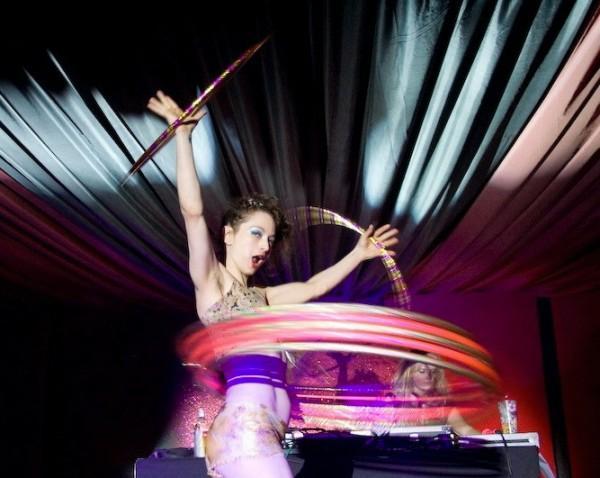 Kalki
A sprite, an explosion, a whirling that seizes you by the throat and keeps you enthralled for every trembling minute she is on stage.
Bounding into the spotlight comes Kalki, performer extraordinaire, with her dazzling jewelled hoops and her naughty face the very picture if old-time cabaret glamour.
Pouting, winking, smiling, she is a saucy French maid, a dazed bar-fly, a raddled night nurse.
Sumptuously sexy, provocatively pouty, and a clever devil with her equipment. The hoops blur, the audience gasps – she is on her feet, she's on the floor, and so will you be!
Princess of her art, Kalki delivers an unforgettable gem of an act that will leave the room in a whirl!
Kalki has performed in widely varied venues wowing audiences of all ages, from Alaskan bigtop rings to arthouse Potsdam Festival theatres via New York City burlesque halls, treading London's vaudeville boards, with puppets or rock bands, various Spiegel tents, worldwide wild late night parties, club nights, formal dinner events, weddings… you name it, she's swung it.
Who would've known there could be so much variety within the realm of hula hoops? More circus than burlesque, but more rock than circus, Kalki spins somewhere in the realm of performance art via humour and attitude.
Costumes Available Include:
Cheerleader
French Maid
Greco-Roman
Hawaiian
Jaded Barfly
Standard Length of Performance: 5 – 6 minutes.
Testimonials:
"Kalki was absolutely superb with a drunken hula hoop routine. It was outrageous, funny & sexy with a stonking rock soundtrack. The whole ensemble fitted together like a dream & was one of the most well thought out character acts I have ever seen. A lot of acts are just a person performing a skill, in this act the style in which the tricks were performed defined the character."
– Crawley Juggling Convention
"I've seen your show twice and you're really good!"
– Prince Harry
"I never thought I would be amazed by someone dancing with a hula-hoop, but then I'd never seen the amazing Kalki Hula Girl before"
– The Guardian
"The first act on this mixed variety bill, Kalki Hula Girl, was an exquisitely talented Hula-Hooper. Wandering on like Britney Spears's drunken, white-trash cousin, she proceeded to perform a remarkable routine, seemingly defying the laws of nature. If all the acts had been as good, then we could have been in for an extraordinary night."
– Time Out London
"Kalki Hula Girl, like a drunken warrior, enters the stage as your average brown tracksuited Waynetta but after an unbelievable continuous hula-hooping frenzy reveals her gold-sequined core."
– Camden New Journal
"Kalki Hula Girl is both technically brilliant and hilariously funny"
– This is Local London
"From the moment she began her jaw-dropping act, Kalki had the audience in the palm of her hand and entertained with her physical comedy as well as her superhuman hula skills"
– Kent News
"Kalki Hula Girl put the demon drink to brilliantly funny and highly skilled hoop work"
– Edinburgh Spotlight
Previous Clients Include:
Duke of Northumberland
Smirnoff
Electric Cabaret
Duckies
Dimaglio
Circus Space Presents
The Hippodrome
La Clique (Spiegel Tent)
Hayes Davidson
Jass James Jewellery
Photos of Kalki