Kai & Kai's Kats – Jazz Singer & Jazz Band | UK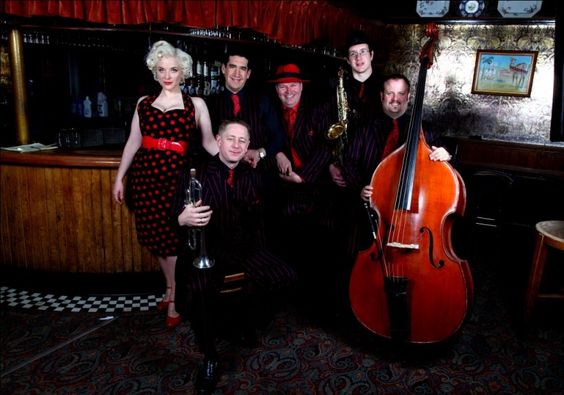 London-based American songstress Kai's voice combines a brilliant feel with a deep, flexible sound and range. Kai and her band pride themselves on a totally professional approach, highest quality performances and appearance. As busy London musicians, they have played for Christie's Auction House, John Lewis Partnership, Mitsubishi, the Royal Bank of Scotland and many more. Specialising in the jazz repertoire from the 1920s to the 1960s,
Kai's sets can include swing, Latin, ballads and blues, as well as jump jive, soul and Motown, depending on a client's needs. Uplifting, positively joyful entertainment of the highest calibre, Kai's Kats play a mix of jumpin' jive, swing and early rock and roll. In the style of great jazz entertainers such as Louis Armstrong, Louis Jordan and Nat King Cole, Kai's Cats accessible, melodically swinging tunes are fun to listen to and even more fun for dancing. Kais Kats have been performing their flights of feline fancy since 2008.
The Kats are purrrroud to have played at fabulous London swingin events including Stompin at the 100 Club for the London Swing Dance Society, Jitterbugs Lindy Hop Night at Marble Arch and C-Jam at the Bedford in Balham, with many corporate events, weddings, jazz club and festival gigs in between. Kai is available as a solo singer with backing tracks. A consummate performer, Kai can transform herself into a 1920s jazz diva for themed parties, or can create a mixture of different styles from jazz to pop to cater to your event's specific requirements. Just ask!
Available Options Include: Kai's Duo
An elegant combination of vocals and piano, Kai and her pianist perform the great swing and Latin jazz classics made famous by Frank Sinatra, Ella Fitzgerald and Nina Simone, as well as more popular material, including Ray Charles, Norah Jones and James Taylor. Kai's Duo has a contract with Pizza Express Restaurants, and perform regularly for weddings and events.
Kais Moonlight Cocktail
This the smooth combination of vocals and jazz guitar! Moonlight Cocktail's classic swing, Latin and mellow pop songs are perfect background music to complement your reception or sit-down meal – creating a wonderful atmosphere at your event. Moonlight Cocktail's song list includes hundreds of tunes by the great jazz artists of the 20th century as well as contemporary figures: Frank Sinatra, the Rat Pack, Cole Porter, Ella Fitzgerald, Nat King Cole, Ray Charles, Louis Armstrong, Diana Krall, Norah Jones, Louis Jordan, Louis Prima, Nina Simone, James Taylor and many more.
Kai's Trio
Vocals, piano and double bass – this ensemble has a characteristic jazz sound and performs similar repertoire to Kai's duo – the great swing and Latin jazz standards of the 30s, 40s and 50s, as well as classic pop.
Kai's Quartet
Vocals, piano, double bass and drum kit – this is the classic jazz band combo! With the addition of drums, this group is very versatile, performing swing and Latin jazz, classic pop and rock and roll, as well as funkier material. As with the trio, Kai's quartet is mainly engaged for private events.
Kai's Kats
Swingin retro band Kais Kats has a fabulous lineup including some of Londons hottest jazz players. You can hear them live monthly Ronnie Scotts Upstairs Bar residency, Kai's Live & Let Jive – a Time Out Critics Choice Event. With numbers like Louis Jordan's 'There Ain't Nobody Here But Us Chickens' this band is guaranteed to get toes tappin'! MEOW!!!
A 6-piece band consists of keyboard (or piano if available at venue), double bass, drum kit, trumpet, saxophone & vocals.
Hey Boy! Hey Girl!
The golden age of the vocal duet is back! Hey Boy! Hey Girl! is a brand new show celebrating the magic of the boy girl duets. Great artists such as Louis Prima and Keely Smith, Ella Fitzgerald and Louis Armstrong helped to bring this concept great popularity. Ray Gelato (winner Ronnie Scotts best band, Radio 2 best jazz vocalist nominee), and Kai(award winning US Diva and Ronnie Scott's regular) have developed a wonderful, fun show, taking tunes from the great American songbook! You will hear such classics as 'That Old Black Magic', 'I'm in the Mood for Love', 'Baby it's cold Outside' and many, many more wonderful tunes. All performed with fun, romance and swing! Hey Boy, Hey Girl is sure to rock you out of your seats with Ray and Kai's fun and jumpin' renditions of some of your favorite classic songs. Featured songs will include: That Old Black Magic, I've Got you Under my Skin, They all Laughed, Let's Call The Whole Thing Off, Papa Loves Mambo, Baby It's Cold Outside, When my Baby Smiles At Me, Something Stupid, and lots more!
Technical Requirements:
For their 6-piece line up Kai & Kais Kats need:
A PA system with a minimum of two monitors on stage, one by the piano, one by the vocals.
Two horn mics.
Two vocal mics.
A pick-up mic for the double bass.
A bass amp (this can also be provided by the bass player).
A connection to plug the piano into the PA system.
Mic stands for four mics.
Repertoire Includes:
(5 or 6 piece band):
Agua de beber
All the things you are
Bare Necessities (Jungle Book)
Black coffee
Can't Buy Me Love (Beatles)
Can't help lovin' that man
Choo choo cha boogie (Louis Jordan)
Dance me to the end of love (Madeleine Peyroux)
Dream Dancing (Ella Fitzgerald)
East of the sun
Embraceable you
A fine romance
Fly me to the moon (Rat Pack)
Foggy day (Rat Pack)
The folks who live on the hill
Frim Fram Sauce (Nat King Cole)
Happy talk
I'm an errand girl for rhythm (Diana Krahl)
I'm old fashioned
In Cerca di Te
Istanbul (Was Constantinople)
I've got rhythm
I've got you under my skin (Rat Pack)
I've told every little star
I remember you
(Just an Old Man from) The Old Country
Kansas City
Love for sale
Let's face the music and dance (Fred Astaire)
Lovely to look at (Fred Astaire)
The man I love
Mona Lisa
Morning After
Never Will I Marry (Nancy Wilson)
Nightingale sang in Berkeley square
Pennies from heaven (Rat Pack)
People will say we're in Love
Pick yourself up (Ginger Rogers)
Save Your Love for Me
Sleepin' Bee
Smoke gets in your eyes
The song is you
Straighten up and fly right (Nat King Cole)
There ain't nobody here but us chickens (Louis Jordan)
They can't take that away from me
They didn't believe me
That's amore (Rat Pack)
Things We Did Last Summer
Third time around (Hank Mobley)
The way you look tonight
What Is This Thing Called Love
When You're Smiling
Kai's Cats can also play tunes from the
KAI BAND REPERTOIRE LIST (from 2 to 5 players):
JAZZ (SWING/BALLADS/BLUES)
And All That Jazz
All of Me
All the Things You Are
Alone Together
Alright, Okay, You Win
Autumn Leaves
A Beautiful Friendship
The Best Things in Life Are Free
Billie's Bounce (I Love My Man)
Birth of the Blues
Black Coffee
Body and Soul
But Not for Me
Bye Bye Blackbird
Can't Help Lovin' That Man
Caravan
Centerpiece
Come Fly With Me
Come Rain or Come Shine
Cry Me a River
Dance Me to the End of Love (Madeleine Peyroux)
Days of Wine and Roses
Dream Dancing
East of the Sun
Embraceable You
Everything Happens to Me
Every Time We Say Goodbye
Fascinatin' Rhythm
Falling In Love Again (Ich Bin Von Kopf bis Fuss)
Fever
A Fine Romance
Fly Me to the Moon
A Foggy Day
The Folks Who Live on the Hill
Frim Fram Sauce
Gee, Baby Ain't I Good To You
Georgia
God Bless the Child
Good Morning Heartache
Green Dolphin Street
Hallelujah I Love Him So
Here's That Rainy Day
Honeysuckle Rose
Hushabye Mountain
I Cant Give You Anything But Love
I Could Write A Book
I Didn't Know What Time It Was
I Get a Kick Out of You
I Got Rhythm
I'll Never Smile Again
Imagination
I'm an Errand Girl for Rhythm (Diana Krahl)
I'm Beginning to See the Light
I'm Glad There is You
I'm Old Fashioned
I Only Have Eyes for You
I Remember You
It Could Happen To You
It Had to Be You
I Thought About You
I've Got Rhythm
I've got the World on a String
I've Got You Under My Skin
I've Told Every Little Star
Lady Be Good
The Lady is a Tramp
Let's Face the Music and Dance
Look for the Silver Lining
Love for Sale
Love Me or Leave Me
Love Walked In
Lovely to Look At
Lover, Come Back to Me
Lover Man
Lullaby of Birdland
Mack the Knife
Mad About the Boy
The Man I Love
Miss Otis Regrets
Misty
Mona Lisa
Mood Indigo
My Baby Just Cares For Me
My Heart Belongs to Daddy
My Funny Valentine
My Man
My Romance
The Nearness of You
Nice Work If You Can Get It
Night and Day
A Nightingale Sang in Berkeley Square
No Moon at All
Nobody Knows You When You're Down and Out
Old Black Magic
Old Devil Moon
On a Clear Day
Our Love is Here to Stay
Over the Rainbow
Pennies from Heaven
People Will Say we're in Love
Perhaps, perhaps, perhaps
Pick Yourself Up
Polkadots and Moonbeams
St. Louis Blues
September in the Rain
Smoke Gets in Your Eyes
Softly, as in a Morning Sunrise
Sometimes I'm Happy
Someone to Watch Over Me
The Song is You
Summertime
Stardust
Star Eyes
Stormy Weather
Straighten Up and Fly Right
Sweet Georgia Brown
Tea for Two
Thats Amore
There ain't nobody here but us chickens
These Foolish Things
They Can't Take That Away
From Me
They Didn't Believe Me
Unforgettable
The Very Thought of You
The Way You Look Tonight
What a Wonderful World
What is This Thing Called Love?
When I Fall in Love
When Sunny Gets Blue
Where or When
Without A Song
You're My Everything
You're Nobody 'til Somebody Loves You
LATIN
Agua de Beber
Aguas de Março
Besame Mucho
Chega de Saudade (No More Blues)
Corcovado (Quiet Nights of Quiet Stars)
Crickets for Anamaria (Os Brilos)
Desafinado
Frenesi
Girl from Ipanema
Guantanamera
How Insensitive
Perhaps, perhaps, perhaps (Quizas, quizas, quizas)
La Bamba
Manha de Carnaval
Marina, Morena Marina
Mas Que Nada
Meditation
No More Blues
O Grande Amor
O Morro No Tem Vez
One Note Samba
El Reloj
Samba de Orfeo
So Danso Samba (Jazz n' Samba)
So Nice
Triste
Wave
BOOGIE WOOGIE/JUMP JIVE/ROCK AND ROLL/POP/MOTOWN/SOUL
Ain't No Sunshine
Ain't Nothing Like the Real Thing
Aint That a Shame
Baby I Need Your Lovin'
Beautiful (Christina Aguilera)
Be-Bop-A-Lula
Blueberry Hill
California Dreaming
Can't Buy Me Love
Can't Help Falling In Love With You (Elvis Presley)
Come Away With Me (Norah Jones)
Crazy (Patsy Cline)
Dancin In the Street (Martha and the Vandellas)
Do You Want to Dance
Downtown (Petula Clark)
Eight Days A Week
Hound Dog
House of the Rising Sun
How Sweet It Is
I Feel the Earth Move
I Heard It Through the Grapevine
I Just Want To Make Love To You
I Will Always Love You (Whitney Houston)
I Will Survive
I Wish I Knew How It Would Feel To Be Free
In The Still of The Night
It's My Party
Kansas City
Killing Me Softly
La Bamba
The Locomotion
Love Me Tender
Midnight Hour
Moondance
Pick Up the Pieces
Rock Around the Clock
Route 66
St. Thomas
Save The Best For Last
Save The Last Dance For Me
Saving All My Love For You
Sittin' On the Dock of the Bay
Son of a Preacher Man
Stand By Me
Stop In the Name of Love
Sunny
Take Another Little Piece of My Heart
Tears in Heaven
Tequila
There ain't nobody here but us chickens
Twist and Shout
Unchain My Heart (Ray Charles)
Unchained Melody
Under the Boardwalk
Walk on By
Walking on Sunshine
The Way You Do the Things You Do
Wild Thing
Will You Love Me Tomorrow
Wind Beneath My Wings
You've Got a Friend
You've Really Got a Hold on Me
1920s
All of Me
Amazing Grace
Auld Lang Syne
Ballin' the Jack
The Best Things in Life Are Free
Birth of the Blues
But Not For Me
Bye Bye Blackbird
Can't Help Lovin' That Man
Fascinatin' Rhythm
Falling In Love Again
For Me and My Gal
Georgia On My Mind
Give My Regards to Broadway
Hello My Baby
How You Gonna Keep 'Em Down on the Farm
I Ain't Got Nobody
I Got Rhythm
It Had To Be You
Let Me Call You Sweetheart
Love Me or Leave Me
Lover Come Back To Me
The Man I Love
Moonlight and Roses
My Man
Nobody Knows You When You're Down and Out
Oh, You Beautiful Doll
On the Sunny Side of the Street
Paper Doll
St. Louis Blues
Someone to Watch Over Me
Stardust
Tea for Two
What is This Thing Called Love?
When the Saints Go Marching In
Without A Song
You Made Me Love You
You're My Everything
Testimonials:
"Last night was great. Kais Kats were just fantastic. They were situated near the entrance to the party so it gave the guests a nice classy introduction to their evenings celebrations. Both acts turned up on time, were friendly and talented, and really made a hit at our party. Best wishes"
– Great Ormond Street Hospital
"Kai's Kats were great thank you. Lovely people and lovely music. Went down really well with everyone and we would definitely hire them again and would definitely recommend them."
– Coaching Development Ltd
"Thank you so much for the most fabulous bunch of entertainers organised for our client party last week – what a great group of people! Lovely people, lovely evening, all just lovely! Please do pass on my belated but sincere thanks to them all. It can indeed only be described as a legendary night. Thoroughly enjoyed it. Clients had a cracking time. This is simply to thank you for an excellent party last night."
– Fishburn Hedges
"The event was great thank you. Everyone had a great time. Kai and her trio were superb – a great sound and lovely people. Thanks for the email and look forward to working with you again soon."
– Oxford Motivation
"I can not recommend Kai and her band highly enough. We have hired her on more than one occasion to perform at parties comprised of mainly jaded professional musicians, and on every occasion has them eating out of her hands.."
– Paxman Musical Instruments Ltd
"Kai and her band gave us a wonderful evening of jazz…we had a number of posiive comments throughout the night"
– Maxim Recruitment
"Kai's Kats were absolutely incredible! Really awesome!"
– Sophy Inc (via Contraband)
"The event went really well and the band were brilliant! Kai and her band were the consummate professionals and I would have no hesitation in booking them again. Many of our guests have particularly sent compliments about the choice of the band and the music. Both the young and the more mature were equally entertained even when Kai generously allowed my husband to have the microphone to sing Chatanooga Choo Choo (not sure of the spelling) with the band.  My sons were embarrassed that for the first time taken by surprise, he seemed to have forgotten some of the words but he so enjoyed himself singing with the band that he now feels he might have missed an alternative career! I would warn against having him on your books however as he was singing not listening! Please forward my thanks to Kai and the band as we are a bit out in the sticks and I did not think to check that they had been well looked after on the night, although I was assured that they would be beforehand. Thanks again for your part in the organisation you can count us as well satisfied customers."
– Private Client (via Contraband)
"…A big thank you for all of your help on this. All of the acts were brilliant…Kais Kats were fab, they looked amazing too….Everyone was really professional and great to work with – and weve had some lovely feedback from the client too…"
– P&MM Ltd (via Contraband)
"… I thought were really good, nice background music….All in all I think we all had a great time..Thanks again for all your help again this year."
– AKO Capital LLP (via Contraband)
Photos of Kai & Kai's Kats