Juan Senor | Conference Facilitator | UK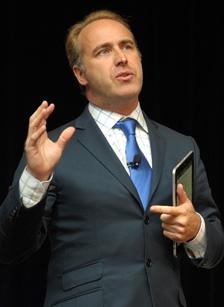 Juan Senor
Juan Senor is a partner at Innovation Media, a journalist, television presenter, explorer, disability campaigner and motivational speaker. Juan Senor is available to book for a variety of corporate events.
Hiring a host to endorse your brand, service or event is very simple.  Contraband is the UK's top booking agent, with friendly, experienced account managers who guarantee you the best deal possible. We work in direct association with their representative.
Juan Senor has won a host of journalism awards & accolades for his correspondence across a range of TV networks both in the US and in Europe, including an EMMY nomination for his exclusive interviews with Yasser Arafat and Yitzhak Rabin. Juan is conversant in 6 languages, and has taken part in a number of fundraising and charitable expeditions to both the North & South Poles, and across the Gobi Desert and the Western Sahara. He speaks and draws on these experiences in his role as a corporate conference facilitator for hire.
Juan completed his university degrees in New York and has a diploma from the University of Oxford and is also conversant in six languages. He became a foreign affairs and defence reporter for the US programme, The MacNeil-Lehrer NewsHour, in 2000, a role in which he stayed in for 5 years. Whilst there he received an EMMY nomination for his exclusive interviews with Yasser Arafat and Yitzhak Rabin. Juan has won many journalism awards including prizes by the German Marshall Fund and Georgetown's Institute of Political Journalism.
Juan worked as a presenter for CNBC Europe in London, and also worked as a presenter for Wall Street Journal TV/EBN, and Media Report, which he presented at EBN was voted Europe's Best Business Programme by a viewers poll in 1998.
In 2004 Juan skied to the North Pole to raise money for charity. The expedition has become the subject of a National Geographic special, and an experience he draws on to use at his motivational talks.
Speaking Topics
Juan Senor covers topics such as motivation, business & management, overcoming adversity, and global adventures including 'The 10 Rules of the Arctic: leadership lessons from the ice we can apply to any human or business enterprise'. He is also an excellent facilitator.
Contact us  today if you would like Juan Senor to be the highlight of your event! The most memorable moments are waiting and they could be yours today!  
Photos of Juan Senor
Book Juan Senor
Want to book a performer, or just find out more? Give us a call on +44 (0)208 8291140 or use our online contact form via the button below.