Joy Magnet – Walkabout Characters | UK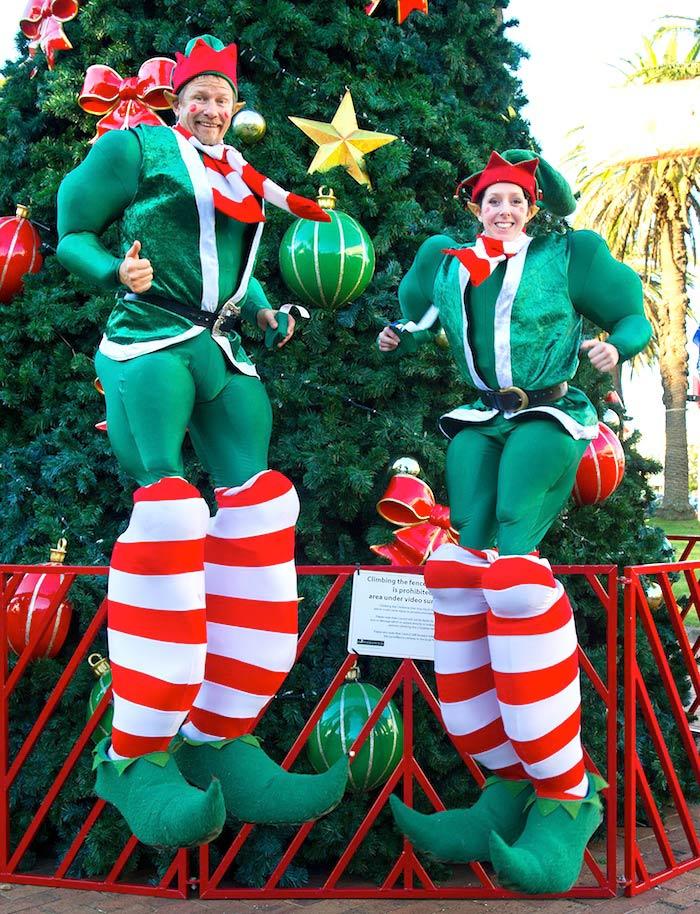 Joy Magnet Walkabout Characters
Joy Magnet create a buzzing atmosphere and a sense of community by connecting with people both personally and as a group. We create clever comedy characters that also have a big visual impact, offering unique personal interactions whilst also adding to the greater spectacle of the event.
Joy Magnet performers have a minimum of 10 years experience, and have trained in Physical Theatre and comedy at respected institutions such as Le Coque, Goulier and Circomedia.
Acts Available:
All acts come with 2 Bouncing Stilts Walkers unless specified othewise in the act description
B-Boys
These big bouncing b-boy breakers and their beat blasting boom box are sure to bring out the funk in everyone. Whether bouncing around in their massive high tops to their sound system, or teaching peeps their secret handshake, they bring high-energy fun for all. With bouncing stilts and bouncing wits, they're both visual and interactive.
The Hungry Chefs
These cheery, chubby chaps are bounding around on big bouncing stilts, using their super sensitive sense of smell to sniff out a new rare delicacy! If you're lucky they'll tenderise your shoulders for you with a nice little massage, season you with their giant black crack pepper grinder and garnish you with a little twig of parsley from their mobile herb selection.
A dynamic act, it boasts strong characters with fast witted improvised comedy, and a big bounding visual impact for your event space. Perfect for food markets.
The Fishermen
With barnacle beards, big bouncy boots, and bright yellow suits, these seafaring fisherman are a spectacular site at any event. Always struggling with their land-legs, they can be seen bouncing up to 4ft high in the air as they try to recreate the homely, comfy sensation of sea sickness. They have many tails of the high sea to tell, offering witty, improvised comedy interactions. With bouncing stilts and bouncing wits, they're both visual and intimate, perfect for any seaside event.
Mother Hens
These bustling old mother hens fuss about giving chocolate gifts and cuddles to the little chicklings, sharing old wives tales with the ladies and hen pecking the men!
Bopping around like busy bees, these unique, larger than life hens are a beautiful edition to any seasonal event. A warm but cheeky 2 or 3 person comedy act that provides intimate, family interactions and big visual impact.
Performers: 2 or 3 ground performers
Christmas Elves
Sizing up a Christmas crowd is a big job, so Santa has sent out his biggest helpers Horace and Boris to take notes. How do you measure up – Naughty or Nice? They'll be bouncing around deciding who deserves a visit from the boss man.
Bouncing stilts will have them leaping around up to 4ft high and 6ft long!
Giant Kangaroos
Giant kangaroos on amazing bouncing stilts? That's Roo'd! Jumping a metre off the ground and 6ft in a bound, they're a phenomenal sight with their cheeky blend of outback macho and inner city punk savvy — always Roo'd but never offensive.
A great stilt act that really stands, or bounces, out in the crowd with an ability to be cheeky, funny and cuddly all at the same time.
Performers: 2-4
Beach Patrol
Sharks beware! BEACH PATROL are ready to rescue. Marvel at their mouth to mouth! Be dazzled by their daring drills! You'll need CPR after these moustachioed musclemen have bared their biceps while diverting danger. Swim outside the flags at your own peril.
The Bouncers
Need to keep a crowd in line? Don't panic: leave it to the bungling BOUNCERS. These boys are proof that in this industry, size matters — but not if you're talking brains.
Cricketers
Icarus Cricketers and Cricket Umpires have appeared at Test Matches, One Day Games and the Cricket World Cup games at the SCG as well as 20/20 games at the MCG and in the UK. Great fun in a large pre game crowd, especially when they get a BIG game going.
Be the captain and pick your team – we can customise the costumes to suit any team or nation you like!
Giant Tennis
Tennis Anyone? Giant Tennis has appeared at many Australian Opens and Sydney Internationals. Always a smash hit, and at 8ft tall, definitely overhead. Move over Murray and co, there are bigger stars on the circuit. Beware grunting and tantrums!
Performers: 2 Bouncing Stilts Walkers
Rugby
They run, they jump, they pass footy's and boy are they tough! These big bungling lads have been seen starting scrums at pre match entertainment, family fun days, and Grand Final week festivities. They performed all throughout the UK for the 2015 Rugby World Cup, including appearances at all the finals in Twickenham.
Be the captain and pick your team – They can customise the costumes to suit any team or nation you like!
Olympic
'These absurdly athletic characters have represented their countries at the London Olympic and Melbourne Commonwealth Games, FINA World Swimming Championships and a host of other events, winning GOLD! GOLD! GOLD! ……and its not hard to see why. What bodies! What Moustaches! What Posers!
Be the captain and pick your team – we can customise the costumes to suit any team/nation you like!'
Circus
These old world Circus Strongmen are great for any event with a Circus or Carnival theme. Super strong, massive moustaches, enormous egos and perfect poses…these lads have it all.
80's
Was it really this bad? Well maybe there is a little bit of artistic license taken, then again, maybe not. Inspired by ONJ herself, minus the leg warmers. Our fluoro fitness fanatics are a must for any 80' themed party.
Standard Length Of Performance:
They can perform 3 X 30min OR 2 x 45 min walkabout sets.
Testimonials:
"I have been working with this company for many years. They are witty, inventive and use excellent entertainers with a great sense of comedy and absurdity. They always have the capacity to surprise. They have never let me down either in performance or in efficiency and can be absolutely trusted to deliver in any situation."
– Cardiff City Council Events
"It has been said that the Kangaroos stole the show on both occasions and I congratulate you and your team for developing such an innovative roving performance act."
– Australian Capital Tourism
"People are still asking me if I was anything to do with the 8ft bouncing Roos. It was an absolute pleasure – I couldn't speak highly enough of them."
– York Festival
"Thank you so much for the performers you sent along to Twickenham, they were all a delight to work with."
– Progress Productions
"A pleasure to work with – friendly, smiley guys, with great costumes and sense of fun!"
– Cirque Bijou
Previous Clients Include:
Microsoft
Coca Cola
IBM
Disney
Kraft 
Mastercard
Bayer
Qantas 
Nokia 
Sony 
Harley Davidson 
Foxtel 
Bloombergs 
Optus 
Vodafone 
Chinese Amway 
Maquarie Bank 
Glastonbury Festival 
Just For Laughs Festival
Oerol Festival 
Limberg Festival
Festival
Chalon Festival
Manchester Commonwealth Games
Cardiff Festival
Waterford Spraoi Festival
Boom Festival, Portugal
Powerboat Races
Kliene Schlossgarten Festival
Lienz Festival
Daidogi World Cup
Fukuoka Garden Festival
Golden Week Festival
Galway Festival
Capetown Comedy Festival
Dubai Summer Surprises Festival
V8 Supercar Race
Kimpton Clown Festival
Shanghai Expo
Beijing, Chinese New Year Festival
Singapore Grand Prix
Bangkok Children's Festival
London Olympics, Victoria Park Live Site
London Olympics, Torch Parades
Photos of Joy Magnet Walkabout Characters