Johnny Strange – Bizarre Circus Show | UK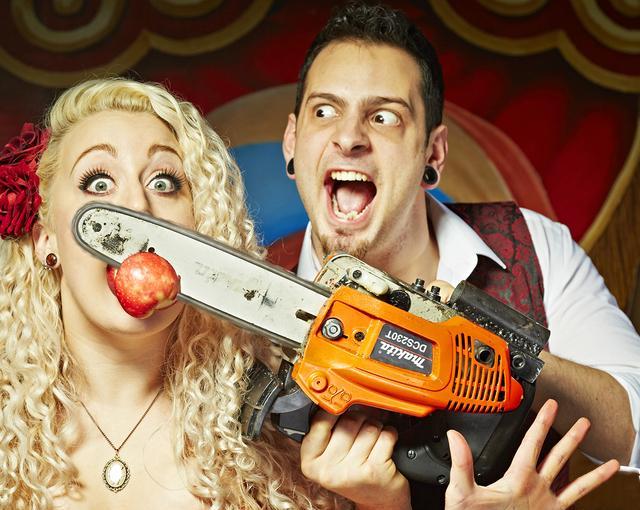 Johnny Strange is multiple Guinness World Record holder based in London, who travels throughout the UK and the rest of Europe performing jaw dropping stunts. His shows are family friendly and packed with humour, suspense and plenty of audience participation. Johnny's shows are suitable for the young and old, both adults and children, and everyone leaves with a smile of their face.
Don't settle for less when you can hire the Best. A favourite at corporate events, having travelled throughout Europe and internationally wowing audiences every step of the way – from weddings to festivals, private parties to conventions and everything in between. Johnny S provides great entertainment and can brighten up any event with his unique comedy styling fused with jaw dropping acts and superhuman feats.
Johnny's diverse performances can range from 5 to 45 minutes, filled with nonstop, outrageous entertainment. So if you are looking for an entertainer who will stand out and add something totally unique to your event then look no further, because he really does have to be seen to be believed!
Johnny Strange is able to customise his acts to suit your event's needs, providing an enjoyable brand of humour coupled with death defying acts of precision that are sure to leave a lasting impression. He also understands that some of his acts, at first, can be perceived as being too shocking, so baring this in mind, he presents everything in a charming and friendly manner, laced with jokes and designed to entertain and thrill rather than to shock and repulse.
Acts Can Include:
Host/ MC,
Sword Swallowing – including double edged blades, handless swords, wavy serpent swords and audience participation.
Neon Sword Swallowing – swallowing an illuminated 2000v glass neon tube.
Knife juggling / Chainsaw Juggling.
Chainsaw stunts – performing one of his Guinness World Record stunts by chainsawing an apple from his mouth.
Target Whip Cracking – a whip show with a difference, splitting targets placed in his mouth or the mouth of a volunteer.
Pierced Weightlifting – performing one of his Guinness World Record stunts by lifting a beer keg from nothing but his ear piercings.
Feats of speed – testing his speed against the reaction time of the steel jaws of a bear trap.
Escapology – escaping from police issue handcuffs, chains and straight jackets fastened by members of the audience.
Hat Manipulation.
The Human Blockhead.
Guinness World Record live attempt.
Large publicity Stunts.
Guinness World Records:
Johnny Strange holds an ever growing list of Guinness World Records, including;
– The most apples chainsawed out of his own mouth,
– The most applied chainsawed out of someone else's mouth,
– The most melons chopped on someone else's stomach while they lay on a bed of nails,
– The heaviest weight lifted with ear piercings,
– The most animal traps released on the body in one minute,
– The fastest time to break 16 concrete blocks on someone's stomach with a sledgehammer.
GWR photos credited to; Paul Michael Hughes / Guinness World Records
Technical Specifications:
A PA system, minimum performance space of 2m x 2m.
Not every act is suitable in every venue, for this reason some acts may be altered. If you specifically require a certain act, please specify when making an enquiry.
Testimonials: 
"This was a 'watch through your fingers' act that blew many minds over the
weekend"
-Tattoo Jam Convention
"It was an absolute pleasure to have Johnny Strange headline our festival. 
Book him quick, this lads gonna be busy" 
-Southside Fringe Festival
"The King of the Sideshow is back, bigger and better than ever. 
Its the show you can afford to see, but can't afford to miss"
-Skin Deep Magazine
"One of the strangest, unique and most dangerous performers in
the UK"
-Paul Walker, BBC Radio
"Not shy of showing off his unique bodily talents, Mr Strange proceeded to swallow a variety of different shaped swords, and even a glowing neon tube, seen to full effect with the stage lights turned off."
– Yoppul
Previous Clients Include:
Ripley's Believe It Or Not!,
Guinness World Records,
Red Bull,
Nitro Circus,
The BBC,
The Sun Studios,
Harley Davidson,
The Amir Khan Foundation,
Circus of Horrors,
Glastonbury Festival,
London Wonderground,
Southside Fringe Festival,
Strasbourg Saglio,
The Blue Moon Revue,
The Great Dorset Steam Fair
Photos of Johnny S