John – Punch & Judy Shows | UK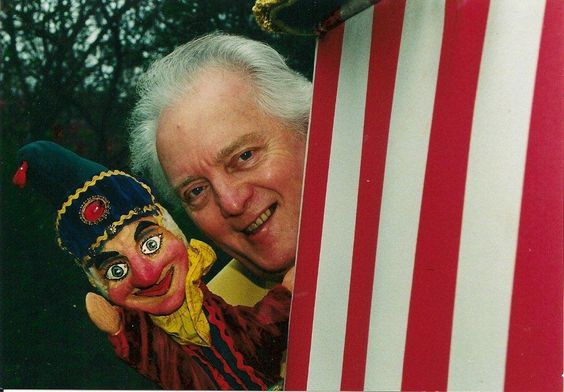 John has the reputation of probably being Britain's leading authority and exponent of Punch & Judy. Over fifty years of Punch & Judy experience have seen him performing from pubs to palaces, beaches to broadway and from house parties to Hollywood but he is still as much at home entertaining at small family gatherings, schools, fetes and galas. His show is entirely self contained and suited for most occasions.
John has had the honour of representing his country at international arts festivals and British promotions all over the world. In America John has played Punch & Judy on Broadway in New York City. In England he has performed for the Royal Academy among many others. On the morning of the wedding of their Royal Highnesses, The Prince and Princess of Wales, John was asked to perform at the side of St. Paul's Cathedral to entertain those attending as part of the City of London's official celebrations. He has also had the pleasure of privately entertaining some of the world's most distinguished people – royal families, actors, writers, entertainers, statesmen and sportsmen.
His show has been regularly beamed across Europe by satellite on "The Children's Channel" and achieved Punch's biggest audience when CBS News interviewed him live from Covent Garden for the "This Morning" programme networked across America and Canada. He has been featured in numerous films, TV Commercials, and programmes including "The Box of Delights", "Rainbow", The Avengers", "Inspector Morse", "Darling Buds of May", "The Generation Game", "East Enders", "Midsomer Murders" and the BBC film "Hancock".
John's Punch features in Disney's "102 Dalmatians" and some of his more unusual assignments have been to entertain Napoleon in the Monty Python inspired film "Time Bandits" and to show actor/singer Tom Waits 'the way to do it' for the film "Bearskin". Roman Polanski also wanted John's Punch & Judy for his remake of Dickens´ "Oliver Twist". Consequently John has been invited to appear on top TV and radio chat shows and has been the subject of articles in national and international publications.
In addition to performing the play John has a keen interest in it's origins and history and has acquired a diverse collection of old booths, puppets, toys, ornaments, pictures and ephemera related to the subject some of which have been exhibited at the Museum of London and the Brighton Museum. After lecturing at the Royal Society of Arts in London he was elected a Fellow of the Society – a title of which he is very proud. John has also had the distinction of being invited to talk at the Smithsonian Institute in Washington D.C.
John presents an old English Punch & Judy show in the traditional style. After a lifetime in entertainment John was very proud to be included in a recent New Year Honours List and was awarded an M.B.E. by the Queen "for services to the arts – especially Punch & Judy".
Standard Length of Performance: 3 or 4 x 20 minutes sets
Testimonials:
"Johns' Punch & Judy show was a marvellous production that showed his excellent technique, wonderful comic timing and great ability to create a special interaction between himself and his audience. His years of experience were obvious."
- "Puppeteer's of America" Festival
"Howls of laughter and high pitched shrieks proved once again that the 300 year old Punch is fun as ever... presented by John of London... one of the finest Punchmen in the world."
- The Calgary Herald
"It's hardly surprising that John is rated so high in the land for his Punch & Judy work. His artistic flair for hand puppetry is quite exceptional. His dexterity gives the story a dimension of credibility. In his hands they are no longer inanimate wooden puppets - they have nobility. He also has a splendid rapport with children and adults alike - he is a brilliant entertainer."
- Polka Children's Theatre
"John demonstrates the versatility of the best Punchmen over two centuries."
- Author of 'The Punch & Judy Show'
"John is one of the finest English 'Professors' maintaining with verve, skill and spontaneity the old traditions of Punch & Judy."
- The Daily Telegraph
"John... leading exponent of the art."
- International Herald Tribune
Previous Clients Include:
The Royal Opera House
The Royal College of Art
The Guildhall
The Mansion House
The National Theatre
The Barbican Centre
The Tower of London
The Houses of Parliament
Covent Garden
The Royal Family
Photos of John – Punch & Judy Shows