Jason & Anton – Juggling Duo | UK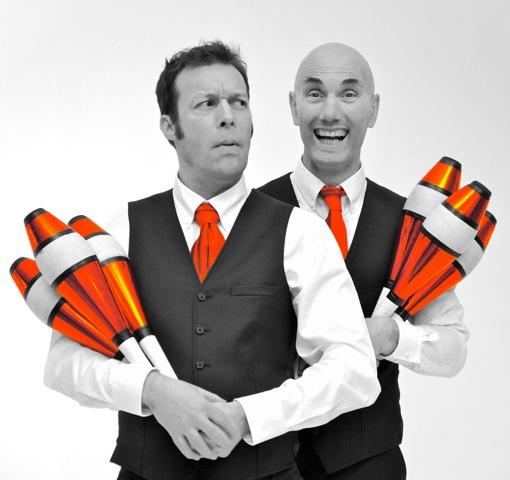 Jason & Anton
Jason and Anton are two talented, stylish jugglers with great patter .They are hugely experienced and have an amiable, often humorous interactive style. They have been performing at corporate events and private parties all over the world and are available to hire for your event.
The duo can perform juggling with many different items and can also juggle with fire. This act is full of fun and energy, perfect for all types of events.
Standard Length of Performance:
The duo perform approximately 2 x 45 minute sets for evening events and 3 x 45 minute sets for full day events.
Testimonials:
"The Queen enjoyed herself immensely. Thank you so much for your wonderful work."
– Lady Elizabeth Anson
"Jason was a great hit at the Khareef festivaI, I would recommend him strongly and warmly."
– British Council, Oman
"Jason went down extremely well with our audience, and was a pleasure to work with."
– British Council, Mozambique
"Anton was amazing!"
– London Borough of Bromley
"Regarding the circus parade, the client really liked them please thank all the entertainers especially Anton the juggler."
– Blink Marketing Solutions
"[Anton is] A champion entertainer with skills to match!"
– Jennifer Baybrooke, 1999 World Yoyo Champion
"Great energy and a creative individual!"
– Dale Oliver, World YoYo Master
Previous Clients Include:
Virgin
BBC
Sir Paul McCartney
Glastonbury
Downing Street
Waterford Festival
British councils
X Leisure
Millenium Dome
Photos of Jason & Anton