Japanese: Haru Ichiban – Japanese Dance & Music | UK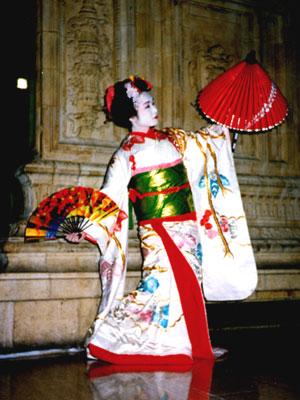 Japanese Dancers (Haru Ichiban)
Haru Ichiban present performances of traditional Japanese dance & live music. Their performance is a further development of the much appreciated music group Japanesque. Dancers perform traditional Nihon-buyo, a refined form of Japanese dance. Drawing on Kabuki, Noh Theatre, and folk dance. They're accompanied by authentic Japanese instruments: Koto, shamisen, shakuhachi and flute. A cello also expands the timbre and depth of the group sound.
Technical requirements:
They will need minimum space of 3m x 3m and a polished clean floor to perform.
They will also need a PA system with 4-5 microphones.
Standard length of performance:
The set lasts from 15 minutes to 1 hour.
Previous Clients Include:
Common Wealth Institute
Olympia
Holiday Inn World Conference
Lexus
T-mobile
Ikebana International New Year's Party
Nottingham Festival
National Theatre
The Passage
The Potteries Museum
Photos of Japanese Dancers (Haru Ichiban)