Pianist: Janusz – Int.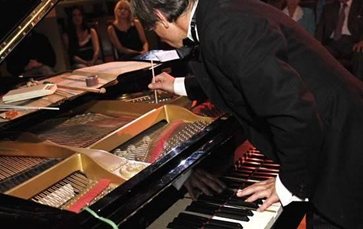 The dynamics of Januszs performance; combined with lyrical, ethereal notes will ignite your imagination and take you by surprise. His music whisks you into the world of tempestuous events and then unexpectedly swoops you in to a magical place, filled with mysteries of childhood dreams and memories.
Janusz graduated from the Music Department of the Silesian University in Poland. His compositional technique was developed under the direction of Boguslaw Schaeffer and Aleksander Lason. During this time he was a frequent participant in "The Courses for Young Composers" and "The Electronic Music Seminar" in Krakow. He presents his compositions at many concerts and festivals in Europe and United States including: The Warsaw Autumn – an international festival for contemporary music, "The Music Fair" – international art fair in Frankfurt, festival in Berlin and in St. Cecilia Hall in Grand Rapids, Michigan USA.
He currently composes and performs music for theatre and films, radio and television. In 1998 he was awarded "Ikar 98" for his oratorio "The Way of Hope" estimated as the event of the year.
Concert "The music of the heart and mind" was performed at EXPO 2000 over 30 times, Coln's cathedral – Germany, St. Peter's Square in Rome and in many other places in Poland and abroad.
Janusz is currently working on his new musical Happy People.
Set Times:
His usual performance takes about 80-90 minutes.
The concert time is 1hour or 2 x 40 minute sets with a break but he is flexible
Janusz Personal Works Include:
Conversation – two pianos (1978)
Vagueness – string trio (1978)
People to People – mixed choir (1978)
Jazz I – oboe quartet (1979)
Bertram – vocal and prepared piano (1979)
Situation – bassoon and 4-channel tape (1980)
Jazz II – oboe quartet (1979)
Confrontation – piano and optional number of singers (1981)
Whirl – symphonic orchestra (1981)
Vision of the Past – electronic music (1983)
Arising in a Free Context – artistic situation (1984)
Points of Reference – piano (1986)
Praise of Love – tape (1987)
The peaceful old age – piano (1995)
The Way of Hope – oratorio (1998)
Awaiting Guest – oratorio (2001), based on Zofia Kossak's drama
Saint Peter Ontario based on New Testament (2004)
14 days underground – solo, choir and chamber orchestra (2006)
Happy people – musical (2007)
Photos of Janusz