James P – Magician | UK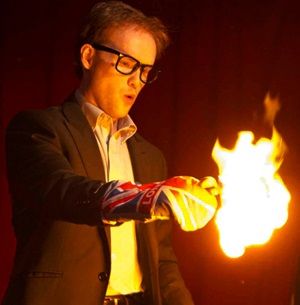 James has performed for royalty, celebrities and top companies, as well as appearing on TV and in major online marketing campaigns. He is one of the most versatile magicians, combining a broad performing repertoire with a sophisticated charm and humour that makes him popular with any audience. From corporate events, to weddings, to 21st birthday parties, James always wins the crowd.
As a close-up magician, he mixes advanced sleight of hand with mind reading, creating unforgettable moments. The magic happens in guests' own hands, and he's able to guess things that they're thinking of. It's an amazing and personal experience.
As a cabaret magician, James can perform a comedy magic act, or for the more brave at heart, some dangerous magic involving a knife and some very sharp embroidery needles!
Or perhaps you would like to learn the secrets of magic. James runs courses that teach you about magic, misdirection and performance, and are a fun way of building confidence and developing presentational skills. These are ideal for team-building sessions and private parties.
James performed on BBC 2's hit series The Restaurant, featuring celebrity chef Raymond Blanc. He performed at a dinner party organised by the contestants, helping them win a round of the competition. Other television credits include appearing on ITV and having a regular slot performing magic on Nickelodeon Television.
James was magic adviser on an online marketing campaign for Nivea for Men, and also starred in the videos, which are being shown in the UK and across Northern Europe.
Standard Length of Performance:
Close-up magic – any length of time
Cabaret magic – 20-25 minutes
Testimonials:
"Slick, clever and quick and a true gent. My party guests loved him. While mingling with the crowd he struck the perfect balance of being friendly and approachable and yet we were all in total awe of him. Would highly recommend. Like Derren Brown, but better."
– Private Client
"A group of Cambridge scientists is a demanding audience, but everyone was highly entertained by James."
– Private Client
"The magician was the smash hit of my daughter's wedding. We are keeping the unique magic trick you made in a special wedding keepsake box."
– Private Client
"James added real value to our exhibition stand. His amazing magic attracted delegates to our stand, and he was able to hand out giveaways in a highly memorable way to build brand awareness."
– Private Client
Previous Clients Include:
Barclays
Nivea
Philips
The University of Cambridge
BBC
Lloyds Banking Group
Hiscox
Hix
J.P. Morgan
Aviva
Photos of James