Invention Walkabouts – Various Walkabout Acts | UK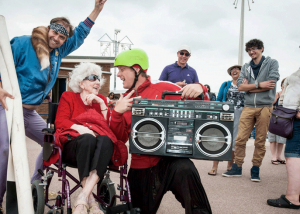 Invention Walkabouts has performed walkabouts & shows internationally. They started making walkabouts in 2002 and in 2004 they made their first street show called Turbo Jonez. They are available to hire for corporate parties, balls, anniversaries and weddings. These corporate entertainers really know how to entertain your guests!
During their devising process they seek out the most current directors and clowns to stay true to the spirit of anarchy and individualism, for both their walkabouts and their shows.
Invention Walkabouts have stayed true to the spirit of Invention throughout the years. Their comedy is anarchic yet well poised. It's not easy to make an 80-year-old laugh and an 8-year-old laugh at the same thing. Their trick is not to patronise. Old people are young and young people are old.
They create unique, engaging, celebratory street theatre from the heart, in the spirit of Invention.
The various walkabout acts are as follows:
Turbo & Dai:
This urban themed show is where it all started over ten years ago. This show hit the streets of Brighton festival and their agent immediately signed them there and then. That's how good this walkabout is. Travelled the world and made them laugh. Very mobile, very funny.
Turbo Jonez (The original):
This is a one-person static urban themed street show capable of drawing very large crowds. It requires no power and no real technical requirements yet it packs the punch of a mid scale street show. This show has toured Europe for the last 5 years.
Dodge:
This is a two person seasonal walkabout, great for Christmas or Dickensian / Victorian gigs. When the group gets booked for this, they really indulge their acting skills.
The Christmas Waiters:
This is a Christmas, food-themed show where the Comedy Waiters turn all festive. Use it as a walkabout and they perform little festive vignettes or chuck it on a stage for the full 30-minute show.
The Pedalo:
This one's an ocean and sport themed two person walkabout act. Again, it's all in how the group interacts with the public. The pedalo is an interesting prop, It's a moving platform from which they entertain. They can cover a lot of ground in terms of your event. Funny, very very funny.
The Bad Santas:
This is a two-person breakdancing Christmas act. As simple as that. What's not so apparent is how they have made it so funny. It's all in how they interact. This one gets booked year after year after year.
The Golfers:
This is again a two-person sport-themed stilt walkabout. Now, let's be clear, there are stilts and there are stilts. This show has been made with the benefit of 20 years in the industry and the result is a fully functional golfing pair 9 feet high.
Turbo Jones & the Temple of Boom:
This is a one-person street show and the sequel to the very popular Turbo Jonez. It's probably our flagship UK show. Draws huge crowds and often acts as the centrepiece of an event due to the giant cobra.
The Comedy Waiters:
This two person static food-themed street show is very adaptable. The set is a trolley which can be moved anywhere on your event. Again, it's totally self sufficient in terms of power, p.a. and technical requirements but it draws and holds very large audiences. It will perform in rain too.
Photos of Invention Walkabouts