Inner Side – Comedy Walkabout Acts | UK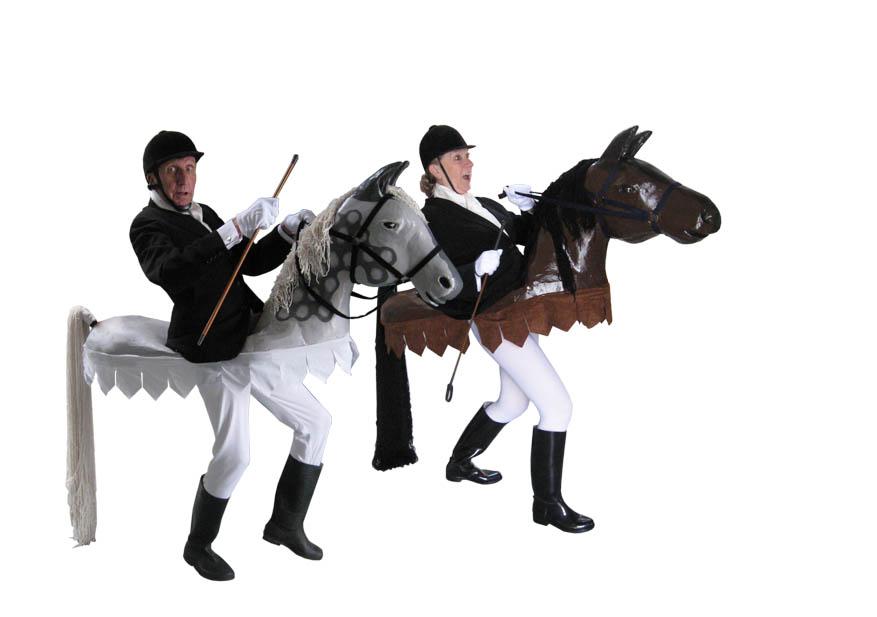 Inner Side has now been operating for twenty years, bringing you a range of sophisticated stupidity.  They work as a comedy duo, often with a large puppet (more of a ventriloquist's dummy), who causes a lot of the arguments when they are out and about at corporate events and family fun days!
Acts Available:
Boats with Legs
The comedy duo set out to wander amongst the guests. There is always a lot of noise and arguments due to the puppet on board who fascinates children but insults everyone else.
Particularly suitable for maritime, seaside or historically themed events. Immaculately costumed above deck, thin legs and large boots below the waterline, these boats have now walked many miles around the country.  You can select the boat which most suits your event; Viking Longship, Pirate Galleon, HMS Victory, Edwardian Steam Launch, Italian Gondola or maybe a Fishing Boat.
Olympic Show Jumping and Dressage Team
Sir Henry and Lady Lydia trot-about on their hobby horses determined to practise their jumping technique.  Anything will do, even cracks in the pavement are quite challenging for our two incompetent riders.
Or they may have a go at the Dressage section, (sometimes known as 'line-dancing').  Since Sir Henry is not noted for his agility on the dance floor anything could happen, and Lydia has been known to have a go at tap dancing after a few gins.
Standard Length of Performance:
Up to 4 x 45 minute walkabouts per day.
Testimonials:
"Thanks, once again, for your assistance in making "Beside the Seaside" a wonderful event.  Your shows always had crowds of happy smiling people around them, which makes us very happy smiley people too.  Clever, witty, clean and always highly entertaining in a delightfully vintage style – but also, reliable, flexible and willing to work with us to make things happen!  A delight, as always to work with you''
- Lancaster City Council
"I have always found Inner Side to be very professional, prompt, accommodating, flexible and very, very entertaining - a promoters dream!  Witty and stylish, their shows are appropriate for children yet compelling for adults too.  They can perform almost anywhere and as I have personally witnessed - in any weather.  I would gladly recommend them for any public shows and general hilarity!"
- English Heritage
Previous Clients Include:
English Heritage
Royal Armouries
Lancaster & Morecambe Events Team
Swansea Events Team
National Trust
International Festival of the Sea
Tall Ships Race
Great Yarmouth Maritime Festival
Hull SeaFever Festival
Largs Viking Festival
Hereford Council
Sewerby Hall
Scarborough Maritime Festival
Stafford Council
Photos of Inner Side