Indian Marquees and Indian Tents | UK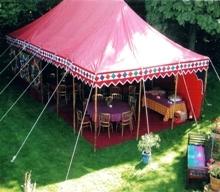 Your special event deserves a special space. We have spent long periods of time in India, and have combined traditional, colourful designs with modern waterproof fabrics to produce marquees that are authentic, beautiful, and fully adapted to cope with the British climate.
Our marquees can provide a unique alternative to a white, plastic mass-produced marquee. It could be the key factor in making your event unforgettable!
We can supply a range of marquee sizes from 30ft x 54ft for a large weddings and events, down to 12ft x 16ft suitable for the smaller back garden. In addition to the marquees we can supply flooring, lighting, dance floors, covered walkways, floor seating, low-level tables, Indian centre lights, heaters and a range of traditional Indian textiles for decoration of any internal space or structure.
We realise that every event is unique so we can arrange a free site visit with one of our marquee staff to discuss any special requirements.
Sizes of Available Marquees (feet):
30 x 130
30 x 110
30 x 90
30 x 70
30 x 50
25 x 40
30 x 30
25 x 25
30 x 15
16 x 16
10 x 20
12 x 16
The Maharani Marquee comes in 4 sizes:
30 x 30
30 x 50
30 x 70
30 x 110
The Jaigarth marquee is a 12 sided 20 diameter tent. The interiors of both the Mahrani and the Jaigarth have been printed using hand carved wooden blocks.
Testimonials
"Just a note to say that we had a fabulous wedding on 6th August, and to thank you and your team for the efficient job in putting up and collecting the beautiful marquee.
Our friends and family were thrilled by the site, filled with a totally unexpected bright tent, which provided a great and festive atmosphere for the celebration of our son's wedding."
- I.F.
"We just wanted to write to say thank you for all your help, professionalism and good spirits in all our arrangements with you in organising the marquee for our wedding in the New Forest. All our guests were incredibly impressed and despite the miserable weather the marquee had such a warm and colourful feel inside that it really didn't matter. Not quite the Indian summer we were hoping for! Thanks again."
- Private Client
"Thank you very much for your work with the marquee. We both thought it was truly beautiful and our guests seemed to think the same."
- Private Client
"I just wanted to thank you both – and particularly your wonderful team of workers for such a great job with the marquees last weekend. The marquee itself was a triumph. As soon as guests caught sight of it they knew they were in for something a bit special – and thankfully they got it!! The guys (and girl) who did the pitching and striking were thoroughly charming and efficient (and claimed a first in our book of tradesmen, in that we have never been asked for herbal tea with honey!!) I would not hesitate to recommend you to anyone –thanks again."
- Private Client
"A little note to say how much all my friends appreciated the look of your marquee. Thanks a lot. It was handy when the raindrops fell."
- Private Client
"Thank you so much, the marquee was fantastic. Everything was lovely and we did not freeze in fact we turned off the heaters once the party had started. The guys who put everything up were charming and their services even extended to entertaining my children. Thank you again, great party!"
- Private Client
Photos of Indian Marquees and Indian Tents